IF your device screen is broken or your touch screen is not working, no need to worry you have come to right place. We use genuine parts and provide great customer service; we provide mostly all of the latest Smartphone screen parts.
Where to find us:
We are opposite to Hilton Paddington and Paddington Station (Main Entrance)
197, Praed Street, W2 1RH
If your phone screen has been damaged or broken or has cracked then you have come to right place as our experienced engineers provide professional service to get satisfactory result. Here at reload, we can come to rescue when any tragedy strikes to your smart phone, with our exceptional mobile screen repairs and replacements. Reload internet is the one stop Mobile Screen Repair Service center.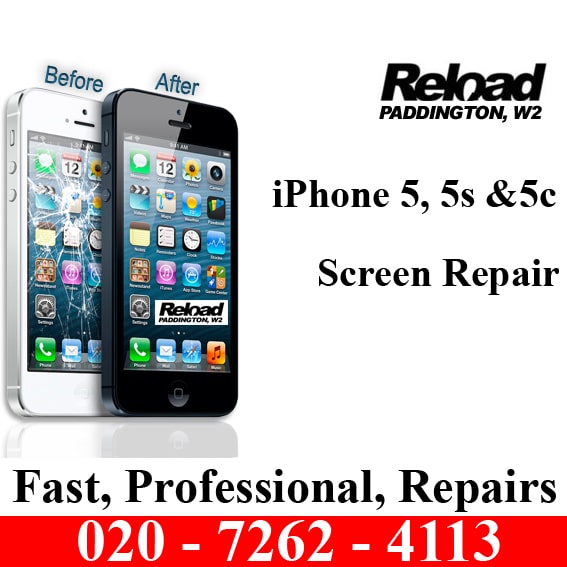 Reload repairs ALL Mobile and Smartphone Brands of Phones.
We can repair most of makes and models of Smartphone's instore within 48 hours. Phones that we repair include:
Apple iPhone
iPhone 6 plus, 6, 5s, 5c, 5, 4s, 4
Samsung Galaxy S6, S6 edge, S5, S4, S3 Note 4, 3, 2 Mini and Ace
Nokia Lumia 800, 820, 900, 920.
Sony Xperia (most models)
HTC
LG
Blackberry
Our Full Price List is enclosed below:
Mobile Screen Repair – Apple 

iPhone 3G Lcd Screen Digitizer Repair Replacement Service
£ 59.99
iPhone 3GS Lcd Screen Digitizer Repair Replacement Service
£ 64.99
iPhone 4 Lcd Screen Digitizer Repair Replacement Service
£ 74.99
iPhone 4S Lcd Screen Digitizer Repair Replacement Service
£74.99
iPhone 5 Lcd Screen Digitizer Repair Replacement Service
£79.99
iPhone 5S Lcd Screen Digitizer Repair Replacement Service
£79.99
iPhone 5C Lcd Screen Digitizer Repair Replacement Service
£79.99
iPhone 6 Lcd Screen Digitizer Repair Replacement Service
£119.99
iPhone 6 Plus Lcd Screen Digitizer Repair Replacement Service
£219.99
iPod  4th Gen COMPLETE LCD Screen Digitiser Glass Repair Replacement Service
£69.99
iPod  5th Gen Complete LCD Replacement Service
£94.99
iPad 1  Complete LCD Replacement Service
£129.99
iPad 2  Complete LCD Replacement Service
£129.99
iPad 3  Complete LCD Replacement Service
£129.99
iPad 4  Complete LCD Replacement Service
£129.99
iPad Air  LCD Repair Replacement Service
£139.99
iPad Mini  LCD Fault – Complete LCD Replacement Service
£129.99
Mobile Screen Repair – Samsung

SAMSUNG GALAXY S2      COMPLETE LCD SCREEN REPLACEMENT
£119.99
SAMSUNG GALAXY S3 i9305    COMPLETE LCD REPLACEMENT
£119.99
SAMSUNG GALAXY S3 MINI      LCD DIGITIZER REPLACEMENT
£99.99
SAMSUNG GALAXY S4  LCD REPLACEMENT SERVICE
£129.99
SAMSUNG GALAXY S5   LCD GENUINE REPLACEMENT SERVICE
£159.99
SAMSUNG GALAXY ALPHA LCD GENUINE REPLACEMENT SERVICE
£149.99
Samsung Note 1         LCD SCREEN REPLACEMENT
£129.99
SAMSUNG GALAXY NOTE 2   LCD REPLACEMENT
£149.99
Samsung Note 3    LCD SCREEN REPLACEMENT
£179.99
Samsung Note 4    LCD SCREEN REPLACEMENT
£179.99
Samsung S5830     COMPLETE LCD SCREEN REPLACEMENT
£79.99
Samsung Fame S6810    COMPLETE LCD SCREEN REPLACEMENT
£79.99
Samsung Ace 2 i8160    COMPLETE LCD SCREEN REPLACEMENT
£79.99
SAMSUNG i9250 MEGA   COMPLETE LCD SCREEN REPLACEMENT
£119.99
Samsung ACE 4       Complete LCD Screen Repair Service
£119.99
Mobile Screen Repair – Nokia

NOKIA LUMIA 630/635        LCD Screen Repair Service
£74.99
NOKIA LUMIA 535                LCD Screen Repair Service
£89.99
NOKIA LUMIA 625                LCD Screen Repair Service
£95.00
NOKIA LUMIA 1020                LCD Screen Repair Service
£149.99
NOKIA LUMIA 720                  LCD Screen Repair Service
£99.99
NOKIA LUMIA 930                  LCD Screen Repair Service
£169.99
NOKIA LUMIA 820                  LCD Screen Repair Service
£129.99
Nokia 1520                            LCD Screen Repair Service
£149.99
Nokia 1320                            LCD Screen Repair Service
£139.99
NOKIA LUMIA 710                  LCD Screen Repair Service
£84.99
NOKIA LUMIA 800                  LCD Screen Repair Service
£124.99
NOKIA LUMIA 820                  LCD Screen Repair Service
£129.99
Mobile Screen Repair – Sony

SONY XPERIA Z1        LCD SCREEN REPAIR SERVICE
£104.99
Sony Xperia Z2         LCD SCREEN REPAIR SERVICE
£119.99
SONY XPERIA Z3      LCD SCREEN REPAIR SERVICE
£149.99
SONY XPERIA Z ULTRA   LCD SCREEN REPAIR SERVICE
£149.99
SONY XPERIA Z3 Compact   LCD SCREEN REPAIR SERVICE
£149.99
SONY XPERIA LT25i      LCD SCREEN REPAIR SERVICE
£89.99
Mobile Screen Repair – HTC

HTC One M8           LCD SCREEN REPAIR SERVICE
£109.99
HTC One  M7        LCD SCREEN REPAIR SERVICE
£94.99
HTC  Desire 510    LCD SCREEN REPAIR SERVICE
£89.99
HTC M8 MINI         LCD SCREEN REPAIR SERVICE
£124.99
HTC Desire 816    LCD SCREEN REPAIR SERVICE
£114.99
HTC M7 MINI / ONE MINI LCD SCREEN REPAIR SERVICE
£89.99
HTC ONE X           LCD SCREEN REPAIR SERVICE
£99.99
HTC Desire 610    LCD SCREEN REPAIR SERVICE
£89.99
HTC Wildfire S LCD SCREEN REPAIR SERVICE
£79.99
HTC DESIRE 300  LCD SCREEN REPAIR SERVICE
£99.99
Mobile Screen Repair – LG

LG G3 D855 D850      LCD SCREEN REPAIR SERVICE
£124.99
LG G2                        LCD SCREEN REPAIR SERVICE
£99.99
LG GOOGLE NEXUS 4 E960  LCD SCREEN REPAIR SERVICE
£104.99
LG NEXUS 5                   LCD SCREEN REPAIR SERVICE
£119.99
Mobile Screen Repair – Blackberry

Blackberry Z10         LCD SCREEN REPAIR SERVICE
£79.99
BLACKBERRY Q5       LCD SCREEN REPAIR SERVICE
£79.99
BLACKBERRY Q10     LCD SCREEN REPAIR SERVICE
£79.99
BLACKBERRY PORCHE 9981  LCD SCREEN REPAIR SERVICE
£199.99