Travelling to the UK and need a reliable WiFi connection? 
What are the options available to Tourists and Business people travelling to London that require a stable Fast WiFi connection?
Hotel WiFi is a great option for most travellers to the UK but some hotels still charge for this access and others simply do not offer the service, and hotel WiFi in London does not solve the internet requirement whilst you are travelling around London or up and down the Country.
Travellers could opt for using their Roaming allowance, but smart consumers are slowly starting to look for cheaper ways to access data whilst travelling to London.
You could buy a PrePay Mobile Data Sim from us but this will only work on one device – your Mobile OR IPad. Not great if a Family is travelling to London.
Reload Wireless is the Solution whilst travelling to the UK
and is cheaper than using Roaming Facilities on your Mobile
If you need WiFi for your smart phone or IPAD on the move then Reload Internet can now provide Wi-Fi to IPADs and Smart phone customers whilst you stay in London. In fact one Wifi Pass from us, will work over 5 devices, and with a 12GB cap per month – this will be MORE than adequate for most travellers.
Our service works all over the UK – and really it is as simple as locating our Wi-Fi signal and connecting to it. This Wi-Fi service works everywhere and can even be used from your Hotel room or when you are out an about.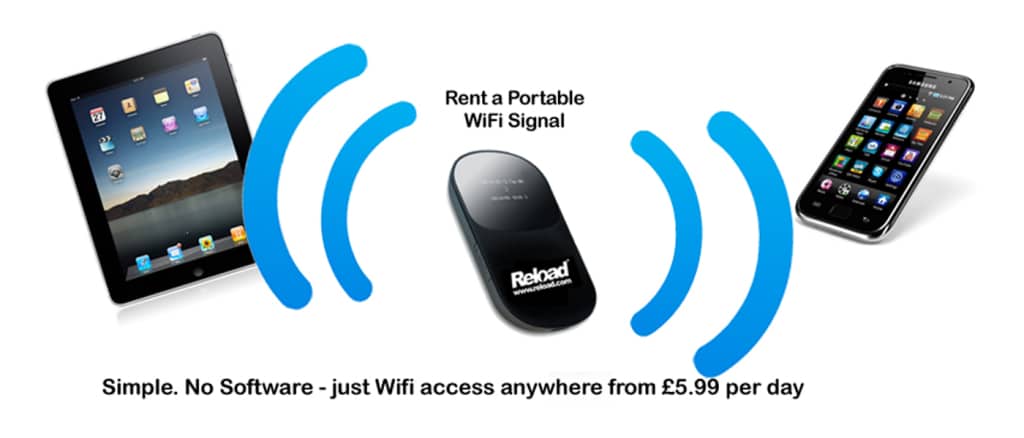 WiFi access that goes one step further
With Reload Wireless you get a fast internet connection that covers the whole of the UK. Simply rent a portable device from us and return it back to us when you are done.
How many devices can I connect?
Upto 5 devices! The WiFi Signal we provide can be used on your Laptop, Apple IPhone, or IPad or any device that uses a WiFi signal & it's as simple as that.
Our Prices for Wireless Access that works all over the UK: 
| | | | | |
| --- | --- | --- | --- | --- |
| Duration | Price | Deposit for Equipment | Data Allowance | Out of Bundle charge (per MB) |
| Per-Day Package* | £5.99* | £60.00 |  1 GB * | £0.25 |
| 07-Day Package | £29.99 | £50.00 | 3 GB * | £0.25 |
| 30-Day Package | £69.99 | £50.00 | 12 GB * | £0.25 |
* Minimum of 3 days rental       

If this is to expensive for your Data Needs:
Please bear in mind, that we offer a personalised service to each and every customer. We offer Mobile Data Sims, In store Wifi,and computer access over 40 computers. In Mobile Data Sims, we take pride in our staff knowing all of the Mobile Networks in the UK  from Vodafone to LycaMobile.
We are the only store in London, that ensures that your phone is compatible with the SIM you purchase, and we ensure that your phone is fully connected before you leave our store.
How do I monitor my usage?
Our device shows your data usage on the screen. 1 GB is approximately 1000 hours of Web Surfing and with 3GB you can send 5000 plain text emails & surf the web for an additional 2000 hours!