If you need a fast and reliable photocopy service come to Reload Internet in Paddington. Pop into our friendly store where staff will assist you with your entire photocopy or copy needs whether it is an A4 Photocopy and A3 Photocopy in colour or black and white, our team can cater for it all.
We can also deal with high volume photocopy enquiries or bulk copy enquiries in colour or black and white.
At Reload internet you can be assured we offer a quick and efficient photocopying service in black & white or colour.
High volume photocopying and bulk discounts on colour copies are available on request.
At Reload Internet we offer single sided photocopying, and double sided copying.
Watch the video and our Photocopy A4 and A3 service in Central London – Copy & Photocopying Service
Photocopy on the spot in Central London
We provide Central London colour photocopying and black and white photocopying for any sized documents.
Our photocopy paper is 80 gsm and we have a wide variety of paper stock available to you and we can offer paper and card up to 350 gsm thickness.
Photocopy documents in A3 size and Reload Internet if an A4 Photocopy will not do.
We offer A4 and A3 colour photocopy or black and white digital photocopy or custom sizes including Photocopy in A5.
A4 Colour Photocopy
A4 Black and White Photocopy
A3 Colour Photocopying
A4 Black and White Photocopy
A5 Black and white photocopy
A5 Colour leaflet photocopy
We offer a 10% Student Discount
We also offer Scanning and photocopy on the spot from our Central London store and best of all our printing services instore are second to none.
Your crisp, clear, black and white photocopy will be printed on 80 gsm paper and we can photocopy documents up to A3 size instantly.
Print Services available:
If you are looking for our colour print service and black and white printing services instore and would like to print from a USB stick, your email or document please see: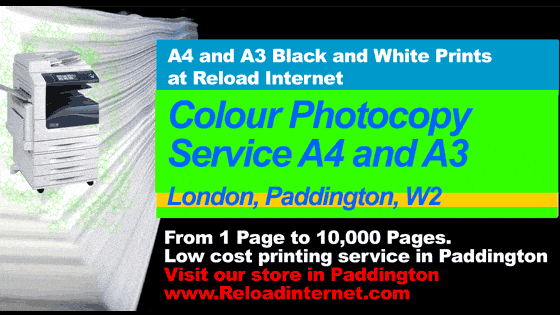 Photocopy on the spot in Central London
We look forward to welcoming you for all your photocopying needs at Reload Internet, in Paddington, London.
Please call us on 02072624111 if you have and questions or email us at: