Reload Internet passport photos studio based in Paddington, London and we specialise in photographing and printing your Canadian Visa Photo and Canadian Passport Photo in store while you wait, with no appointment needed.
Our fantastic staff will produce a Canadian Visa Photo that meets all necessary Canadian guidelines and we charge £9.99 for 6 photos for your Canadian Visa photo and printing service.
If you are looking to get your Canadian Passport Photo snapped and printed instore, please visit this page. As the dimensions of a Canadian Passport photo is different to a Canadian Visa photo our price is different for your Canadian Passport photo.
Passport and visa photos for Canada are one of the most difficult to produce out of all of the Countries in the World. The Canadian Embassy have very strict requirements and not following these guidelines will result in your Canadian visa photo being refused which means you will have to start all over again.
Do not let that happen to you – let Reload Internet in Paddington take care of your Canadian visa photos for you, and we'll make sure everything is done by the book.
We offer a fully comprehensive service and guarantee that your Canadian visa photo will be accepted as part of your application.
Watch the Video on how comprehensive Reload Internet is with producing your Canadian Visa Photo service center and Canadian Passport photo service, instantly, with no appointment needed.
You can drop into Reload Internet at a time that suits you and we'll have your Canadian Visa Photo ready for you in just ten minutes. If you have already taken your Canadian visa photo, but are unhappy with how you look in them, then not to worry- we'll be happy to edit them for you to remove any imperfections, and ensure you look your best.
Canadian Visa Photo specifications
The proportion of your photographs must be 35 mm x 45 mm.
Your face must be cantered in the middle of your photograph, with your full head and the top of your shoulders visible.
When the photo is printed, your head must measure between 31 and 36 mm.
If your photographs fail to meet any of the above specifications, you will have to supply a completely new set of photographs before your application can be taken any further.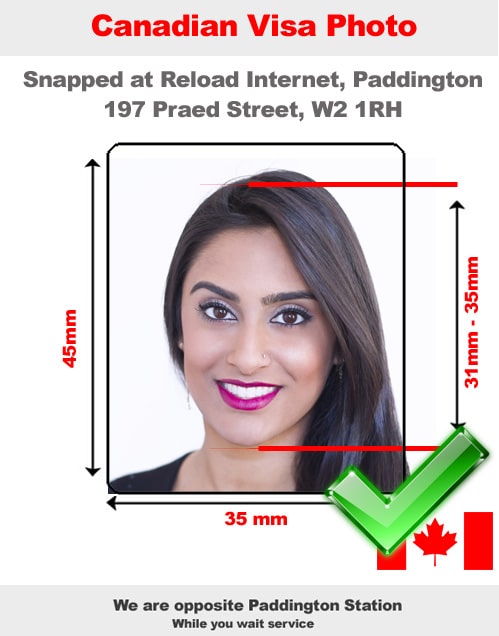 Canadian Visa Digital Passport Photo specifications
These are some details and notes on the specifications that are required for your Canadian Passport Photo and Visa photo for Canada as well as guidelines for Canadian digital passport photos.
You are required to provide two Canadian Visa Photos per application for your Canadian visa.
Our Canadian Visa Photo will be professionally printed on photo-quality paper
In the Canadian visa photo we provide, your face will be directly facing the camera with a neutral expression and mouth closed.
Both Canadian Visa Photos provided must be the same, and have been taken in the past six months.
Canadian Visa Photo must be in sufficient detail, and feature a white or off-white background.
Canadian Digital photographs must not be altered prior to submission.
Non-tinted glasses are allowed, so long as your eyes are clearly visible and there is no glare on the lenses.
Hairpieces and other accessories are permissible, so long as they do not significantly alter your appearance.
Those who wear a head covering for religious reasons must ensure that all of their facial features are clearly visible in the photography.
If you fail to comply with any of the above specifications, then your Canadian visa may be rejected, and you will have to resubmit your application from the beginning.
Get your Canadian Visa Photos snapped and printed in London
CLICK HERE TO NAVIGATE TO US ON GOOGLE MAPS
Video Directions to Reload Internet in London, Paddington
We look forward to welcoming you at Reload Internet, in Paddington, London. If you wish to call us our telephone number is 02072624111