Whether you are a student, working professional or simply an artist, Reload Internet has a variety of options for you to choose from. We offer poster printing in a variety of sizes and finishing options to help you print your poster exactly as you intended to. One of our most popular sizes is A3 (210 x 297 mm or 8.3 x 11.7 inches).
A3 is a great option when you're limited in space and you want to display a number of different posters. It's also a great option if you're limited in budget and you want to display your work without breaking the bank. We offer a number of different papers which range from standard to premium (which includes matt, satin & glossy) which will be printed at a resolution of up to 1200dpi depending on your poster. A3 posters are ideal for Fine Art printing, architecture drawings and CAD drawings. We use genuine HP ink that guarantees long lasting results and accurate colors.
Watch our video below detailing the features of our Poster Printing Service:


Our A3 poster prints are also available in a laminated option in 170gsm for extra resilience. They're great for displaying your poster indoor and outdoor giving your artwork protection from moisture ruining it.
Edge to edge poster printing on A3:
Most standard printers aren't capable of printing edge to edge, instead they print your artwork smaller then intended, leaving small border on each side on the print. We understand that your artworks are designed with precise measurement in mind and that it's important to print your poster in the correct size that it was designed in, that's why we use high-end poster printer to print your poster edge to edge so it doesn't get reduced in size.
A3 Poster Printing starts at £1.25 per print, the complete price list for A3 Posters is shown below. We can also print on your custom cardstock for the same price as a Standard Matte / Satin Print.
| SIze | Quality | Paper Thickness | Price Per Poster |
| --- | --- | --- | --- |
| A3 | Laserjet Colour | 80gsm | £1.25 |
| A3 | Laserjet Matte / Satin | 170gsm | £2.25 |
| A3 | Laserjet Matte / Satin | 280 gsm | £3.25 |
| A3 | Inkjet Matte / Satin | 170-280 gsm | £7.50 |
Of course, we can offer sizeable discounts for larger print runs, contact us now for a quote!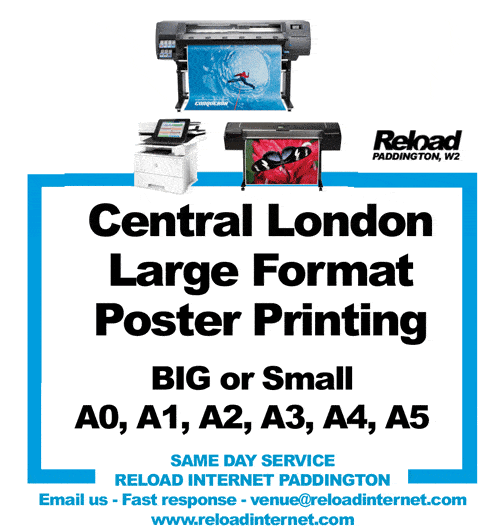 Placing your order:
Ready to print your poster? Simply email us your files or call us on 020 7262 4111 to get started. You can also visit our store and place your order with one of our specially trained staff.
Our staff at Reload are specially trained to assist you with your poster printing. They can help you from beginning to end, helping you to choose the best size for your needs; finishing options (varies between matt, satin and glossy), discussing bulk order discounts and finalizing your orders. We're well aware that you may not always have your file in the correct size to on A3 (or any other size of your choice) that's why we offer technical help in store with one of our staff to resize your file accordingly using special software to make sure the colours are perfect and the quality of your artwork isn't reduced on the process.
We can print directly from most popular PC and MAC formats, including:
PDF, JPEG, PSD & Ai. See below for guidance on file formats.
SO WHY WAIT, PLACE YOUR ORDER. EMAIL US NOW:


Or call us on 02072624111
Same day collection:
Ordering posters online and waiting days for delivery can be daunting, especially when you're on a deadline and don't know if you're going to receive exactly what you've ordered. It can be expensive and time consuming to place another order and wait for it to arrive. Luckily we at Reload offer same day collection to make everyone's lives easier. It's ideal for working professionals and students that are on a tight deadline. We can process and print your poster within a few hours of you placing the order. With more than a decade of experience in printing under our belts, we always carefully check all orders making sure that they meet the highest standard before they're ready for collection. We can also process your order for next day collection if it was placed after 6pm.
Reload accepts the following file formats:
PDF:
A file with a .pdf is a file extension known as Portable Document Format. This is a file that is typically created in programs like Microsoft word, Microsoft power point, Adobe Photoshop and many more professional programs. The files are typically saved from these programs as .pdf in order to keep the orders of the content exactly as it was made when it's opened on another device. PDF files are also a great way to reduce the file size of your document while maintaining the quality of the content exactly as intended. PDF files can be accessed on PC or MAC regardless of which machine it was created on a long as you have Adobe reader installed. It can be downloaded for free from Adobe's website. Adobe Reader
JPEG
:
JPEG is the most common and popular format for images, it is primarily used to compress images that are produced in digital cameras and other images capturing devices. JPEG's are ideal for compressing your images to a certain size in terms of memory so it can be transported or emailed to keep it within the limited storage provided. Unfortunately JPEG's aren't a recommended format for exporting your work for printing because they can reduce the overall quality of your file during the process of compression. It can lead to a loss of quality and inaccurate colors while printing.
PSD:
Known as a Photoshop Document, PSD is an entirely editable file format that saves the exact state of a document including texts, shapes, layers, masks, effects etc…
These files are primarily created on Adobe Photoshop but it can also be created on other Adobe programs like Adobe Illustrator, InDesign and a few other programs that adobe offers and exported as a PSD document. Mostly popular with designers, PSD are a great way to send your artwork to print so the printers can print your poster without a loss in quality or colors. We prefer PSD as our standard poster printing file format.
Ai:
AI (Adobe Illustrator Artwork) is a file format created by Adobe for vector based drawing. Popular among illustrators, this format offers flexible drawing functions for any type of line drawings. This file format was created by Adobe systems for vector based graphics. Unlike PSD format, vector based illustrator files can be up scaled to print in any size without losing quality. Although we recommend PSD files as our choice for file format to print, we can also acccept Illustrator files.
If your file is in another format, contact us and we will do our best to accomodate your request.
View Other Poster Sizes
In case you are looking for A0, A1 or A2 Poster sizes please click on the following button to view the entire Reload range of poster printing:
View A0, A1, A2 Poster Sizes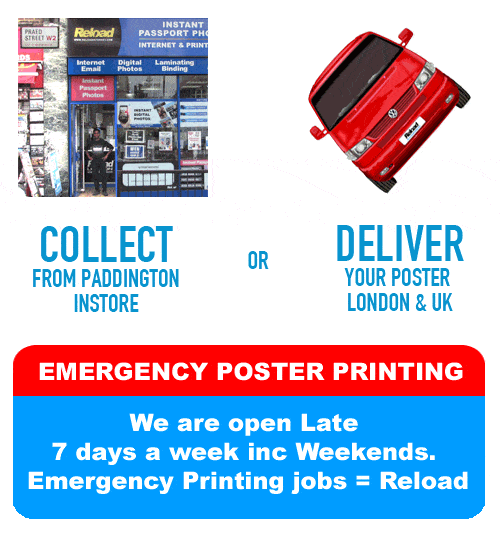 London Poster Printing
Use the function below to find Poster Printing Near Me, or here is the best place to find London Poster Printing at Reload Internet in Paddington.