At Reload in Paddington we offer A2 Poster Printing in London with Same Day collection from our store. A2 posters measure 420mm x 594mm or 16.5inches x 23.4inches. If you're searching for a trustworthy and productive poster printing service in London, then Reload situated in Paddington is the ideal choice for you!
Our team takes pride in providing poster printing solutions to meet your requirements, including A2 poster printing with the convenience of same-day collection from our shop.
Regardless of whether you want a premium print for your home or office, we've got everything you need. We also have in-store A0, A1 A2 and A3 poster printing options available, allowing you to choose the perfect size for your project.
At Reload Internet we have two options available for A2 Poster Printing, including photo quality poster printing
180gsm Standard  A2 Poster printing
270gsm LUXURY A2 Poster printing
Printed with a:
Satin / Gloss Photographic Poster Finish OR Matt effect Finish
Whichever poster quality you decide on, you can trust that Reload will output a poster print that you are proud of. All posters printed from Reload (regardless of size or quality) are printed on a HP commercial printer using genuine 8-colour HP Inks.
Same-Day Collection
Need your posters in a hurry? No problem! We offer same-day collection for A2 posters at our store in London. Simply place your order before the deadline, and you can collect your posters on the same day. It's fast, convenient, and hassle-free.
Order your A2 poster for Delivery or Click and Collect from Paddington
Simply follow these three easy steps:
Step 1: Check out our comprehensive Poster Printing Price List and upload the files you would like to have printed.
Step 2: Once we've reviewed your files, we'll contact you to confirm the exact time your order will be ready for pickup or delivery.
Step 3: Our expert team will print and cut your posters, ensuring they are a perfect size and ready for pickup or delivery at your convenience – even on weekends and bank holidays! With Reload's same-day printing and fast turnaround times, you'll have your posters in no time.
Order your A2 poster NOW for Collection from Paddington or Delivery
Place your order for your A2 Poster to be printed in 2 simple steps:
Step 1: Review our Poster Printing Prices here
Step 2: Upload your files here and we will call you to confirm your poster printing requirements and take payment.
Step 3: Your A2 posters will be printed & cut expertly to size by us. They will be ready for collection same day or standard delivery at your chosen time and date.
Nothing could be simpler.
If you require any assistance, please do not hesitate to CALL US on 0207-262-4111 or EMAIL us at help@nullreloadinternet.com
Low cost A2 Poster Prints
At our poster printing service, we believe that high-quality prints shouldn't break the bank. That's why we offer competitive and affordable pricing for our A2 posters. We also offer discounts for bulk orders, so the more you order, the more you save.
Ready to create your own eye-catching A2 posters? Get in touch with our expert team today to learn more about our printing services and to get started on your order!
PLACE YOUR ORDER NOW
Order your Poster
Click and Collect / Delivery
If you require any assistance, please do not hesitate to CALL US at 0207-262-4111 or EMAIL us at help@nullreloadinternet.com
Need a Custom Sized Poster Printed?
We can print your poster in any size you wish from A1, A2, A3 or Reload can even print a custom sized poster for you. Please click below to view all of the options available to you, and please feel free to place your online order for click and collect, or we can deliver your poster Nationwide.
Watch the Video on our A2 Poster Printing Service in London, Paddington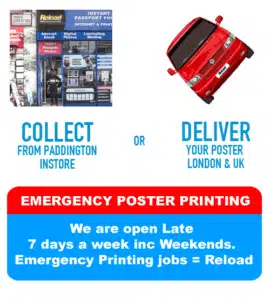 Send us your Poster Printing Design now
Images to be printed can be sent to us via PDF file, as well as high resolution TIFF and JPEG files. We are also able to work with Power Point files. If you don't have your own artwork file yet then please let us know and we can quote you a price for making the artwork for you.
You can send us your design by:
Emailing us
Uploading them by clicking order on the Menu above
Bringing your USB into our store in Paddington, London
Please note we will not print on the spot – but your work will be done same day as long as you come in before 230pm.
A2 Poster Dimensions / Measurements
A printed A2 poster is 420mm x 594 mm – or 16.5in x 23.4 in" – and they are ideal for advertising a business in a shop window or promoting clubs. They allow you to deliver a message without being so big that there's no room for them. They are also great for presentations on a scale smaller than A1.