Large Format Scanning at Reload Internet in Paddington – Same Day
At Reload Internet in Paddington we provide our customers with professional large format scanning services instore.
We have Océ scanners and printers, which can scan large diagrams, plans and drawings in either mono or colour. Our drawing scanners will capture documents up to A0 size.
Can your wide format documents through Reload, take a look at how our large document scanning services can provide the perfect solution.
We often scan and capture wide format images with long lengths. We can scan documents in various forms including dyeline paper, vellum, bond paper, film, tracing and plain paper and our large format scanning prices are very competitive.
Scanning of large format plans and maps.
Scanning documents can be given to you on your USB stick and or/email in TIFF, JPEG, or PDF at resolutions of 200, 300, 400 or 600 dpi or 1200 Dpi
At Reload Internet we will always show you the scans before charging you to ensure we meet your satisfaction.
Security is always a concern to client. We are a registered company that has been trading at our store in Paddington since 1998. We have dealt with clients from all over the world – and the concierge of Hilton Paddington hotel trusts us to deal with their clients. Further when the Indian Embassy, and VFS were based in Paddington, they used our services regularly.
At Reload Internet we are a small and dynamic team and we can also collect and return your documents after we have completed your scanning instore. Watch our video on how Reload Scanning works
Scanning Technical Drawing, Architectural plans and Engineering Drawings
At Reload Internet our scanning service provides a low cost solution for Architects for the conversion of their architectural drawings into an electronic format.
Architects in Paddington and London use Reload Internet in Paddington for our scanning services for conversion of drawings from paper to CAD.
We can easily convert Paper drawings or non-electronic formats to Computer Aided Design (CAD) same day.
Wide Format Scanning Service
Wide format scanning up to A0 is available by emailing us.
For A4 and A3 scanning, no appointment is needed and you can pop into our store in Paddington whenever you wish.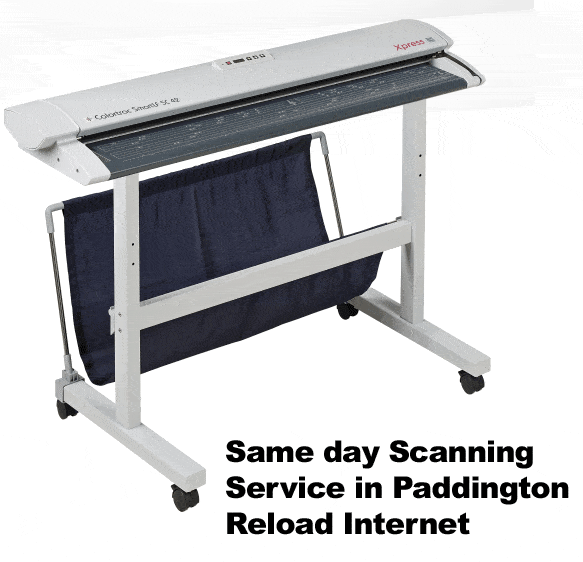 Digitisation Service
Reload Internet offers clients a digitisation services for expert scanning.
We are able to handle digitisation (or digitization) of all items that can fit on A3 scanner bed, but across the years in digitisation we have also scanned wallpaper samples and x-ray scans, to Victorian surgical drawings and bound illuminated manuscript books. Our staff are skilled at handling delicate items and treating them with the most respect and care. As a result we are also able to scan and digitise:
Books
Large Format Maps
Burial & Cremation Registers
Manuscripts
Photographs
Newspapers
Magazines
Poster Scanning Service in Paddington, London
Our flat bed scanning equipment that we use is specially designed to capture your scans whether they be bank statements, tenancy agreements or any other items that you need to digitise.
Wide Format Scanning and Drawing Scanning Service
Reload Internet offers wide format document scanning services that provides scanning facilities so that we are able to scan all sizes of documents (A4 Scans and A3 Scans) but we will soon be able to cater to even larger formats such as A2, A1 or A0.
A0 Scanning
We are also able to scan oversize archive material, ranging in size from A1 (84cm x 59cm) up to approximately 1.5 x A0 (150cm x 100cm).
From our Paddington Store we will be able to offer a wide format scanning service for large documents such as CAD (Computer aided design), maps, architects plans, engineering drawings.
A1 Scanning
With our state of the art large format scanning equipment we can scan any size of document up to and including A0 or even custom sizes.
We offer scan resolutions of up to 600dpi in black and white, grayscale or full colour or we can go higher if it is required.
A2 Scanning
By using our Scanning service for your documents you can take advantage of the benefits of digitisation and scanning. These benefits include:
Ease of viewing and sharing information via PDF,
disaster recovery and long term preservation of valuable data
Dealing with Accountants.
A4 Document Scanning Service
At Reload Internet we offer a document scanning service instore for you to scan your documents, passports, ID cards, birth certificates, bank statements etc in PDF or JPG. You can use our service to scan a variety of documents and we can back them up to a USB stick or email them to you for you to save them digitally – no matter how many pages you have to scan.
Our staff can scan one single page for you or we are equipped to scan 1000s of pages for you or your business regardless if you need documents scanned in A4 or A3 scanning, or large format scanning like A1, A2 and A0. We can also deal with architectural scanning and scanning engineers drawings, scanning architectural plans, architectural drawings and posters. Whatever your requirements we can likely deal with them swiftly.
Want a quote on any scanning service?
If you would like to learn more about our services or request a free quotations, please feel free to contact us:

Document Scanning Service near me
Reload Internet is centrally located just by Paddington Station and we can scan your documents same day.
We look forward to welcoming you at Reload Internet, in Paddington, London.