Our UK Passport Photo Service in London and digital passport photo (via a digital ID passport photo code) and hard copy passport photos are considered by some as the best passport photos London.
Reload Internet can print passport photos for any Country in the World including UK, US, India, Australia and the rest of Europe (EU Passport photos) while you wait and with no appointment needed.
We guarantee that your Passport photo and Visa Photo will be approved by the Embassy or we will retake your passport photos free of charge and our early and late opening times really make getting your passport photos taken convenient.
Passport Photo studio serving Paddington and Marylebone and London
Reload Internet Passport Photo studio is based in Paddington – but we get clients that visit from us all over London, Marylebone and Paddington. Watch the Video on how Reload Internet can take your passport photo for you: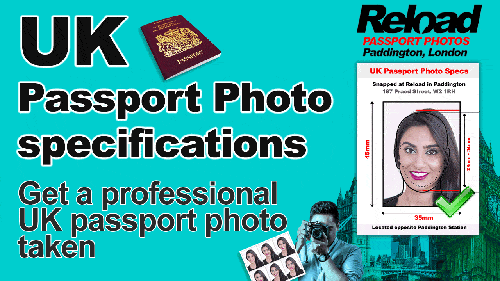 We can take any Passport photo, for any country in the world. Please follow this link if you are not looking for UK Passport Photos.
Why do clients visit us? Because our UK Passport photo and Visa photos will always pass rigid VISA and Passport requirements. Furthermore, we are dealing with more clients that require Indian Passport pictures and we are proud to announce that we now have a section dealing and specialising with Indian Passport Photos. We also have a customer handbook available instore to answer any questions you may have on every embassy in the World.
Our store understand the smaller details required to run a service like the way we do – from always offering you a mirror before we take your passport photo, to ensuring that the background is off-white, light grey, or white (depending on the Embassy you are applying to) we really know our stuff when it comes to taking your Passport Photos – which is why we can offer a guarantee that all of our passport photos we produce instore will always meet the Embassy requirements or we will retake them free of charge.
Digital code Passport Photo
We are able to create digital images of your passport photos in any specification required. All of our Passport photos clicked in store are Biometric approved and we will supply you a DIGITAL ID CODE that you can upload to UK Gov website that meets the UK Government Biometric passport photo requirements.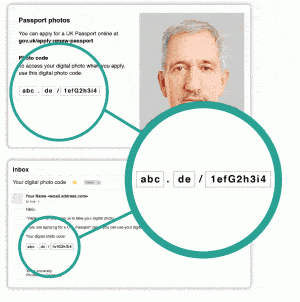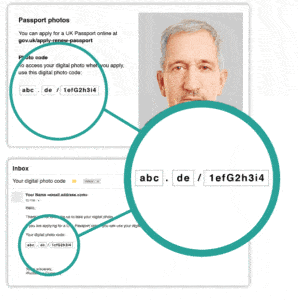 Reload Internet can also print your passport photos in the following sizes.
The main point is that the Passport photo or Visa Photo should be taken to the exact guidelines that the UK Visa photo and Passport photo require, and we will ensure that your passport photos meets the criteria that the digital passport photo rules require. Not correctly taken passport photos will cause a reason for failure of your application. If you do attempt this yourself, here are some helpful notes that will ensure that your passport photo is approved first time around.
Passport Photo Service London
Why not pop in today and get your visa photo print snapped in our professional passport photo studio in London?
Our late opening times in London ensure that you can pop-in and get your passport photos snapped and printed instore even if you have an appointment early the following morning. We are open late, 7 days a week and are located at 197 Praed Street, Paddington, W2 1RH directly opposite Paddington Station.
Digital Code Passport Photo
We at Reload Internet can take your digital UK passport photo and the UK digital passport photo specs are 600×770 pixels.
Our team will ensure the specifications are met as per the UK Authority. Just pop to our store in Paddington and with minimum waiting time your digital version with the precise pixels will be ready.
We can meet any digital specification for any country.
The UK Digital Passport Photo Specifications are as follows:
at least 600 pixels wide and 750 pixels tall
at least 50KB and no more than 10MB
We will ensure that your photo meets these specifications.
UK Passport Photo specification
Here are the UK passport Photo and Digital Photo code specifications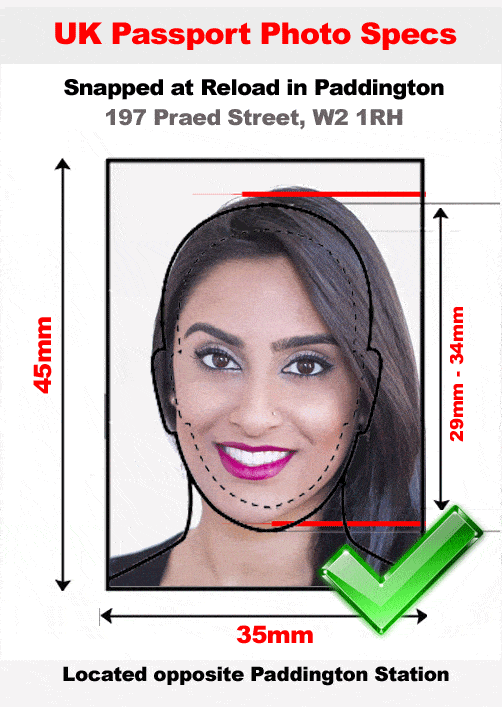 Photo should be in colour.
It has to be against cream or grey background colour, not white.
Size will be 45 mm height x 35 mm wide.
The subject should be forward & straight with eyes open, with no tinted glasses, sunglasses or any thing with the reflection eyes.
To avoid the risk of rejection, we recommend photograph without glasses.
Photo should be taken without anything covering face.
Photo should be with neutral expression, mouth closed and no smile.
Only one person is allowed in a photo (no objects like toys, hands or any other person visible).
Child Passport Photo UK Specification
Child aged six or above will required to follow the above specifications.
Need a clear image of child
No need to have a neutral expression, or to look directly in the camera but it is necessary to face forward
Baby's under one year does not need to have their eyes open, but it is preferable if the eyes are open.
Photo should be taken within the last month.
It should be clear, not damage, not torn and no marks on it
Should be printed professionally, avoid printing at home.
Frequently Asked Questions
UK Passport Photo Background colour
We consistently have customers always insisting that the background colour be white.
According to UK the passport photo background colour should be in Cream (off-white) or Light Grey. There is logic behind this, as White will reflect light back to the camera, and also create shadows. Off white creates less shadows.
Our customers often tend to smile while taking a photo with us – BUT do NOT smile otherwise this will be a reason of rejection. Why? Because teeth can reflect the flash back! – Grimaces will be accepted, but maybe not socially!
Are you allowed to wear your glasses in a UK Passport Photo?
Important: you can have your glasses on if you wear them daily – HOWEVER, no reflections are allowed – so bear this in mind. Our staff can assess whether the photo we take will pass.
Are you allowed to have a beard in a UK Passport Photo?
Beards are allowed in UK Passport Photos and there are no restrictions on beards mentioned on the gov.uk website. The only restriction on facial hair and hairstyles is that there should not be any hair covering your eyes.
What happens if I have a beard in passport photo and decide to shave it off. Do I need a new passport?
You do not require a new passport if you shave off your beard. Since passports are valid for 5 – 10 years it is expected that your appearance will evolve and change over time. As long as your facial hair or hairstyle does not cover your eyes, you should have no issues.
Does your hair color have to match your passport?
Change in hair color does not constitute a significant change to one's appearance in terms of passport photos. Since the UK and many other countries require biometric passport photos, features such as facial hair and hair colour do not affect your recognizeability at borders.
Children Passport Photos
It is critical that in the child's passport photo there should not be any toys or parent's hands supporting their children or any other object or person should be visible. Reload specialises in calming infants down and we take passport photos of infants by lying them down, as opposed to holding them up which has caused many failures in Embassies in the past.
Can my child wear a head band in her passport photo?
We have received a report that the post office in Brent cross has refused to send a passport photo application that had a child's hair band to hold her hair back. This is the exact misunderstanding of the rules that has caused this. There is no indication in any of the rules or regulations that a hair band is not allowed and the customer has insisted to send the application of. We will update you on whether this passport application with hair band passes the application process. 11/09/2016: This Passport photo application was accepted.
Infant Passport Photos
You do not need to have their eyes open – important this can save a lot of time, especially is your child is resting.
UK Construction Skills registration passport photo specification
To get a construction skill registration number, applicants need to submit passport photo with specific dimensions that is-
digital specs 300×350 pixels
UK Driving License passport photo specification
UK driving license passport photo requirements are –
At Reload Internet we will ensure these requirements are meet with perfection.
Passport Photo Kiosk in Paddington
There are reasons why you should think twice about using a photo booth in Paddington – Poor lighting, risk of failing, and no one to physically come back to when things go wrong. The quality of the passport photo may meet the criteria required for the Embassy you are applying to as you are the Operator of the Photo Booth. We are always here to serve you, and respond to any problems you may have – we take responsibility for our work and always aim to get it right first time. Our success over the years, only bolsters this excellence.
Other Passport Photo sizes available at Reload Internet
At Reload Internet passport photo studio in Paddington next to Marylebone, we can print passport photos for every Country in the world. Here are some Countries that we specialise in. If you are looking for a specific country passport photo specification or visa or passport print please visit this page.
Indian Passport Photo
The Indian passport/Visa photo is totally different from the UK passport photo requirements; it is 2inch x 2inch and has to be colour. It must have full face from the top of the head to the bottom of the chin, more importantly face should not be more than 1inch to1-3/8inch (25mm-35mm). The background should be plain white or off-white. In the photo there should not be any type of shadow in the face or in the background. Head covering is not allowed except for religious reasons, but face from top of the forehead to the bottom of the chin should be clearly seen, and the face should be neutral. Babies under one year do not need to have their eyes open, however open eyes is recommended. The children under 10 years of age is bit easy on the position of eyes in the photo and face expression, but the photo should be clear the photograph should not have chair backs visible,  toys or  any of the person should not be visible.
Sri Lanka Passport Photo
The biggest issue with Sri Lankan passport photo is that the requirement of the photo is bit strict about the ears, and customers taking passport photo in a photo booth or anyone who is not aware, make a common mistake by not showing their ears properly.
USA Passport Photo
The US passport is totally different from the UK passport photo requirements; it is 2inch x 2inch and has to be colour. It must have full face from the top of the head to the bottom of the chin, more importantly face should not be more than 1inch to1-3/8inch (25mm-35mm). The background should be plain white or off-white.
It is preferred that the ears should be seen.
USA Visa Photo
In the visa photo of USA it is mandatory to have both printed photo and digital photo; the print photo is the same size as the US passport photo. The main mistake the customer make is that they try to make the digital photo the same size as the print photo which is 2inch x 2inch, but the digital photo is not measured as the physical printed photo it is measured as pixel and can adjust while uploading to US online application form.
USA Digital Passport Photo Format
The digital format of the photo should be between 600 x 600 pixel and 1200 x 1200pixel, the digital photo should be in JPG format. The size of the image should not exceed or not greater than 240kb (kilobyte). At Reload Internet, we ensure that our photos meet all of these specifications.
Best passport photos London
At Reload internet we always ensure that our Printed and Digital Passport photos for UK will meet the strict criteria set forth by Her Majesty's Passport Office. The UK is one of the countries whose passports are now fully Biometric.
OPTION 1 – Visit us in Paddington
Just walk into our store and let our experienced staff take your photo. It will not take more than 5 minutes.
We will take your photo with professional lighting.
We will print, prepare & cut your UK passport photo.
No appointment needed.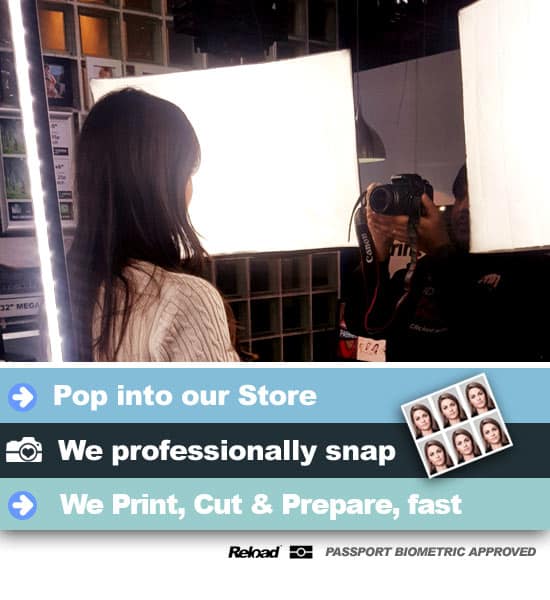 OPTION 2 – Passport photo posted
We can post you a set of 6 UK Passport photos – next day delivery. How it works:
Email us a photo of yourself from your phone or camera.
We will look at your photo, free of charge
We will reply to confirm.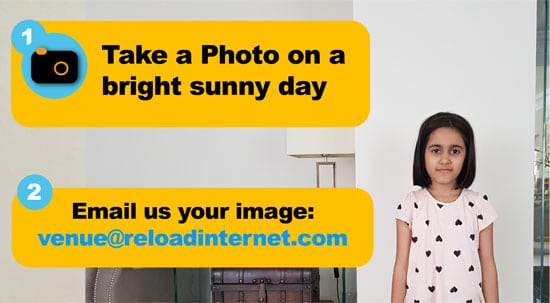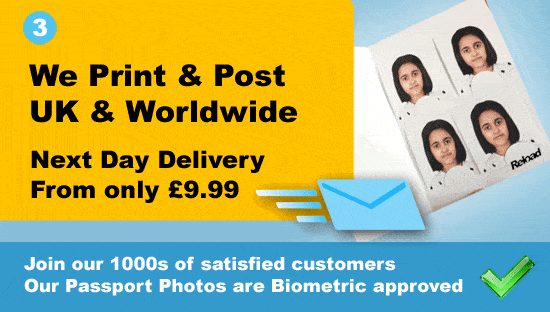 We will print, cut and post your your UK passport photos
Next day delivery
We post your photos anywhere in the UK or worldwide.
OPTION 3 – Digital Photo resize
Send us your photo from your phone or camera whilst you are standing against a wall in your home
We will look at it free of charge.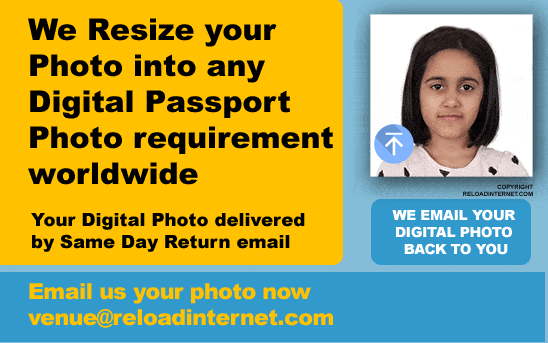 3. We will email your resized images back to you same day.
4. Your digital UK passport photo will be ready to upload to the online UK passport service.
You do not need to worry about the regulations, we have dealt with thousands of satisfied customers and are very experienced.
So why wait? Email us your photo today and we will resize it digitally for you
Where to take passport photo
If you are looking where to take a passport photo from – then look no further than Reload Professional Passport photo studio based in London, next to Marylebone, Edgware road, Notting Hill. Visit Reload Internet in Paddington.
If you need more help or advice, please feel free to contact us on 020 7262 4111
Or email us a fast response

Here is a map so you can find us easily