At Reload Internet in Paddington we can photograph, print and produce your schengen visa photo at our state of the art passport studio. Our studio has Embassy approved digital printers, lighting equipment and professional photographers and we only charge £9.99 for 6 photos – with a Guarantee pass service.
Schengen Visa Photo
You are welcome to come in at any time and have your Schengen visa photo taken and printed by professional staff in our Reload Internet store in Paddington. An Appointment is not needed and our early and late opening times really make getting your Schengen Visa photo snmapped and processed extra convenient – in as little as 10 minutes.
Watch the Video on how Reload Internet can snap your Schengen Visa photo
Schengen Visa Photo Requirements and Specifications
The overall specification of the Schengen Visa photo should be 45mm by 35mm but the format that is acceptable involves counting both left and right sides of the face while the face is placed in the centre of the photograph, showing facial characteristics of the applicant from the top of the head to the tip of the chin. About 70-80% part of the photo must be filled with applicant's face with a face height of 32-36 mm, including the applicant's complete head and hair style. The Photo illustration below shows a passport photo with teeth showing which is not allowed.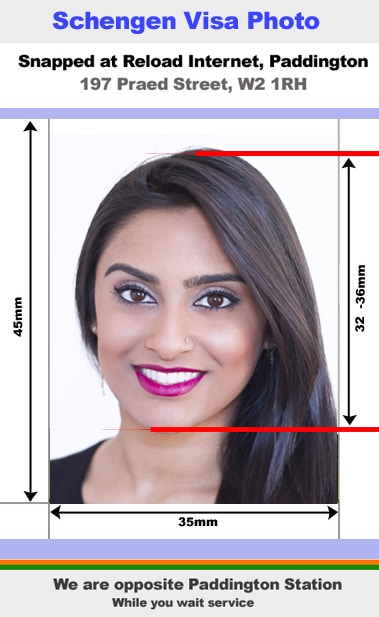 FOCUS AND CONTRAST: We will avoid having a Schengen Visa Photo that is too bright or too blurry or one that has a poor contrast. Allowable form to show face of the applicant in the Schengen Visa Photo is being sharply focused and visible with a strong contrast.
BACKGROUND: the acceptable color for a Schengen Visa Photo is one color which is neutral grey because it gives hair and face the contrast it need so avoid using colorful, patterned or shadowed photo background.
BRIGHTNESS: It is important to completely avoid reflections, red eyes and shadows as the acceptable brightness in the Schengen Visa Photo is when it is spread all over the face uniformly.
QUALITY: The skin tone of the applicant must be natural, while the entire Schengen Visa Photo must be neutral in order to avoid creases and layers. You must make sure your photo has a resolution of 600 dpi and printed with a high quality paper as this is the only acceptable form.
HEAD POSITION AND FACIAL EXPRESSION: Avoid opening your mouth or keeping your head turned at a particular angle. Having your mouth closed and your eyes focused directly at the camera with a neutral look is the only acceptable pose.
EYE AND LINE OF SIGHT: The only acceptable pose for your Schengen visa photo is to look straight into the camera with eyes fully opened and not covered by hair. Therefore closing your eyes or not focusing them on the camera or even putting your hair across will result in your application being declined.
HEADWEAR: Avoid posing with headwear that covers your face or with a hat or having your face shadowed by a headwear, as none is acceptable. The only exception is for religious headwear, but please ensure that your face must be absolutely visible from the forehead to the tip of the chin.
Requirement and Specification Size for Schengen Visa Photo:
Obtaining the appropriate Schengen visa from the Consulate or Embassy of the country is necessary, whether you plan on going for a business, medical, educational, touristic, or other visit to the 26 Schengen states, for a non-Schengen country resident – with few exceptions.
Applying for the Schengen Visa is a formal procedure which involves submission of your documents and data based on specific pre-set criteria. Two newly made photographs of the applicant which meets the specific requirement and specification as regards to the, quality, format, oldness and background are also necessary papers amongst others that should be attached to the Schengen visa application package.
Everyone must be aware that only high quality photos are accepted for Schengen visa application. This makes reproduction easy and it is needed when electronic facial biometrics applies in the ID Document of the visa holder.
We would be using some illustrative photos to give detailed explanation to formal requirements of Schengen Visa photograph. It is very much important to know these requirements and meet up with it because only if in the needed format, the electronic biometric recognition of the person and perfect reproduction can be authorized correctly.
Who needs a Schengen Visa?
The idea of free movement amongst the 22 European Union member states and the 4 EFTA member state started being implemented 5 years after the signing of the Schengen convention in Luxembourg in 1990. Allowing the citizens of these countries to move freely and start a life wherever they want to.
Although countries like Iceland, Switzerland, Norway and Lichtenstein are not part of the European Union yet they are part of the Schengen zone enjoying this freedom of movement policy. Nowadays, Schengen area covers most of the European countries except United Kingdom and other countries that are yet to be a part of it such as; Bulgaria, Ireland, Cyprus, Croatia and Romania.
In case of any individual threat, the competent authorizes have the power to conduct a police check at any border or border area irrespective of the nationality. However they are not entitled to border control check, otherwise any one from the Schengen zone countries can cross the border without any border checks.
The citizens of the certain Schengen zone countries or countries that don't need visa to travel to any of the Schengen zone are still no free to live in their choice country without any legal permission.
The permitted number of days for residence in any Schengen Zone country is not more than 90 days or 3 months every half a year irrespective of the reason for travel. Also you need to understand that although you are free to travel to any of these countries with your Schengen visa dos not mean you are free to study or work in that country.
There are also countries where the citizens need an airport transit visa so as to change the airplane at an airport in a Schengen Zone country.
Schengen visa Passport photos, snapped and printed in London
CLICK HERE TO NAVIGATE TO US ON GOOGLE MAPS
Video Directions to get your
Document Binded

in London, Paddington

We look forward to welcoming you at Reload Internet, in Paddington, London. If you wish to call us our telephone number is 02072624111