Reload offers a baby passport photo service by post with next day delivery available. Our online baby passport photo service is extremely straight forward to order from and is perfect for your babies first passport. We can create your infant baby passport photo that meets any  passport photo size specification in the world.
Upload your baby photo to us below & we will check your photo (without charge) to ensure we can make it compliant to any .Gov regulation, even if it is for UK, Australia, China, USA, Canada, or Greece. Rest assured, we will print, cut and send you passport photos to the exact passport size that is required with a guaranteed pass service. Nothing could be simpler.
Online infant baby passport photo by post – how it works
Step 1:
Lay your Baby down on its back in the cot, or on your bed, or on the floor, and take a photo of your baby looking directly down like in the photo below. Do not worry about the colour of your sheet, just make sure the face and body are in focus & we will take care of the rest
If your child, or infant that can sit upright, please send us a photo sitting in a high chair against a wall.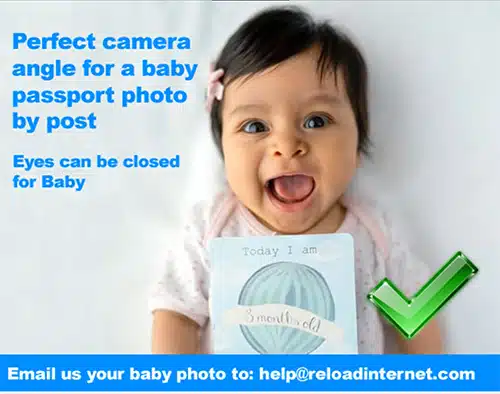 Upload your photo to us here
Alternative Upload link if you have problems above
ALTERNATIVE, UPLOAD YOUR PHOTO
OR email us the photo if that is easier
If you find it easier why not email us the photo directly from your phone? Attach the photo and email us at: help@nullreloadinternet.com
As soon as we recieve the photo from you, our Team will check your photo and we will confirm that the photo is accepted, and then we will confirm your order. Unlike other companies, we check your photo first manually and give you feedback for your peace of mind.
Examples of the type of photos that we can accept from you:
baby pic sent to us: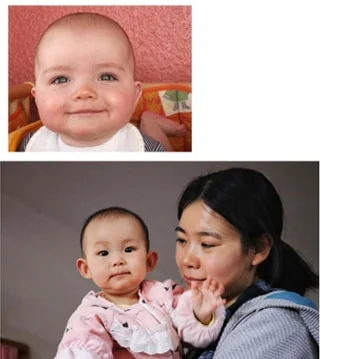 To this approved baby passport pic: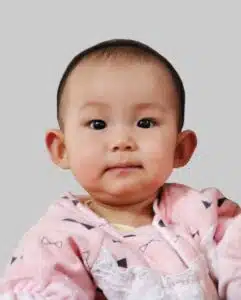 Or this baby digital passport photo: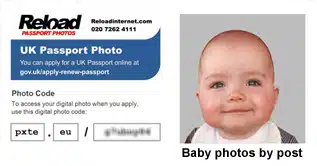 Step 2:
After Upload, we will

check

your photo & only charge if we are 100% certain our passport photo will pass
Whether your passport photo will be used for your toddler, child, infant or baby passport photo, we will only send you a payment invoice once we are 100% certain we can use your photo for the passport photo you require as we guarantee your passport photos will pass.
In case you decide to go for a baby canada passport photo, we will always include a stamp on the back of the photo with our passport photo studio name, date, and address, as well as be cut to the 70mm x 50mm format
Reload guarantees all of our passport photos. Do not take the risk of being declined by using a low cost online baby passport photo service
After Payment,
You will receive your baby passport photos by post. We even offer next day delivery if you need it.
Digital passport ID codes are sent same day, by email.
Watch the video on our baby passport photo service by post.
Newborn first baby passport photo / Child passport photo by post / digital photo by email – Fast service
Our infant / newborn baby / toddler / child passport photo by post online service will always meet the regulations. Reload is a one-stop shop if you require a digital photo ID code for your new born passport photo or child passport digital photo sent by email, same day. We ensure your photo is biometrically approved whether it is for ID purposes, visa purposes (example Indian OCI, New Zealand) or even Passport renewal applications.
Toddler passport picture & baby first passport photo
Using our online passport photo service ensures your baby stays safe at home, and that your baby first passport photo will look their very best in their passport photo.
Stay Safe – use our online baby passport photo by post service with fast delivery
Can your baby eyes be closed in a passport photo?
In a baby passport photo, can the eyes be closed? The exact rules for babies are that if your baby is less than 1 year old (12 months old) a UK passport photo does not require a a baby's eyes to be open.
Children aged above 1 year old do need their eyes to be open in their passport photo.
As a responsible parent,  you can support their head with your hand, but your hand must not be visible in the passport photo.
Children under the age of six, do not have to be looking directly at the camera or have a plain expression – this is a rule that cause so much confusion as well.
Newborn, infant, toddler, child or baby passport photo online with next day delivery with our no fuss service.
Email us your baby photo to: help@

null

reloadinternet.com to get started today!