Reload offers a baby passport photo service by post and our online baby passport photo service is extremely straightforward to order from.
Online baby passport photo by mail – how it works
Step 1:
Take a photo from your mobile phone of your baby lying down on a plain coloured sheet, do not worry about the background, we will clean that all up for you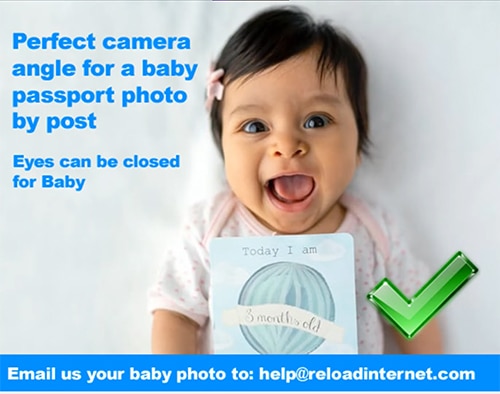 Upload your photo to us here
Alternative Upload link if you have problems above
ALTERNATIVE, UPLOAD YOUR PHOTO
Our friendly team will respond fast and check your photo free of charge and check your photo free of charge or give you advice where necessary.
We will also digitally alter the background – and even if it is for the UK or Canada or any Country in the world, we will ensure it is compliant and we guarantee the passport photo will pass.
Step 2:
We will email you after we have checked your photo and 100% sure it will pass
Whether it is an adult, child or baby Canada passport photo that you require, we will only send you a payment link once we are 100% certain we can use your photo for the passport photo you require as we guarantee your passport photos will pass.
Baby Canada passport photo will always include a stamp on the back of the photo with our passport photo studio name, date, and address, as well as be cut to the 70mm x 50mm format
Reload guarantees all of our passport photos. Do not take the risk of being declined by using a low cost online baby passport photo service
Step 3: Receive your baby passport photo by mail
We will post your baby passport photo to you fast. Next working day is available, UK & Worldwide
Digital Passport photos are emailed to you same day
Watch the Video Guide on how to take the perfect baby passport photo
Can babies eyes be closed or open in a Passport Photo?
This is such an important question and we get asked this a lot in our store. So here are the exact specifications.
The exact rules for babies are that if your baby is less than 1 year old (12 months old) a UK passport photo does not require a a baby's eyes to be open.
Children aged above 1 year old do need their eyes to be open in their passport photo. As a responsible parent,  you can support their head with your hand, but your hand must not be visible in the passport photo.
Children under the age of six, do not have to be looking directly at the camera or have a plain expression – this is a rule that cause so much confusion as well.
Online Baby Passport Photos for any country in the world
At Reload we can make baby passport photos online for any country in the world. You can browse our Passport Photo directory to learn more. Email us at help@
null
reloadinternet.com to get started today!