At Reload OCI we offer a full Surrender certificate help and can then complete your OCI application for you. We deal with every aspect of your Surrender Certificate process completed for you in our company owned store in Paddington.
Our team will complete all of the Surrender Certificate application forms on your behalf and we also include all prinotouts and passport photos in our fees.
We will book you in with an appointment at VFS, print all of your documents, for you to submit your documents with a guaranteed pass service, or we will redo it for you free of charge.
Our Surrender & OCI Help Service includes everything you will need:

Detailed surrender document requirement list will be provided after you make an appointment with us
Passport photos included worth £14.99
All Surrender and OCI application forms completed
Printouts and photocopies included
Booking to any VFS center for your Surrender and OCI application
Guaranteed success service or redoing it for free*
Limited special offer: 20% discount on family or two or more applicants booking OCI applications together*
Get your Surrender Certificate & OCI – ALL IN ONE VISIT
If you need a Surrender Certificate (to surrender your Indian passport), we can complete BOTH your Surrender Certificate and OCI application for you at the same time and book you into VFS for both services – this way you will save a lot of time.
You will only need to visit us in Paddington ONE time and make two visits to VFS (one for your surrender and one for your OCI application submission). We will simplify the process and will handle everything for you.
Our charges for a Surrender certificate application is £99.99 per applicant & OCI application £99.99 per applicant. Further OCI applicants in the same booking will get a 20% discount, so book your family in on the same visit.

Please click here to make a booking with us for this service. Detailed list of documents required for a Surrender Certificate and OCI application will be provided to you as soon as you make a booking with us:
Surrender Certificate only
If you would like to surrender your Indian Passport and this is all you require help with, please make a booking on this page. Documents required for a Surrender Certificate will be provided to you as soon as you make a booking with us:
Surrender certificate booking only
What happens if Surrender Certificate VFS bookings are not available?
We include a VFS booking for the surrender certificate for all of our clients that use our service. We have found that in London especially, VFS bookings are very busy and are sometimes not available. You do not have to worry about this if you are a client of Reloads. Our team have a sophisticated method of securing appointments including checking upto 5 times a day for you until we can secure you a booking. How do you know we will get you a VFS booking? Reload OCI has been established for many years and we have (touch-wood) never not been able to find a client a VFS booking. Forget the hassle – let the team at Reload handle all surrender and OCI formalities for you.
If you need further information before making a booking for your SURRENDER CERTIFICATE APPLICATION, please call us on 02072624111 – we are here to help.
If you have lost your Indian passport or have already handed your Indian passport to an embassy, please follow the link.
CAN NOT VISIT US IN PADDINGTON?

Use our Nationwide Remote Surrender and OCI help service with NO VISIT REQUIRED
If you would prefer not to visit us in Paddington, please use our Nationwide Remote Surrender and OCI help service.
We will deal with all of the formalities without the NEED TO VISIT US.
We will complete everything via email and post you the required paperworks.
Please click here to use our REMOTE SERVICE and a member of our team will get back to you.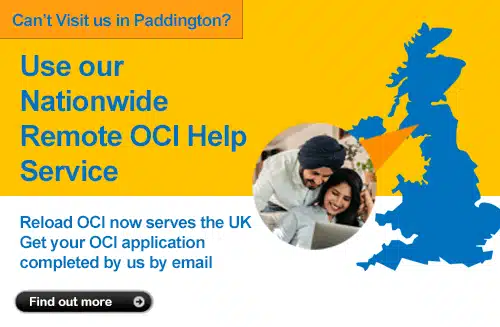 Why choose Reload OCI?
Established in 1998 in Paddington, London
GDPR Compliant
Strict procedures & highly trained professional staff to protect your data and guarantee a successful application.

Only use the Official Reload OCI website. Do not trust imitator websites with your Passport and Personal details.
Surrender Certificate Passport Photo Specification
Included in our service we will provide you with a Surrender Certificate Passport Photo. If you just want these, we charge £14.99 instore.
Surrender certificate Application requires 2 x indian passport photo white background which are 2 inches x 2 inches which is available at Reload OCI in Paddington.
Full frontal position that includes the height of the face between 50 – 70%.
The photograph which will be in colour, will be of a size of 2 inches x 2 inches (51 mm x 51 mm) and printed on the highest grade photo paper available.
We use an Indian Passport Approved background which is a plain light colored background. By the way, Grey is preferred by the Indian Embassy.
We will ensure that your photos do not have distracting shadows on the face or on the background – this can cause a decline on your indian passport application.
Your Head coverings will be permitted if it is for a religious reason – this means – Turbines are allowed, as well as hijabs – BUT we will ensure that your ears do show.
No smiling ever. The expression on the face should look natural. This is because teeth – reflect light!
Once you obtain your Surrender Certificate, you can use the Reload OCI Service to obtain your OCI Visa. The rules are getting more and more complicated and Reload OCI keeps up to date with the VFS guidelines so you do not have to.
We guarantee you will pass for your OCI first time around or we will redo the whole application for you completely free of charge. No other OCI Consultant in London or in the UK can offer this.
A Complete Guide To Surrendering the Indian Passport For British Citizenship
This article will answer all the questions you have on the surrender certificate process.
As many of our clients know and the reason why our many clients use a service like Reload OCI is because the VFS guide is sadly inadequate and the information contained is not at all helpful.
We have had our consultants look over the VFS guidelines, and consult several immigration lawyers for the entire procedure for cancelling the Indian passport and obtaining a surrender certificate and we have documented the entire procedure.
Here is a step-by-step analysis of the procedure for obtaining a surrender certificate following the cancellation of your Indian passport.
So first things first, before you can apply for an OCI card online if you have an Indian passport you must have a surrender certificate.
There is no way around this as you will need to Surrender your Indian passport when you get a foreign citizenship and the embassy will issue you with a Surrender certificate at this time as a surrender certificate is a mandatory document required for your online OCI application form.
Why must I surrender the Indian passport?
This is a question we are asked by clients regularly, and I am sure you're probably wondering why you need to surrender your Indian passport in the first place.
Here is the official reason set forth by the Indian High Commission:
According to the 1955 Indian Citizenship Act, people of Indian origin are not allowed to have dual citizenship.
The law requires you to surrender and let go of your Indian passport at the nearest Indian mission in other to renunciate your Indian citizenship.
You'll need to surrender your Indian passport, and then obtain a Surrender Certificate as evidence of your cancelled Indian passport before you can apply for Consular Services/Visa or OCI Card.
We hope this clears up this question!
Renouncing your Indian Citizenship
Your British Naturalization certificate is issued to you when you have your final ceremony and this is the proof of your British Citizenship.
The next step after receiving your Naturalization certificate is to renounce your Indian passport and acquire a Surrender certificate.
This article is a comprehensive guide on the procedures involved in surrendering your Indian passport on acquiring a British citizenship. This detailed guide will teach you everything you need to know about how to cancel your Indian passport when you obtain a foreign citizenship.
How to surrender your Indian passport and apply for OCI simultaneously
If you already have a British passport and intend to apply for an OCI card there is usually no way to apply for a surrender certificate and OCI at the same time even if you are planning to travel to India on short notice due to family issues. However you can always try contacting VFS personally.
If you apply for a Surrender Certificate then you will need a minimum of 5 working days for this to be processed. This does not include the period that your application is in transit to and from the High Commission or the Consulate General. You will need to send your valid Indian passport. If you have an expired Indian passport you will not need to send this.
Processing time for a surrender certificate
According to the website, processing times may vary depending on the case and some applications might require more processing time than others and the process takes between 5 to 10 business days.
Timeline for Surrender Certificate and Indian Passport
You must surrender your Indian passport within 90 days (or else face the penalties) of obtaining any foreign nationality.
The date affixed on your naturalization is the date you acquired the British citizenship not the date of issue of your British Passport.
Am I still allowed to travel with my Indian passport when I have not surrendered my indian passport?
Your Indian passport is still valid for travel three months after you obtain your British Citizenship. The 3-month period of grace starts from the date you acquire the foreign citizenship which is the exact date your Naturalization certificate was issued.
The 1967 Indian Passport Act has penalized the act of traveling with an Indian passport after the expiration of the three-month period of grace.
Penalties on Surrender Certificate and Indian Passport
You should be aware that you travel on your Indian Passport – after 90 days you will be fined for each journey you make. The penalty can go up to over a £1000.00
We have had clients who have kept their Indian passports after acquiring a foreign nationality (and renew them when they expire) and travel with them.
It is a criminal offence to travel with the Indian passport once the three-month period of grace expires, once you acquire another citizenship.
It is a punishable offence. A grade scale is used to calculate the penalty. This grade scale is dependent on how many trips the offender undertakes on the Indian Passport after acquiring a foreign citizenship.
The Penalty for misuse of Indian passport would be imposed if the last held Indian passport expired on or after 1 January 2005 and it is retained beyond three years, i.e. not surrendered or the PIO travelled on this passport beyond the grace period of three months or the validity of the last held Indian passport was renewed after acquiring foreign nationality
If you're under any of the categories above, you must address a written declaration to the Indian High Commission in the UK with a detailed explanation of your reasons.
According to the rules provided on the VFS website, the penalty cannot be reduced or waived.
Renunciation Declaration for Surrender Certificate
A person who has lost or misplaced his/her Indian Passport and is unable to produce it on demand, cannot be issued a Surrender Certificate because you need to provide the Indian passport before you can be issued a surrender certificate.
In cases like this, you need to apply for a "Renunciation Declaration" along with a copy of your Indian passport. There must be a remark to the effect that you failed to surrender your original Indian passport.
You must also provide a police report and a Notarized Affidavit so you don't commit passport misuse.
Deemed Surrender Certificate
You must provide a copy of your first British passport and a photocopy of your last Indian passport if you want to apply for Deemed surrender – this list is changing and for us to give you accurate information you must instruct us for the service by booking in an appointment.
If you already have a Surrender Certificate are looking to start the OCI Process please click on this button, or watch the video below on how Reload OCI can help you with your OCI application.
OCI Help Service
If you need any help, please email us:
How do you self attest your copy for your surrender certificate application
Make a photocopy of the original document
Write the statement on the photocopy "True copy of the original"
Sign below this statement.
Submit the self-attested photocopy with the application.
Retain the original.
Applying for a surrender certificate
The Indian High Commission has outsourced the process of surrendering the Indian passport (including other Passport/Visa/Select Consular services) to the UK's VFS (and in the US Cox & Kings).
The implication of this is that:
Your application for Indian citizenship renunciation has to go through the VFS not the High Commission.
You can also submit your application personally at any of the VFS centres.
You must book an appointment before you apply, and this is very sacrosanct as your application will not
be considered if you don't book ahead.
Here are the VFS centres for you to choose from:
VFS London-Goswell
VFS London-Hounslow
VFS Belfast
VFS Birmingham
VFS Bradford
VFS Cardiff
VFS Edinburgh
VFS Glasgow
VFS Leicester
VFS Liverpool
VFS Manchester
The Surrender Certificate application process
There's a security personnel at the entrance to attend to you when you arrive at your centre of choice. The security personnel then conducts preliminary checks on your filled application form, your appointment letter, after which you'll be issued a token number.
Next, you take a seat, while you wait for your number to appear on a screen in their waiting room. Reload OCI always advises its clients to take a tablet or something to entertain you for an hour. There can be a long wait.
After that, you'll be asked by the officer in front of the counter to submit all the necessary documents and then pay a passport surrender fee. You'll then be advised on all the tentative timelines, and then you'll be given a payment receipt.
The officer at the counter will take down your email address and phone number to update you about your application.
Costs for Surrender Certificate and Ways to pay at VFS
Payments for your surrender of your Indian passport can be made in the following ways:
Cash is accepted at the VFS India Visa Application Centre
Bank drafts or postal orders can be made at the visa application centres made payable to "VF Services UK Ltd"
Credit cards & Debit Card – Visa Electron, Maestro and Solo are also accepted at VFS centres.
According to the rules of the High commission, an applicant cannot make his/her payment by cheque.
Surrender Certificate payment methods for Postal Applications
This will have to be checked with VFS when you are posting your application, but at the time of posting from a post office, you can make a postal order through Royal Mail. Do not send cash or credit card details along with your application via post. If a family is applying together, you can pay the fees and the service charges for all the members by one draft or postal order.
Fee for surrender of passport/ renunciation of Citizenship
The VFS Service fee for all surrender applications is £7.44 inclusive of applicable VAT. All the applicants are requested to include the service fee while organising their payments. There is no online payment facility available for Surrender of Indian passport service.
Mode of payment could be Cash, Debit (we do not accept credit cards), Postal Order or Bank Draft payable to "VF Services UK Ltd"
The Government of India has fixed a fee for renouncing the Indian Citizenship / Surrender of Indian Passport based on the date, the Person of Indian Origin, has acquired British/Foreign Citizenship.
British citizenship obtained on or before the 31st of May 2010: The required fee is £22 (and it covers Consular Surcharge and Misc service charge). You don't have to pay any passport surrendering fee. Yu will be charged £7.44 (VAT inclusive) by VFS for services making it a total of £29.44.
British citizenship obtained on or after the 1st of June 2010: Here there is a passport surrender fee of £119, which includes £117 embassy fee and £2 consular charges. It also includes a £7.44 VFS service fee (VAT inclusive), making a total of £126.44.
Obtained British citizenship and has a passport that expired ten years ago: A "Deemed Surrender Certificate" will be issued to you in this case, and it will cost you about £20 including a £2 Consular Surcharge and £7.44 as VFS service fee, amounting to £29.44 for your Deemed surrender Certificate.
| SERVICE RENDERED | FEE IN GBP | SERVICE CHARGE IN GBP | TOTAL IN GBP |
| --- | --- | --- | --- |
| Miscellaneous Service fee for surrender of passport / renunciation of citizenship (for applicants who have already acquired foreign citizenship till 31.5.2010) | 22 | 7.44 | 29.44 |
| Fee for surrender of passport/ renunciation of Citizenship (for applicants who acquire foreign citizenship with effect from 1.6.2010) | 119 | 7.44 | 126.44 |
*Please Note:
All High Commission/Consulate/fees once tendered are non–refundable
The fee in the table is inclusive of the £2 Consular Surcharge.
More information can be found here
Collecting your Surrender Certificate / renunciation certificate
The renunciation certificate / surrender certificate will be sent to you by courier/post as soon as the request is processed.
When applying for your surrender certificate, you must provide a self-addressed A4 envelope (Special Delivery) for return delivery.
You can also ask the advisor at your application centre for available delivery courier services, but it is better to go with the Special Delivery envelope, as it is more affordable and can easily be tracked via Royal Mail website.
Lost your Indian Passport – How do you obtain a Surrender Certificate?
Please follow this link to our article on what to do if you have lost indian passport
Is Reload OCI Help service Affiliated with the High Commission of India or VFS Global?
Reload Internet is NOT affiliated with the Indian Embassy, High Commission of India or VFS Global.
We provide consultancy services and OCI application form filling help for the OCI and Indian form filling process. We can not offer refunds as we are service based. Our guarantee ensures that we will redo the whole application for you without charge should you be declined for any reason and we are always willing to make right anything that needs doing. We can not be held responsible for the distance travelled or travel expenses. By using our service, you agree to indemnify and hold harmless Reload Internet and its staff and no warranties are given.
This service is managed by Atomic Internet Limited
*Our fee excludes VFS and Local Government fees. Should you fail for any reason, or should VFS require more documents from you, we will redo the whole application for you without charge.
* 20% discount only applies to OCI applications NOT surrender applications. We do not offer refunds, but we will redo any errors for you without charge.