Reload OCI has been featured on Sunrise Radio. The Reload Team was invited to a special OCI Application segment on the Radio show and the Reload team talked about the Reload OCI service in the UK and our complete OCI application help service which starts from £69.99.
Please call us on 0207 193 9293 if you have any questions
Reload OCI review and testimionials
Instagram superstar, Bishamber Das, one of our many thousands of OCI applicants we have served at Reload OCI was kind enough to leave a testimonial on Reload OCI help service based in London Paddington on her Instagram stories.
Reload OCI is the premier OCI Agent in London. If you need help or assistance with your OCI application at VFS or CKGS in US, your trust is our success.
Reload OCI Specialises in every type of OCI application:
We will also manage your booking at VFS and we will make an appointment at VFS (subject to availability due to COVID) and our team checks appointments daily until we get one for you.
All of our OCI help services include appointment booking and OCI compliant passport photos worth £14.99 (different size to UK passport photo and we can take this in our studio in paddington, or you can email us a photo of yourself from home and we will post it to you)
Transfer or Renewal of OCI £69.99
Fresh OCI Application £79.99
OCI change your Name, Address or Profession for £69.99
Convert your PIO to OCI for £69.99
Surrender Certificate help £59.99
2 Simple and fast ways to get your OCI visa from the Premier OCI Agent in London – Reload OCI
VISIT US IN PADDINGTON
Please book an appointment with us in Paddington for one on one support.
[bupro_appointment]
RELOAD OCI REMOTE SERVICE
If you can not visit us in Paddington, please use our remote online OCI service. We will email you a list of documents required for your OCI application, and all you have to do is scan or take a photo your documents from your mobile phone and email them to us.
We will do the rest, inlcuding booking you into a VFS center next to you, and will post your application form including your indian OCI passport photo.
To start the process, please fill in this form by clicking on the button below
Fill in the Reload OCI remote OCI form
It is fast and simple and as you complete the form – a member of our team will get back to you for the next steps forward.
Reload has a Global client database using our OCI application help service..
Our Oci Help services include a guarantee you will pass, or we will redo the whole application for you free of charge.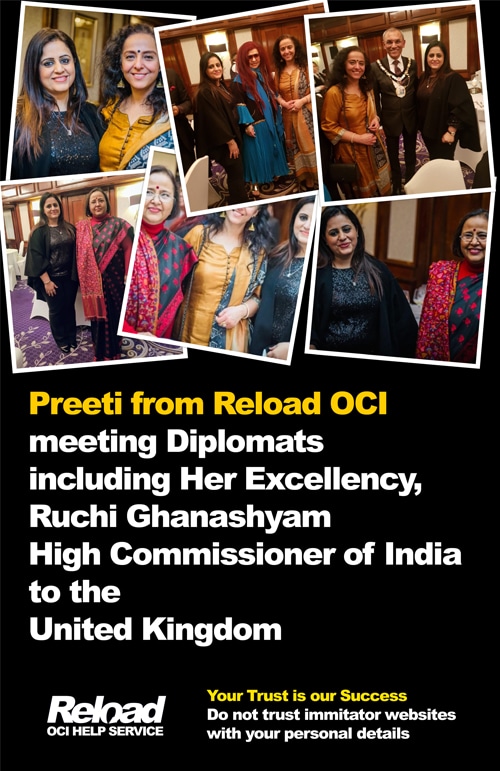 Why choose Reload OCI?
Established in 1998, Convenient Central London Location, GDPR Compliant
Covid 19 Safety Procedures in place
Strict procedures & highly trained professional staff to protect your data and guarantee a successful application.
HSBC Start up awards London Finalist in 2006

Do not trust imitator websites with your Passport and Personal details.