The rules of a baby passport photo are fairly relaxed in most countries because it is almost impossible to get a baby under the age of one year to look at a camera, sit still long enough for a photo to be taken and have a neutral expression. There is currently no standard that is agreed upon between countries for baby pictures.
At Reload Internet we will capture your baby passport photo in a safe environment, and will then print and cut your set of photos to size instantly, so there is no need to come back. We have a team of professional photographers that have been trained extensively in regards to producing passport photos for babies and infants.
Depending on the country, we will provide you with a set of 4 or 6 photographs at an affordable price, and of course they come with a guarantee to be accepted when you submit them to your required Embassy!
UK Baby Passport Photo specifications:
For children under the age of 5 in the UK, the guideline for baby passport pictures are more relaxed due to the difficulties in taking photos of such children. The guidelines for these passport photos are that:
The photo should be a good resemblance of the baby;
There is no requirement for an impartial expression in the passport photo;
The baby's head does not need to be straight and the baby doesn't have to look straight into the camera
The color of the baby's eyes should be visibly clear in the passport photo.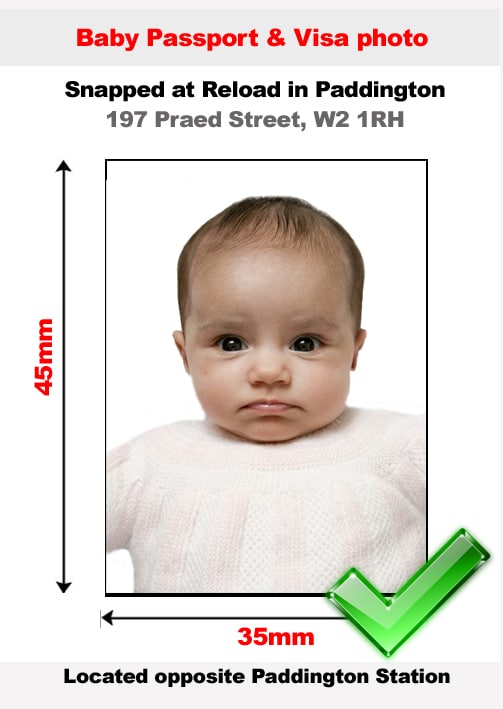 The UK's guidelines for passport and visa photos in regards to infants are fairly relaxed, other than the requirements of both eyes and their colour being clearly visible. Some countries are stricter, so it is best to follow our requirements listed below.
Below is a list of specifications, which if followed, will be acceptable for every country in the world in regards to infants and children.
Baby Passport Photo specifications:
The baby should be laid on top of a small mattress or a chair with an appropriate cover sheet, this sheet must be the same colour as the required background.
There should no visibility of supportive hands, if there is a need for the parents to hold the child; their hands are usually placed beneath the baby's clothing.
In pictures for babies and children, they should be on their own and without any objects or toys, dummies etc. Both of the baby's eyes must be clearly visible as well as the colour
The baby must be facing the camera, however they will not need to look directly into the lens if under the age of 1 year
There must be a clear contrast to the background
The baby's head and top of shoulders must be visible in the photograph
The photographs cannot be digitally altered in any way
The photographs cannot be taken in an instant-photo booth or on a home computer
There are many regulations and guidelines to passport photos, with these guidelines you will get through the whole tedious passport or visa process quickly and efficiently for you and your whole family. We guarantee that if you have your baby passport photo taken by us here at Reload Internet, it will pass first time with your application no issues.