At Reload Internet in Paddington we offer instant square photo prints from our digital photo printing service. We print square photos instantly in store in just a few minutes from either your camera, mobile phone, iPad or Tablet, email, or USB stick. The Reload team in-store will take care of high quality square photo printing for you while you wait.
Square printed photos from Reload in Paddington will look unique and creative on your gallery wall in a way that traditional photo sizes can not.
Why square photo printing?
Square printing photos come in a variety of sizes which enhances your photo collection. At Reload we also have a collection of frames for all memorable printed photos. Square printed photographs are perfect cropped pictures from social media platforms such as facebook, instagram, pinterest, etc. This definitely allows you to capture the moment, not just on digitally but physically too. At Reload we assure clear and crisp printing in a square format, which surely feels like photos come to life.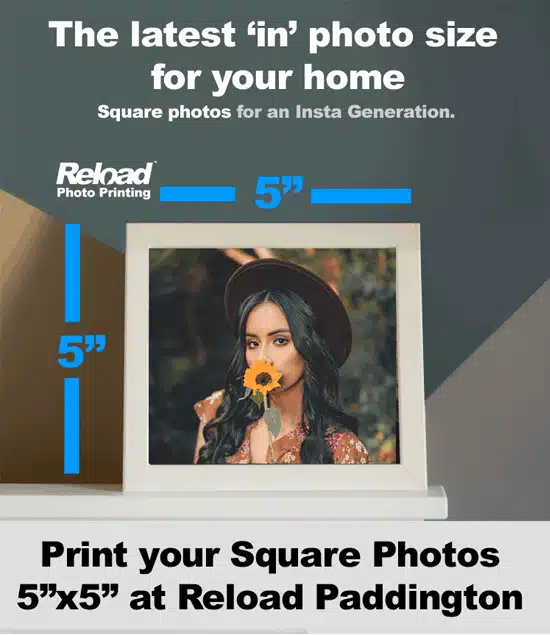 Square photo prints will always gracefully display your photos, especially for food and fashion bloggers, multiple selfies, travel diaries and much more from your social media feed.
Our clients reactions are generally "oh wow" as we print their square photos instantly in-store.
It's different to be Square. Square photo prints for square photo frames are the latest in-accessory for your home, fueled by the instagram generation
Square photo prints at Reload Paddington are done with precision and are more profound. The square prints come in a range of sizes. It's a beautiful combination of lovely captured moments and memories digitally printed on premium quality photo. One is entitled for the best of both combinations.
Square photo printing sizes available
In Reload Internet in Paddington, we have the following square photo print sizes available:
| | | | |
| --- | --- | --- | --- |
| Photo Prints in inches | Photo Print Size (cm) | Photo Print (mm) | High Quality Resolution |
| 5×5 | 13 x 13 cm | 127 x 127 mm | 3072 x 3072 |
| 6×6 | 15 x 15 cm | 152 x 152 mm | 3672 x 3672 |
| 7×7 | 18 x 18 cm | 178 x 178 mm | 4896 x 4896 |
| 8×8 | 21 x 21 cm | 210 x 210 mm | 4896 x 4896 |
| 12×12 | 30 x 30 cm | 305 x 305 mm | 7272 x 7272 |
If you can not find the photo size you are looking for, please follow this link to view all of the sizes available from our photo printing London location
VIEW ALL PHOTO PRINT SIZES AVAILABLE IN-STORE
Our Square photo prints photos can be printed in Matt or Glossy finish based on your preference.
At Reload we assure high quality photo paper that could last a lifetime and at Reload we print all our photos in the double resolution to our nearest competitor. It costs us more per photo – but we ensure the photo quality is nothing less than premium quality.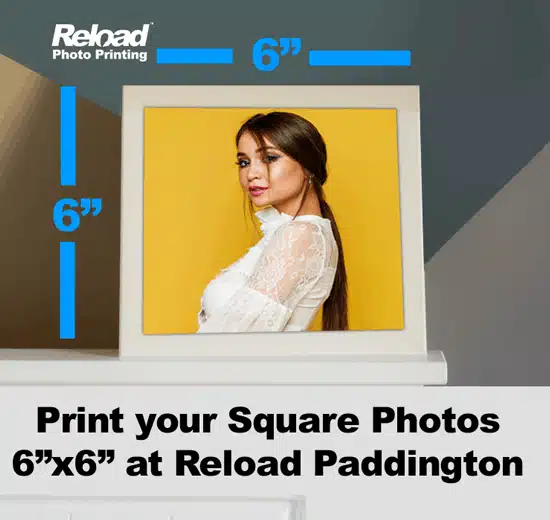 The square photos are available in multiple sizes at Reload Paddington based on your need and choice.
Great opportunity to display your work in a perfect format
Finally, Our staff are the real differentiator. We will always offer you 100% support in transfer of your files from your phone or USB onto our software to print. We can have it all done in only a few minutes.
Square Photo Prints video
Watch the Video on how quickly we can print your photos in store in Paddington. We can print one single photo to over 100 – in a variety of sizes.
Please contact us
If you require custom sizes for your photo printing or large orders – then please email us directly. We cater for all clients all over London that require photo printing and can offer quantity discounting.
Find Photo Printing in London
Get your photos printed in London now, find Reload Internet here: