Are you looking for the fastest way to get your PIO to OCI converted? If you have a PIO card (Person of Indian Origin visa) and are looking to get it transferred to an OCI Card then Reload OCI is the place to come.
We will take care of the entire process of transferring your PIO to OCI Card. Once you book an appointment with us, we will provide you with a clear list of documents that are required to transfer your PIO to OCI and we will take in account your circumstances.
We will then complete all parts of the OCI application form including Miscellaneous and Section B. We will take your OCI photo instore (included in the cost), upload and resize your OCI photo and upload your signature to the OCI form in the digital format.
If you are looking for OCI Help then please visit our dedicated OCI help page.
PIO to OCI Agent
We guarantee you will be approved by VFS or we will redo the whole OCI application for you. It can not be fairer. No other PIO to OCI agent can offer this level of service.
So why wait?
Book an appointment to visit our PIO to OCI Help Service in Paddington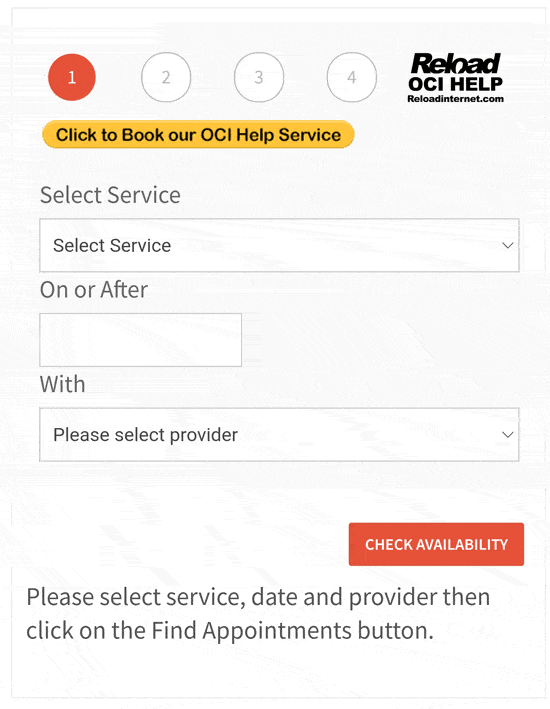 If you are unable to visit us in Paddington and would prefer to use our simple and fast online service please click on this button:
I can NOT visit you. I prefer to use your online PIO to OCI help service
What happens after your PIO to OCI is converted
Once a booking is made we will confirm the OCI documents that you need for your application before your appointment with us.
Once you arrive at our Paddington branch, our staff will fill in Section A of the OCI application with you and prepare your documents for upload as well as digitise your signatures and prepare your OCI passport photos instore.
All forms will be printed and prepared for you in store.
We will then make a priority booking at your nearest VFS branch and you will simply hand in the file we have prepared for you to them.
It's fast and simple.
You will then receive your OCI Card within 6 – 8 weeks.
If you have any questions in regards to any aspect of your OCI Application, for the fastest response time, please email us:

How to Guide – Convert your PIO to OCI Video
Watch the video and walk through on our PIO to OCI application process
PIO to OCI – The Complete Package
This Service includes everything that is required to get your PIO to OCI – from preparing your OCI applications form, to clicking your indian passport photos to printing and scanning all of your documents for you. All that is required is for you to turn-up to  the Indian Embassy. Full breakdown below:
Full OCI application help and guidance from trained member of staff

Advice on which documents to include with your OCI Application according to your circumstances.

Digital Photos Clicked in store

Passport photos printed in store.

Digital photos resized to 200kbs

Your signature will be digitally scanned

ALL documents will be uploaded to the Indian embassy including your OCI application form

We will give you Printouts of you OCI Application Form required for the Embassy and one copy for your records.

4 * hard copies of Indian passport photos (required for the Embassy 2*2 inch (51*51 cm) will be attached.

Appointment booking will be made at the Indian Embassy in Paddington for a convenient time for you

Our service includes Printed B/W copy of application and appointment letter.
PIO TO OCI documents requirement list
A fully completed OCI Application Form that is OCI Application Ready including print-outs and copies of your online application forms.
The correct specifications of OCI Indian passport photos we will also stick that to your application form (this is mandatory btw so the glue is very important)
Digitally uploaded photographs and signatures for your OCI Application (mandatory requirement). Our Indian Embassy approved passport photo machine, and fully trained staff will ensure that your OCI application has everything that is required.
A full set of hard Copy OCI photos which are suitable for the OCI Application form (if you have opted for the Premier Package). Should you wish to purchase OCI Photos separately instore and are a walk-in customer you are welcome to purchase them for £14.99 for 4 photos.
In short, after we will complete everything you need for your PIO to OCI application and you will have everything you need to submit to VFS – we guarantee you will be accepted or we will redo it for you free of charge.
PIO to OCI Photo specifications
OCI Passport photos specifications include the background colour, size of Indian passport photo, and EVEN the angle of the face as you look at the camera. A kiosk can not help with this, and we have seen many OCI applicants fail as a result of errors in applications or non-qualifying passport photos.
If you just require your Indian OCI Passport photo, we can click and print these instore whilst you wait and we charge £14.99 for Qty: 4 (hard copy) photos.
This does not include digitization – if you require this – we charge £9.99 extra including your signature. which is why we recommend going for the complete OCI package which includes everything you will need including support and checking of your OCI online applications forms.
We have attached an image below and not many Passport Photo studios in London have the specialist equipment required to get an Indian Passport Photo approved.
OCI Agents in London
We are OCI Agents in London, and Reload Internet is NOT affiliated with the Indian Embassy or VFS Global. We provide consultancy services and OCI application form filling help for the OCI and Indian form filling process. We will scan in all of the documents you require and also digitise photos. We however can not offer refunds as we are service based. We are always happy to make right anything that needs doing. We can not be held responsible for the distance travelled or travel expenses. By using our service, you agree to indemnify and hold harmless Reload Internet and its staff and no warranties are given.
How long will my PIO to OCI application take to complete?
That's a great question. Once the application is submitted to VFS Global Paddington Indian Visa, OCI, Passport and Consular services centre and for it to be issued it takes approximately 6 to 8 weeks.
We have sadly seen it take longer – and sometimes, much sooner.
So book an appointment today for PIO to OCI application help. 
If you have any questions for the fastest response please email us:

This service is owned and operated by Atomic Internet Limited