At Reload Internet in Paddington, London, we will snap, print and even digitise your US passport photo or US Visa photo for you instore while you wait with no appointment needed.
Get your USA Passport Photo in 2 ways
Option 1: Visit us at our store in Paddington
When you pop into our store in Paddington, we will take a photo of you while you wait.
Option 2: USA Passport photo by Post
Take a photo of yourself against a white wall at home like the image below & upload it to us, and we will post it to you with next day delivery.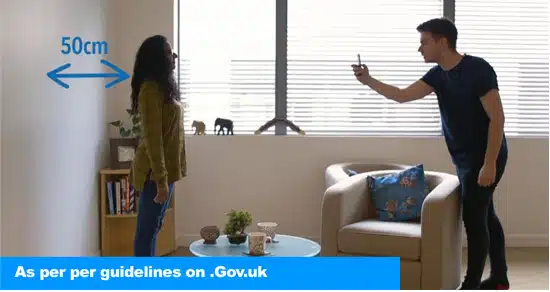 Upload your photo to us here
Alternative Upload link if you have problems above
ALTERNATIVE, UPLOAD YOUR PHOTO
We can take your USA Passport Photo in-store OR we can post it to you with fast delivery. Just upload a photo of yourself and let us do the rest!
Here are the US passport Photo specifications and US visa photo requirements.
US Passport Photo specifications
For US passport photo specifications (USA) the photos we supply from Reload Internet will meet the following guidelines:
2" x 2" (50mm x 50mm)
Full face, eyes open, front view for frame subject
Shows full head from top of the hair down to bottom of chin
Height of head measures from 1" to 1 3/8" (25mm to 35mm)
Head must be in the middle of the frame
Height of eyes must be between 28mm to 35mm from bottom
Natural expression required
No shadows on face or background
Background will be white
Take a look at our professional passport studio and store based in Paddington, London. We provide the right setting to take your US passport photograph or US visa passport photo.
USA Passport Photo requirements Video
Watch Reload Internet in paddington make a US passport photo and your US visa passport photo snapped instore.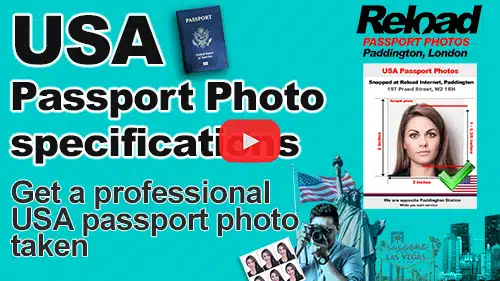 Your U.S. passport photo or U.S. Digital Photo will have to meet a very specific and exact standard and is frankly one of the most difficult embassies in the World to satisfy. However our staff at Reload Internet value the importance of the specifications required and are able to meet these standards – add some!
We ensure that the US Passport Photo or American Passport Photo we supply you will have the right size, composition, and clarity. We can process your US digital photo for you, including cropping it for you digitally for the US Embassy so that you are able to apply online.
Reload Internet has the best camera equipment, gloss printers and lighting so that your US passport photo or US Visa photo that we supply meets the exact standards. In addition, Reload Internet is based in Paddington, London and has a convenient location for you to have your US passport photo taken in.
US VISA Photo Requirements
Much the same as the US passport specification, the US visa has the following specifications:
The US visa photo size should be 2 x 2 inches (51 x 51 mm).
The US visa photo will be positioned with the head dimensions between 1 and 1 3/8 inches (22 mm and 35 mm) or 50% and 70% from the bottom of your chin to the top of the head.
In color – ofcourse!
No shadows and we have the lighting to ensure this is correctly created.
White background – we do not use offwhite!
We will tell you to have a cold, neutral expression.
Religious clothing that the person wears daily is allowed.
The hairline has to be visible unless you the client, uses a headdress (turban etc) for religious purposes.
The headdress must not cover the face.
If you have a hearing problem you are allowed to wear a hearing device.
We always ask our clients to remove eye glasses – this makes it easier for your US passport photo to meet US Biometric Passport Photo standards.
US Digital Photo
We are also able to create a US digital photo for your US application.
US Digital Photo Requirements
If you would prefer to submit a US digital photo online, we can do this for you. Best of all, if you purchase a US passport photo (hard copy) and a US digital photo we discount the digital photo by 50%. Our US digital photo will meet the standard set forth from the Digital US embassy
Our US digital image will adhere to the following specifications:
Dimensions: The image dimensions will be in square aspect ratio, which means that the minimum acceptable dimensions will be 600 x 600 pixels with a maximum of 1200 x 1200 pixels.
Color: The image will be be in color (24 bits per pixel) in sRGB color space – the tricky part!
File Format: will be in JPEG file format
File Size: Ultra high resolution and an image size of 240 kB (kilobytes) (300 pixels per inch or 12 pixels per millimeter)
Compression The image may need to be compressed in order for it to be under the maximum file size. The compression ratio should be less than or equal to 20:1.
The digital specs of US passport photo is 900×900 pixels.
USA Digital Visa Photo
At Reload Internet we specialise in taking digital photo for USA Visa and the USA digital visa photo specs are 900×900 pixels.
Reload have a team of very efficient staff members that will make sure that these specifications are meet to the T. All you have to do is visit our store  in Paddington. We can meet any digital specification for any country.
Green Card Photo /  DV-2018 US Photo
If you are looking to join the 50,000 people and their families who will Live, Work and Study in USA which is an Official USA Government program which provides you a chance to live work and study in USA and you happen to win the Green card Lottery, Reload Internet is here to take your Green card lottery photo.
The current lottery in 2016 at the time of writing is is called DV-2018 because the winners of Green Cards will receive their green cards by the end of 2018. The 2015 lottery was called DV-2017. All in all, we are here to support you in your green card lottery application – make your green card photo stand out from the rest by coming to Reload Internet.
Digital specs of Green Card Passport Photo is 600×600 pixels.
US Electronic Diversity Visa Photo / Lottery Digital Photo
As well as being able to create your Digital US passport photo from scratch on a white background, if you are you having trouble uploading your photo or it is it not auto cropping your image – why not send it to us. We will colour correct it same day, and make sure it passes at the US embassy. We deal with client worldwide.
Just email us your image for us to check:
What we will do once we receive your US digital passport photo Image:
We will fix your digital photo guaranteed same day to be accepted on the U.S. official website 
The result will be 600 x 600 pixels in size which is equivalent to 50mm x 50mm and will have a white background.
We will adjust the correct head size which is paper format 1 inch but no more than 1 3/8 inches).
We will adjust the correct eye height (1 1/8 inches to 1 3/8 inches from the bottom of the photo)
And the image we send you will be more than 240KB in size
Biometric USA Passport Photo
At Reload internet we always ensure that our Printed and Digital Passport photos for USA will meet the strict criteria set forth by the USA Authorities and USA is one of the countries whose passports are now fully Biometric.
OPTION 1 – Visit us in Paddington
Just walk into our store and let our experienced staff take your photo. It will not take more than 5 minutes.
We will take your photo with professional lighting.
We will print, prepare & cut your USA passport photo.
No appointment needed.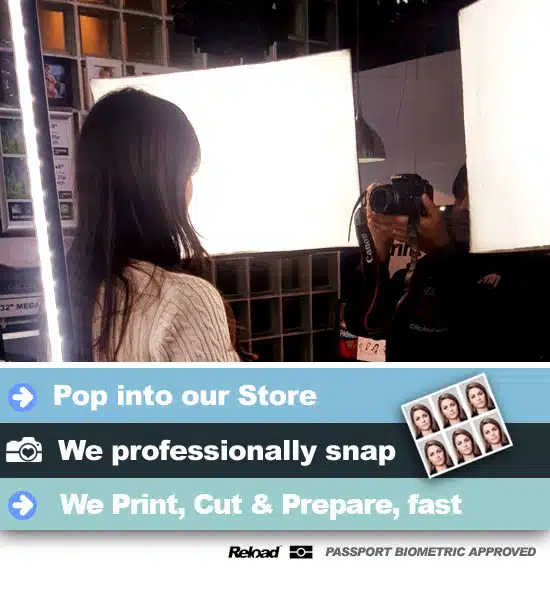 OPTION 2 – Passport photo posted
We can post you a set of 4 USA Passport photos – next day delivery. How it works:
Email us a photo of yourself from your phone or camera.
We will look at your photo, free of charge
We will reply to confirm.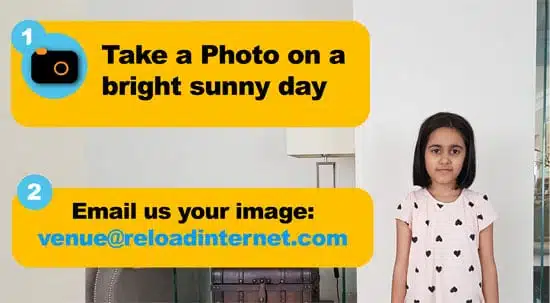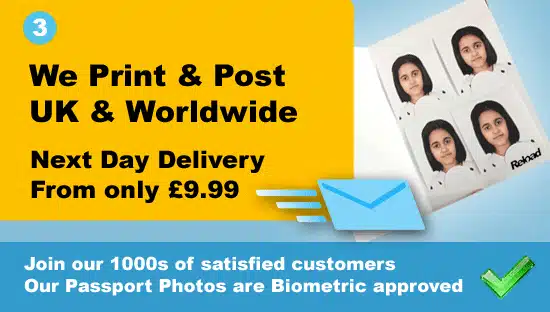 We will print, cut and post your your USA passport photos
Next day delivery
We post your photos anywhere in the UK or worldwide.
OPTION 3 – Digital Photo resize
Send us your photo from your phone or camera whilst you are standing against a wall in your home
We will look at it free of charge.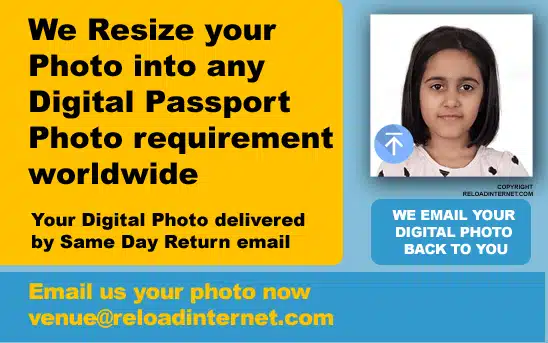 3. We will email your resized images back to you same day.
4. Your digital USA passport photo will be ready to upload to the online USA passport service.
You do not need to worry about the regulations, we have dealt with thousands of satisfied customers and are very experienced.
So why wait? Email us your photo today and we will resize it digitally for you