Get your OCI Card with our OCI instore help service. We take care of the entire process of obtaining your OCI visa for you with a guaranteed pass service.
The OCI card was introduced in August 2005 allowing NRI's (non resident Indians) dual citizenship to their mother land, India. Obtaining an OCI card has many benefits which include a life-long visa to India which means you will never need a tourist visa or business visa again to visit India. However, in spite of the technology, filling in the online forms has proven for some to be a really daunting, frustrating experience. This is where Reload OCI is able to help. You can be assured that we can take care of the entire process of getting your OCI card for you. We will provide you a worry-free service of obtaining an OCI card and you can be sure – we are very experienced already completing thousands of OCI applications.
OCI application help service
At Reload OCI, we process new OCI applications instore, renew your OCI including change of personal particulars (name, change of address or occupation). We can even deal with the loss and replacement of your OCI visa.
Fresh / New / First time OCI Application
Transfer OCI to new Passport
Lost your OCI
Renew your OCI
OCI change your Name, Address or Profession
Convert your PIO Visa to an OCI Card
Get your OCI card – Fast
Our prices are simple. Let us take care of the entire OCI process for you – why not make a booking now?
Please select service, date and provider then click on the Find Appointments button.
Our experienced staff will take all the worry and frustration away by dealing with your entire OCI application from start to finish including advising which documents are required, scanning, resizing and taking care of all document uploads for your OCI Application – and we will even handle your booking appointment with VFS at any center in the UK.
Please Watch our video on our instore OCI help service and make a booking above.
If you have any questions please do not hesitate to email us on or call us on 0207 193 9293

OCI Help – The complete package
The Premier OCI package includes everything you will need to get your OCI Card from the High Commission of India.
The Premier package costs £59.99 including a guarantee from us that you will pass (or we will redo the whole application for you without charge)
What is included in the Premier OCI package:
Full OCI help and guidance from trained member of staff

Fresh OCI application forms completed instore and double checked.
Full advice and guidance on which documents are to be included with your OCI Application according to your circumstances.

Digital Photos Clicked in store

Hard copy OCI Passport photo printed in store.

Digital photos resized to exact specifications

Your signature will be digitally scanned

ALL documents will be uploaded to VFS Global including your OCI application form

Printouts of your OCI completed forms that are required by VFS Global and one copy for your records.

4 * hard copies of Indian passport photos required for VFS Global which are 2*2 inch (51*51 cm) will be attached.

We will book you in at the most convenie

nt VFS Global office at a time that is suitable to you and handle your booking even if you need to change it after we have booked it in.

This service can also be used for transferring your PIO to OCI
This service can also be used for transferring your OCI to a new passport
This service can also be used for OCI renewal
Full Guarantee that your OCI application will

pass first around

or we will refill the whole application again and manage your booking with VFS completely free of cost.
Can I get a Discount for more than one OCI Application?
We get asked this a lot. So we now offer a 5% discount on the basis that you get 2 or more applications done through us at the same time. We will not offer this package to past customers bringing in friends. The discount applies to two OCI applications made in the same same visit.
If you wish to save some money you may wish to use our OCI Online Help service which only charges 39.99 per OCI application, which means you will not have to come instore and everything will be done over email. Please visit this page: OCI ONLINE Help
Paddington is to Far for me to come – Can I get my OCI card with Reload OCI any other way?
Yes.
Please complete our quick and fast online OCI application form and it will only take you 5 minutes to complete.
Fill in our form by clicking here
Once completed, a member of team will send you a list of documents that is required without the need of you visiting us instore in Paddington.
You will scan or photo the documents and email them to us, and we will resize everything for you and complete all OCI application forms for you and even post the PDF to you.
Reload is able to assist clients worldwide with an OCI card with our new service.
Please follow this link below for Reload Internet's to use our OCI online service today.
Document list for your OCI Application
After you have booked an appointment with us we will let you know which documents you should bring to your appointment based on your exact circumstances.
The document requirement list varies according to whether you were born in India, or your Parents were born in India, or if you have surrendered your Indian Passport yet.
Confusing we know but we are here to answer all of your questions you have and use our expertise to guide you through the whole process.
OCI Agents in Southall and London
Reload OCI is an OCI Agent and we deal with a large amount of clients that are looking for OCI agents in Southall and London.
The VFS office is located at 50, Vista Centre, Salisbury Rd, Hounslow TW4 6JQ.
Reload OCI has the experience that many other OCI agents do not have and our team can handle and advise on many OCI inquiries. After we have completed your OCI application form, we will book you in the VFS office at Southhall or Goswell or anywhere in the UK.
Worth bearing in mind that Reload OCI service is located 10 minutes away from OCI agents in Southall – as the train service to Paddington is so fast from Hounslow and Southall.
OCI Photo and Signature resize service
If you are having trouble resizing your OCI Photo or OCI signature to the specifications of VFS then we would be happy to take care of this for you without the need to visit us in Paddington. Simply take a photo of your passport photo and signature that you will use in your OCI Application form and email it to us.
OCI Photo Resizing service
We will resize it for you within 1 working day (most likely same day) and send it back to you – Resized to perfection and guaranteed it will pass at VFS. The cost of resizing your OCI photo and OCI signature (together) is £12.99. Please follow the link below for further details:
OCI Document Resize Problems?
If you are having any problems with resizing your OCI documents for upload to section B of the OCI online application form including your marriage certificate, naturalization certificate or surrender certificate – do not despair as Reload OCI can resize it to the correct PDF format and size for upload to Section B.
Please follow the link below and email us your documents for this service.
We will gladly resize any OCI Documents for you – same day with a guarantee they will be approved.
OCI Document Resize service
Watch the Video below on how fast and efficient Reload OCI is with dealing with OCI applications instore.
OCI Card / OCI visa and how to get one
This is the full technical definition of the OCI visa and Reload OCI can obtain the OCI visa for you by taking care of all the form filling for you. The OCI card was introduced by the amendment of the Indian citizenship act 1955, and was introduced in August 2005. It has been a great success with many applications being approved, however, in spite of the technology and the modern age, filling in the online forms has proven for some to be a daunting experience. The online portal developed jointly by VFS Global, Indian Visa, OCI, Passport and Consular services centre and the Indian Embassy is a powerful web resource that can process new OCI applications, and even issue and reissue duplicate OCI documents. The OCI online web portal can even change personal particulars, Nationality, name, change of address/ occupation and loss and even damage of the OCI registration certificate/visa. However, for some applicants the process has proven a little frustrating and Reload Internet is able to help.
How long will the OCI application take to complete following our OCI help?
That's a great question. Once the application is submitted to VFS Global centre, the OCI visa will be issued in approximately 6 to 8 weeks from the High Commission of India. Should you transfer your OCI from an old passport to your new passport this should be completed within 10-12 days and if you Transfer help with your OCI to your new Passport, please select the Premier Package or Package 2 above..
I have travel plans to India – Can I still apply for an OCI? Is there a Fast Track OCI service?
In short VFS and the Indian High Commission do not suggest that you make travel arrangements until you have received your OCI Visa. However, what we normally advise customers is to begin the application for an OCI Card ASAP – and should it not arrive in time, then we can always proceed forward with applying for an Indian Tourist Visa and this can usually be delivered to you within 5 days.
When applying for an OCI, the VFS will usually not hold your Passport for a period longer than 2 weeks.
if your OCI card does not arrive in time then we will apply for a indian tourist. Here is a link to the tourist visa india service from Reload and this is what we would do for you should your OCI application not arrive in time.
How long will VFS hold my passport for when applying for an OCI Card?
When applying for your OCI card or OCI visa, VFS will hold your passport for a period of upto 2 weeks. The whole OCI application will take longer, but you will be bale to collect your passport from them after two weeks. This is a new rule and they used to just accept photocopies of your passport but the Indian High Commission changed this rule in mid 2018.
Can I apply for my Pan Card at the same time as my OCI Card?
It makes sense to get your PAN card completed at the same time as your OCI application as this is a very important document for a NRI.
We can fill in your PAN card application forms at the same time as your OCI application forms when you arrive in Reload – and if you would like this to be done alongside your OCI application, simply make a Premier OCI booking above and reply to the email we send you, letting us know that you would like this.
In case you would like to learn a little more about our PAN Card service and our charges, please follow the link below.
Get your Pan Card Service
OCI passport photo specifications
Our staff understand the OCI requirements for your OCI photo and we will follow the exact standards and the Indian High Commission working together with VFS Global have very strict definitions on the OCI visa application and they will not accept photos taken from a passport booth.
Specialist OCI passport photos (hard copies and digitised) are required for your OCI application.
At Reload OCI our specialist photo equipment instore guarantees that our OCI photos will meet the VFS exacting standards.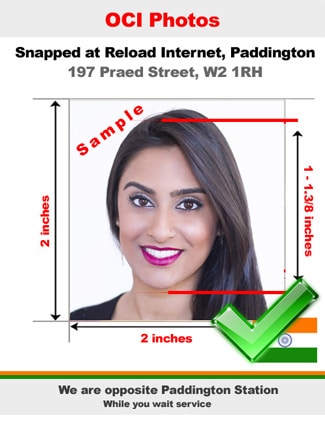 The OCI Baby photo / thumb impression. Do I have to bring my minor applicant in store?
No you do not. If you bring your baby's passport image and thumb impression on your mobile phone by taking a photo of it, then we can do the rest instore. Or you can take the Complete package, and we will take the minors thumb impression in ink instore and digitise it as well.
General Oci information:
So that your OCI application passes first time around we will ensure that both parts A and B are completed with assistance from us.
We will ensure that your OCI Application has Part A of the OCI form completed by selecting either individual applicant or family group and the rest of the details will also be filled up.
We will ensure that your children that are not minors (18 years or older) will have a separate application for each child.
We will ensure that all Applicants select the right consulate. If the wrong consulate is chosen, the application will be rejected.
Reload Internet, before sending your application form will make sure that all information is properly entered.
Applicants will have to apply in person at VFS with an appointment that Reload will make for you. You can not turn up to submit your OCI application at VFS Global.
No OCI applications will be accepted by post anymore at VFS.
It is important to note that once your OCI application is submitted to VFS Global to process, you will not be able to make any changes to it – so once we have completed your OCI help instore we will double check the information you have provided ensuring that each question is answered correctly and that your OCI application is processed without any problems.
Minor Applicants for OCI Applications – Important Notes
If your children are applying and are a person who has not reached the legal age i.e. 18 years old, then this is what will be required. This is all included in our OCI application help package, but our OCI help will ensure that you have:
Parental authorisation forms in place
Copies of the Parents UK / Foreign passport or OCI cards.
A Copy of the information page of the Parents will also be required – for clarity this is the page in the passport where the passport photo and details (name etc) are clearly shown in the passport.
If parents have OCI cards, then copies of both information pages will be required on the OCI card.
People over the age of twenty years old are required to apply for the OCI again every time a new passport is issued.
Is Reload Internet OCI Help Affiliated with the High Commission of India or VFS Global?
Reload Internet is NOT affiliated with the Indian Embassy, High Commission of India or VFS Global.
We provide consultancy services and OCI application form filling help for the OCI and Indian form filling process. We can not offer refunds as we are service based. Our guarantee ensures that we will redo the whole application for you without charge should you be declined for any reason and we are always willing to make right anything that needs doing. We can not be held responsible for the distance travelled or travel expenses. By using our service, you agree to indemnify and hold harmless Reload Internet and its staff and no warranties are given.
This service is owned and operated by Atomic Internet Limited