At our London Passport photo studio, we are able to photograph you and print your Sri Lankan passport photo whilst you wait, with no appointment needed in our Paddington store.
Get your Sri Lankan Passport Photo in 2 ways
Option 1: Visit us at our store in Paddington
When you pop into our store in Paddington, we will take a photo of you while you wait.
Option 2: Sri Lanka Passport photo by Post
Take a photo of yourself against a white wall at home like the image below & upload it to us, and we will post it to you with next day delivery.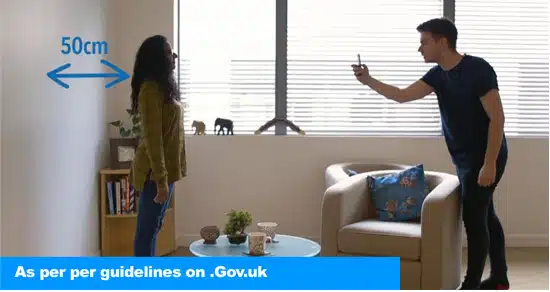 Upload your photo to us here
Alternative Upload link if you have problems above
ALTERNATIVE, UPLOAD YOUR PHOTO
We can take your Sri Lanka Passport Photo in-store OR we can post it to you with fast delivery. Just upload a photo of yourself and let us do the rest!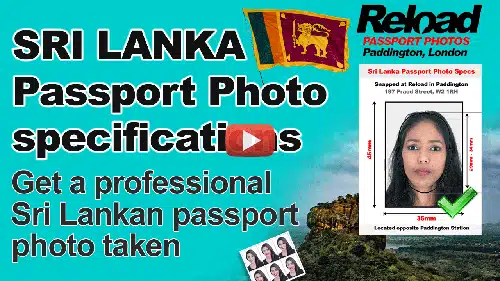 It is always advisable to use a Sri-Lankan passport photo specialist like us over a Photobooth (or instant passport photo kiosk) as our staff are full trained to keep up with the strict High Commission of Sri Lanka that are required for your Sri Lankan passport photos. We also have printing equipment (FUJI, Mitsubishi and Canon) that have been approved by the High Commission of Sri Lanka).
Your passport photos in your application for a Sri Lankan passport will need to meet these specifications if your passport photos are to be approved and our late opening hours make it especially convenient to have your photographs taken in London – and we are open till 10pm, 7 days a week.
The background colour according to the Sri Lankan passport photo specifications set by the High Commission of Sri Lanka are an off-white, grey or white background – and your passport photos taken and printed from Reload Internet will always meet these guidelines.
In order to apply for a Sri Lankan passport, you will need to ensure that you have 2 identical photographs for your new passport application. Even if you think that your appearance has not changed, please use passport photographs that are up to date to avoid any unnecessary declines at the High Commission of Sri Lanka. The size of the photographs required for your Sri Lankan Passport application must be 45mm x 35mm in size and you are not permitted to cut the photograph that we provide you in any way as they will meet the exact specifications.
We charge £9.99 for 6 photos.
Sri Lankan Passport Photo specifications
Reload Internet will ensure that your Sri lankan passport photographs are printed on an embassy approved high quality photo paper and that they meet the specific standard for the background using an off-white, grey or white background with a focused and clear result in the passport photo.
We will ensure that the passport photo clearly displays a close up of your head and upper shoulders in the photograph along with a clear image presented with no other objects such as glasses or headgear used.
It is also suggested by the High Commission of Sri Lanka that you need to be facing totally forward (head not tilted sideways) and that your passport photos should have a normal expression with no big smile or grin and that you do not have anything covering your face.
We will minimise any 'red eye' or any reflection from the flash which could then cause the image to be difficult to be visually inspected.
The image size of your face will be approximately 29 x 34 mm in heights from the head to your chin.
And most important of all – We will ensure that BOTH of your EARS are clearly visible in your Sri Lankan Passport photo – this is an instant decline btw, and the High Commission of Sri Lanka are very strict on this.
This guide is only an illustration, and there are many issues in store that we will undertake to ensure that your passort photos meet the specifications required.
When you send off your Sri Lankan passport photographs with your Passport application, please bear in mind that the passport photos we provide you should never be stapled or clipped to your application form as all passport photos received by the Sri Lankan embassy must be kept clean and clear with no marks at all! We have seen many applicants fail on this and this is why we recommend using glue instead of a stapler!
We have a money back guarantee or a free retake if your Passport photos fail at the Embassy for any reason.
All we ask is that you bring back the passport photos as well as any evidence of a decline (stamps from the High Commission of Sri Lanka) and we will issue a full refund OR retake the photos for you, whichever is easier. We always standby our work in a way that an instant passport photo kiosk can not! We look forward to welcoming you instore soon!
Biometric Sri Lankan Passport Photo
At Reload internet we always ensure that our Printed and Digital Passport photos for Sri Lanka will meet the strict criteria set forth by the Sri Lankan Authorities and Sri Lanka is one of the countries whose passports are now fully Biometric.
OPTION 1 – Visit us in Paddington
Just walk into our store and let our experienced staff take your photo. It will not take more than 5 minutes.
We will take your photo with professional lighting.
We will print, prepare & cut your Sri Lanka passport photo.
No appointment needed.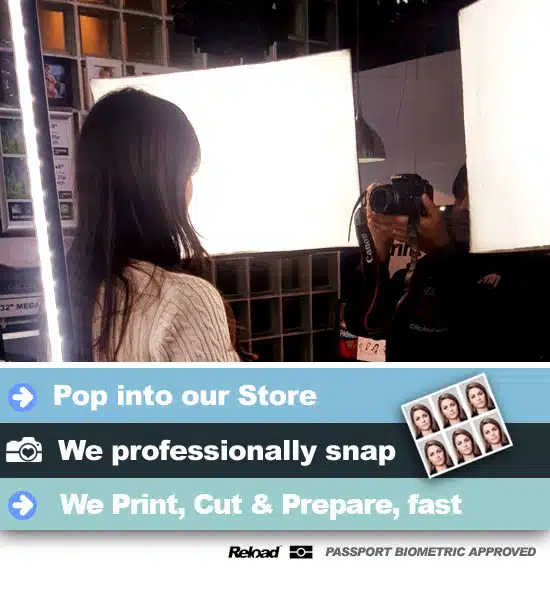 OPTION 2 – Passport photo posted
We can post you a set of 6 Sri Lanka Passport photos – next day delivery. How it works:
Email us a photo of yourself from your phone or camera.
We will look at your photo, free of charge
We will reply to confirm.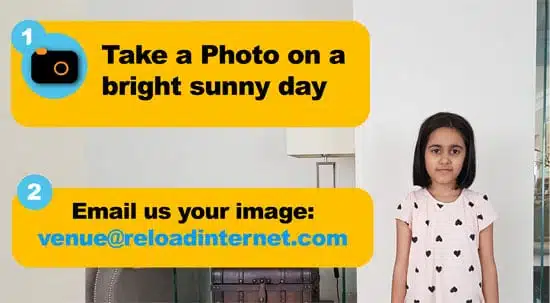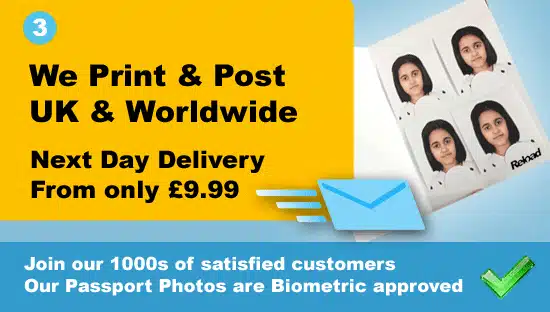 We will print, cut and post your your Sri Lanka passport photos
Next day delivery
We post your photos anywhere in the UK or worldwide.
OPTION 3 – Digital Photo resize
Send us your photo from your phone or camera whilst you are standing against a wall in your home
We will look at it free of charge.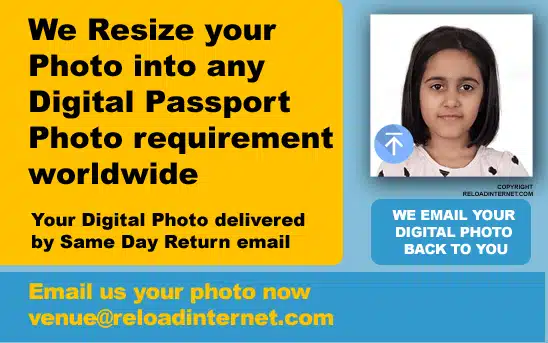 3. We will email your resized images back to you same day.
4. Your digital Sri Lanka passport photo will be ready to upload to the online Sri Lanka passport service.
You do not need to worry about the regulations, we have dealt with thousands of satisfied customers and are very experienced.
So why wait? Email us your photo today and we will resize it digitally for you
Directions to get your Sri Lankan Passport Photos snapped and printed in London
CLICK HERE TO NAVIGATE TO US ON GOOGLE MAPS