If you are looking to get your Algerian passport photo or your Algerian visa photo snapped and printed in London then Reload Internet in Paddington is the place to come. Reload internet is renowned and successful passport photo studio. We are open every day of the week from early in the morning until late at night, even on a Sunday! We are the most reliable and convenient passport photo studio in London for you to have your Algerian passport photo or visa photo taken at.
Get your Algerian Passport Photo in 2 ways
Option 1: Visit us at our store in Paddington
When you pop into our store in Paddington, we will take a photo of you while you wait.
Option 2: Algerian Passport photo by Post
Take a photo of yourself against a white wall at home like the image below & upload it to us, and we will post it to you with next day delivery.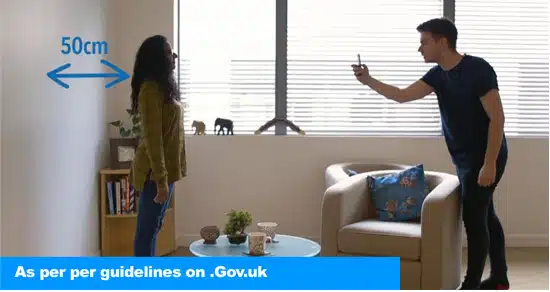 Upload your photo to us here
Alternative Upload link if you have problems above
ALTERNATIVE, UPLOAD YOUR PHOTO
We will print, cut & post your Algerian passport photo to you with fast delivery & to the specifications listed below
Our Passport photo centre is conveniently located in London and we are able to provide you with 6 passport photos for only £9.99. Our service guarantees that the Algerian passport photos we supply will meet the Algerian Passport & Visa photo requirement or we will retake your Algerian passport or visa photo completely free of charge.
Why choose Reload Internet for your Passport photos?
In order to snap your passport photograph to the specifications required by the Algerian Embassy, you can be assured that we have all of the professional equipment in-store that is required to give you the Algerian Passport or visa photograph within 10 minutes with no appointment needed.
We know that the requirements for each of the Countries worldwide are different, and because of this we have all of the Embassy guidelines available to hand. This ensures that all of the passport photos we produced are 100% approved first time around.
Watch our video on how efficient we are with Algerian passport and visa photos: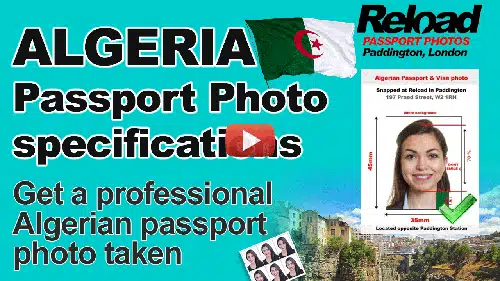 Algerian Passport Photo specifications
The photos that applicant's submit must be identical and be taken in the last six months
The required frame size must be 35 mm x 45 mm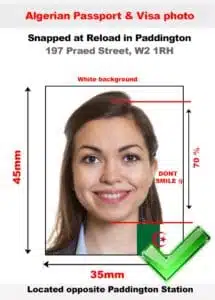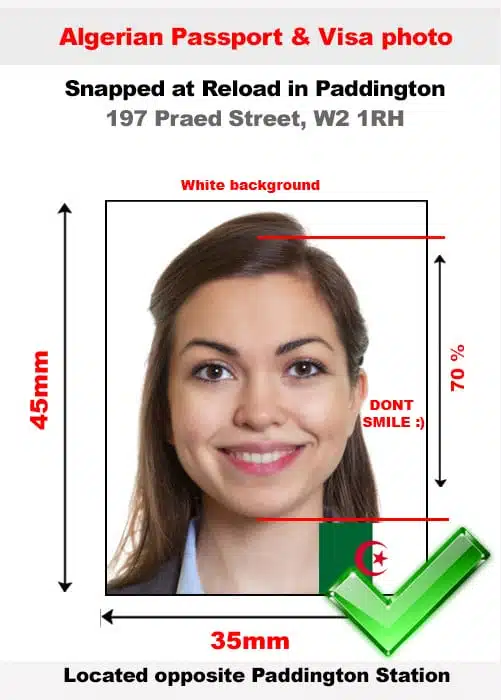 Applicant must make sure the photo is clear, well-defined and taken against a light-coloured or a white background.
If you're submitting a digital version of the photograph, make sure it is not altered in any way.
You must face towards the camera with a neutral expression, neither frowning nor smiling, and with your mouth closed.
Applicant may wear non-shaded or shaded prescription glasses as long as your eyes are clearly visible through the lenses. You must make sure that the frame does not cover any part of your eyes. Sunglasses are strictly not acceptable.
Accessories like hairpiece or other cosmetic accessories are acceptable if it does not disguise your normal appearance.
If the applicant must wear head covering for religious reasons, make sure your full facial features are not obscured.
Photos applicants submit must show the full front view of the head, with the face in the middle of the photo including the shoulders.
Algerian Passport and Visa photos for babies & children:
Parents must make sure that child is on their own in the picture.
Babies must not be holding dummies or toys.
Children under the age of six do not have to look directly at the camera or have a neutral expression.
Babies under the age of one do not have to have their eyes open. Parents can support their heads with their hands but hands must not be visible in the photo.
We are always updating our specifications in regards to Algerian passport and visa photos in accordance with the guidelines released by the official Consulate of Algeria, which can be found here.
Biometric Algerian Passport Photo
At Reload internet we always ensure that our Printed and Digital Passport photos for Algeria will meet the strict criteria set forth by the Algerian Authorities and Algerian is one of the countries whose passports are now fully Biometric.
OPTION 1 – Visit us in Paddington
Just walk into our store and let our experienced staff take your photo. It will not take more than 5 minutes.
We will take your photo with professional lighting.
We will print, prepare & cut your Algerian passport photo.
No appointment needed.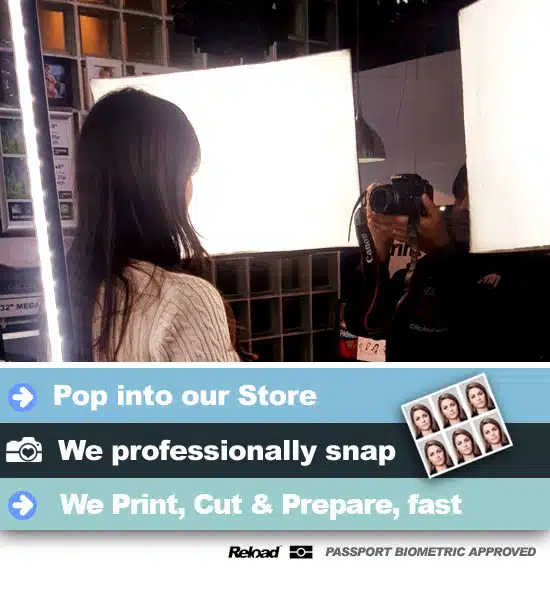 OPTION 2 – Passport photo posted
We can post you a set of 6 Algerian Passport photos – next day delivery. How it works:
Email us a photo of yourself from your phone or camera.
We will look at your photo, free of charge
We will reply to confirm.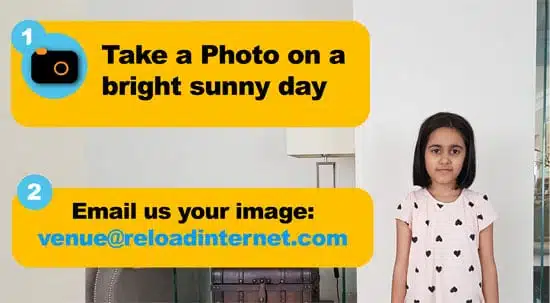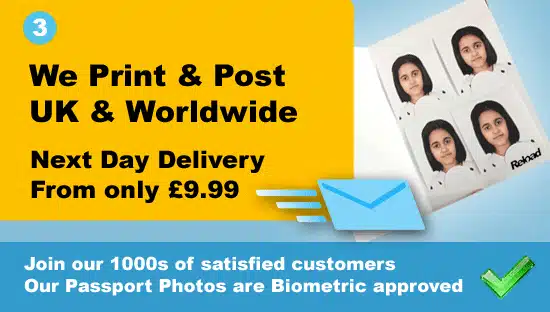 We will print, cut and post your your Algerian passport photos
Next day delivery
We post your photos anywhere in the UK or worldwide.
OPTION 3 – Digital Photo resize
Send us your photo from your phone or camera whilst you are standing against a wall in your home
We will look at it free of charge.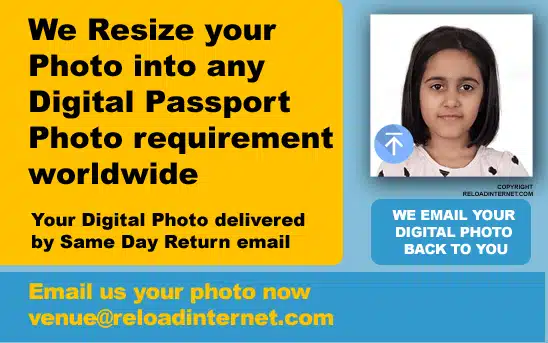 3. We will email your resized images back to you same day.
4. Your digital Algerian passport photo will be ready to upload to the online Algerian passport service.
You do not need to worry about the regulations, we have dealt with thousands of satisfied customers and are very experienced.
So why wait? Email us your photo today and we will resize it digitally for you
Passport Photo Algeria London
Come to Reload to get your Algerian Passport Photos. Pop over to Paddington, London and get your passportt photos clicked in an instant.