We are a Passport photo studio based in Paddington, London that can take your passport or visa photos for Armenia. We take Armenian passport photo and visa photos in our store and our trained staff will take your photo with the right lighting and the correct background that the Armenian Embassy requires.
We can print and prepare your Armenian passport photo and visa photos instantly while you wait in store.
Our late opening times means that you can also visit us 7 days a week and we close at 10pm even on a Sunday. We charge only £9.99 for a set of 6 photos and this includes a money back guarantee should your passport fail in the Armenian embassy.
Watch the video to see how efficient we are with Armenian passport photo and visa photos.
You need to make sure that you have a set of high quality photos in order for your application to be accepted by the Armenian embassy, and instant photo kiosks may not be able to meet these standards. We have had countless customers who have been declined, visit us to get the right specifications of an Armenian passport photo or visa photo.
Choosing Reload Internet to get your Armenian passport photo and visa photos can help you avoid delays that may occur with your application. You need to make sure that you have clear photographs that can be used to easily identify who you are when entering Armenia.
Your photo should less than 6 months old and it must be clear in focus with no red eye or reflections that can affect the overall quality of the image photograph. You need to have a clear complexion on the photos, no excessive use of makeup or anything that may alter the features of the applicants face.
Armenian Passport Photo and Visa Photo specifications:
Four photographs should be submitted of size 45mm x 35mm, the photos must be in colour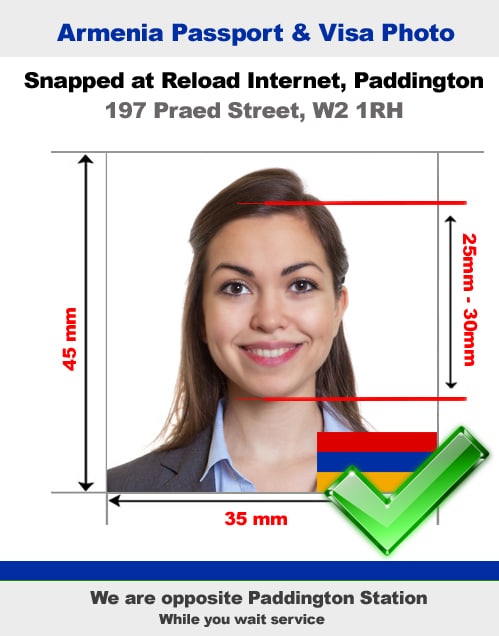 The photos should be no more than 6 months old
Photos taken at photo booths and on computers may not be accepted by the Armenian authorities
The background must be white, with shadows on neither the applicants face nor the backdrop (dark clothing is also recommended)
The face should cover 50-65% of the photograph, therefore the head size should be 25mm-30mm
The applicant should have a neutral expression, mouth closed, eyes open and looking directly at the camera, and head centred and square to the camera, as well as both ears clearly showing
Headwear is allowed under religious circumstances, and full facial features must be visible from bottom of chin to the applicants hairline, as well as both edges of your face being shown
Glasses, hearing devices and similar articles of clothing should be worn in the picture if they are normally worn by the applicant
The photos should have appropriate brightness and contrast, as well as be printed on high quality paper at high resolution, photographs that are digitally altered will not be accepted
The quality of the actual photograph should be good with a high print finish, which can be provided for you in store.
If your photo does not meet the specifications above it may be refused by the embassy of Armenia, at Reload Internet we ensure that this will not happen to your application.
Our specifications are constantly being updated by the staff here at Reload in accordance with the guidelines released by the Embassy of Armenia which can be found here.
Passport Photo printed in London