Reload Internet is a dedicated passport photo studio in Paddington, London, where we are ready to capture, print and prepare your Austrian passport photo or visa photo. Our highly experienced staff have been trained on all the rules and regulations when it comes to Austrian passport and visa photos, and will ensure that yours are accepted by the Embassy of Austria without any hassle. We are able to print your photos instantly in-store, and we aim to have your photographs ready within 5 minutes of your arrival!
We are the most convenient passport photo studio in London, open from early in the morning until late at night every day of the week, even on Sundays we close late at 8pm. When you have your Austrian passport photo or visa photo taken at Reload Internet, it comes with a guarantee to pass first time at the Embassy of Austria, and for a price of just £9.99 for a set of 6 photos this offer cannot be beaten.
Watch our video if you would like to know more about Austrian passport and visa photo requirements, or to see how efficiently we can create them:
Your Austrian passport photo or visa photo will have to meet all of the regulations requested by the Embassy of Austria. Often, photo booth kiosks will not be able to reach the required quality and specifications of the passport or visa photo, and if you use them in your application, you could face substantial delays due to your application being declined, and have to restart from the beginning. If you have travel plans coming up, then they could be negatively affected by any delay. For that reason, it is important that your Austrian passport photo or visa photo meets the requirements the first time- and when you come to us for your Austrian passport and visa photos, we guarantee that they will pass with no problem.
Austrian Passport Photo and Visa Photo specifications:
You must include three photos with your application, each measuring 45mm x 35mm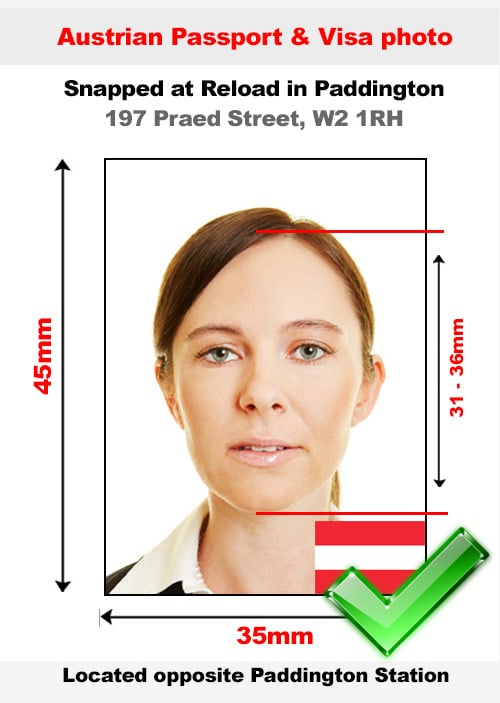 Photos must be as recent as possible – no older than 6 months
The photo must be taken against a white or light grey background, with no shadows visible anywhere in the picture (No shadows on the applicants face nor the backdrop of the photograph)
70 – 80% of the photograph should be taken up by your face, which means your head size should be between 31mm – 36mm
You must maintain a neutral expression, and keep your mouth shut while the photo is taken. You should also look straight at the camera with your eyes wide open, keep your head level and eye line level with the camera lens
You may wear headwear for religious and medical reasons, but it must not obscure any of your facial features, your face should be clearly visible from the bottom of your chin to your hairline.
It is recommended that you remove your glasses when the photo is taken. If you choose to leave them on, then the frames must not cover your eyes whatsoever, and there must be no reflections on the lenses.
Photos must be taken at the right brightness and contrast levels- any photos that have been digitally altered will be immediately rejected
Should your photograph fail to meet these strict requirements, then the Austrian Embassy will likely refuse your application, and you will have to start again. When you come to us, we get things right first time.
We receive our specifications directly from the official Embassy of Austria's guidelines on passport and visa photographs, which can be found here.
Passport Photo printed in London