Welcome to Reload Internet, our Passport photo studio situated in Paddington, London that specialises in taking Barbados passport photo and visa photos.
Our team of well-trained staff can take and print your photo instantly with the perfect lighting and background that meets the specifications of the High Commission of Barbados.
We are open for business every day of the week from early in the morning until late at night, even on a Sunday, which makes us the most reliable and convenient place for you to have your Barbados passport photo or visa photo taken at.
For your passport or visa application to be accepted by the High Commission of Barbados, you must ensure you have a set of high quality photos that instant-photo kiosks will not be able to offer. Over time, we have had many customers come to our studio to obtain the right specifications of a passport photo or visa photo for Barbados, after their application being declined at the embassy due to an error with their photograph.
Watch our video to see how quickly we are able to produce Barbados passport and visa photographs, or to learn more about the requirements:
To avoid delays that may occur with your application, choose Reload Internet for your Barbados passport photo or visa photo, as we can ensure that the photographs your receive from us will meet the requirements. You also need to make sure that your photographs are very clear for easy identification when entering Barbados, and so should have full likeness to your everyday appearance.
Your photos should be less than 6 months old and need to be clear; with no red eye or reflections that can affect the overall quality of the image. Your complexion on the photos must also be clear, this includes no excessive use of make-up or anything that could alter the facial features of the applicant.
Barbados Passport Photo and Visa Photo specifications:
You must submit three coloured 50mm x 50mm photographs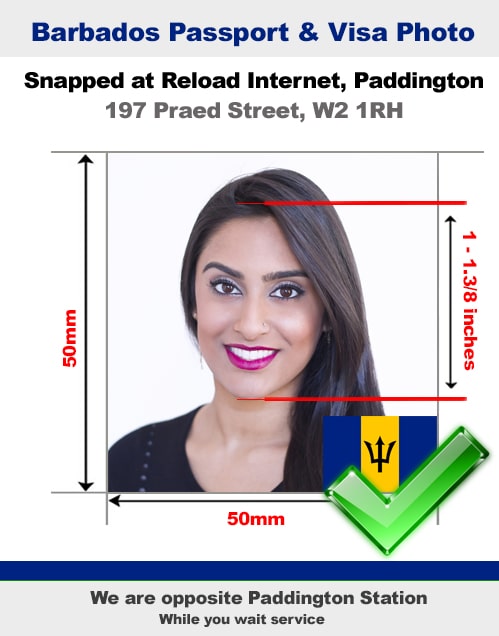 The photos must not be older than 6 months
Photo booths and computer pictures will not be accepted by the High Commission of Barbados
The background must be white, with shadows on neither the applicant's face nor the backdrop
The face should cover 70-80% of the photograph, therefore the head size should be 35-40mm
The applicant should have a neutral facial expression, with their mouth closed, eyes open looking directly at the camera, head centred and square to the camera, as well as both ears showing clearly
Headwear is not allowed except for religious and medical circumstances, even so the applicants full face must be clearly visible in the photographs
The photos should have appropriate brightness and contrast, as well as printed on high quality paper at high resolution, which is available for you here at Reload Internet in Paddington
Digitally altered photographs that alter the physical appearance of the applicant will be rejected
The photograph must be of high quality with a high print finish which can be made available for you in our Paddington studio.
If your photo does not meet the above specifications it may be rejected by the Barbadian government.
Our specifications here at Reload Internet are always being updated by our staff in accordance to the official guidelines released by the High Commission of Barbados, which can be found here.
Passport Photo printed in London