Reload Internet is a photo studio that takes high-quality photos for your passport or visa application for Bermuda. The photos are taken in our store by our trained staff with the correct lighting and background that the Bermuda government requires. So come to Reload for your Bermuda passport photo and visa photo.We can print and prepare your photos in less than five minutes while you wait comfortably in our store.
We are open from early in the morning until late at night every single day of the week, even on Sundays, which makes us the most convenient passport photo studio in London. The price for 6 Bermuda passport photo or visa photo is only £9.99. And should your photos fail for any reason at the Representative of Bermuda, then we will retake your photos free of charge.
Watch our video on how efficient we are with Bermuda passport and visa photos:
You have to make sure that your set of photos are high quality, your application may get rejected by the Bermuda Embassy if they are not up to standard. Instant photo kiosks will not produce pictures that meet the standards required for your application to be accepted. A huge number of customers who have been rejected due to a photograph issue have come to us to get a hold of photographs that meet the correct specifications for a Bermuda passport photo.
If you need a Bermuda passport photo or visa photo, Reload Internet is the best place to have them taken. We will help you avoid unnecessary delays that may occur with your passport or visa application by making sure the photos you send meet the Bermuda Embassy's requirements. We will also ensure that your photos are clear so that you don't have problems when entering Bermuda.
The photos you send shouldn't be more than 6 months old, there cannot be any red eye or reflections that affect the quality of the photo and it must be clear in focus. You must not use an excessive amount of make-up or anything that can alter the applicant's facial features significantly.
Bermuda Passport Photo and Visa photo specifications:
Two 2" x 2'' identical photographs must be submitted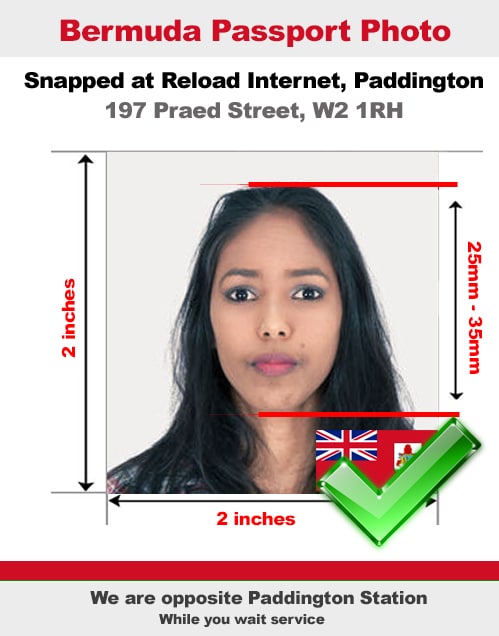 The face must cover 50-70% of the photo. The size of the head should be 25mm-35mm from crown to chin.
The photos must clearly show the applicant's facial features in a centred position.
Photos can't be more than 6 months old.
The background should be white and without patterns
The applicant needs to have a neutral expression in the photo.
The applicant face must be square to the camera, not turned or at an angle.
The applicant must look directly at the camera. The eyes must be opened and visible. The camera lens must be at the eye level of the applicant.
The face must be evenly illuminated. Reflections and shadows must be avoided.
The photo should be printed on a high-quality paper with a print resolution of 600 DPI. Photos must be in colour.
The applicant cannot be wearing glasses as they may encounter problems with reflections from lenses as well as frames covering the applicant's eyes
Head-wear is not permitted unless it's being used for religious or medical reasons.
The face must be nicely focused in all areas, rich in contrast and clear.
If your photograph doesn't meet the requirements above, the application will likely be refused.
At Reload internet, we have all of the Bermuda Embassy guidelines available which can be found here. This ensures that all of the passport or visa photos we take are approved the first time. We won't let your application get refused because of an issue with the photograph.
Passport Photo printed in London