Reload Internet in Paddington, London, is the best place to come for your Bosnian passport photo or visa photo. We are a professional passport photo studio that has been operating for well over a decade in Paddington, and we take hundreds of passport and visa photographs every week. We have a team of trained staff that will provide you with a set of high-quality photographs at an affordable price, which come with a guarantee to be accepted at the Bosnian Embassy when you go to submit your application.
Our store is located on Praed Street, the same street as Paddington tube & train stations, and we stay open throughout the week from early morning until late evening, so you can come and visit us to have your Bosnian passport photo or visa photo taken and printed at a time that suits you. We will cross-check your Bosnian passport photo or visa photo with the official guidelines released by the Bosnian Embassy, and that is why we can guarantee that your photograph will pass with your application.
Watch our video to learn more information regarding Bosnian passport and visa photographs:

If your Bosnian passport photo or visa photo fails to meet all of the requirements below then your application will probably be declined because of a photograph error. At Reload Internet, we will remove and possibility of this happening.
Bosnian Passport Photo and Visa Photo specifications:
The photo dimensions should be 35 mm X 45 mm and you should provide two copies of the same photo, clicked in a plain light background.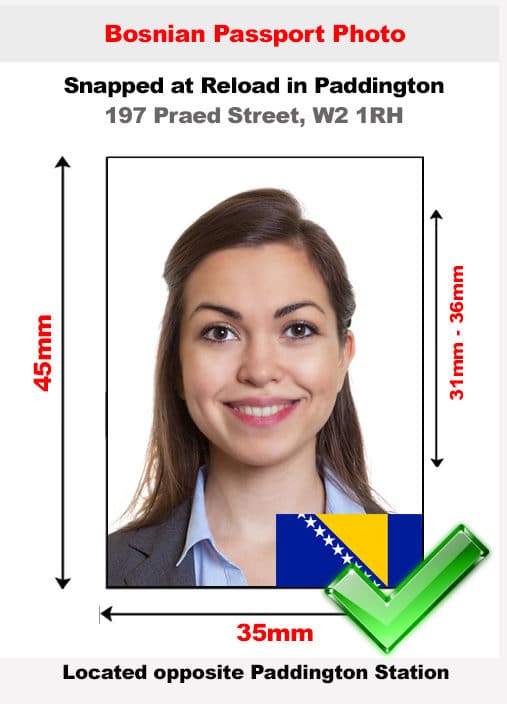 The face should measure 31 to 36 mm and should cover approximately 70% -80% of the photograph.

The photograph must be in a portrait orientation.

There should not be any headgear worn by the applicant.

Only for medical or religious grounds, headgear might be permissible.

Ensure that the face is clearly seen in the photo.

There should not be anything covering the forehead, cheeks, chin, nose and eyes. It is also recommended that the eyes hair and ears be visible clearly.

If the passport applicant is a baby, ensure that the eyes are open.

Photo must be taken in the last 6 months
The expression should be neutral and you should not be smiling or laughing; ensuring that your teeth are not seen in the photo. The eyes should be open and do not raise your eyebrows.

Your face should be straight in the portrait oriented photo and should form a square shape to the camera. Both your ears should be seen equally in the photo without any tilt in your face.

Print the photo with a high resolution: above 600 dpi and on a high-quality paper and the color must be natural. There should not be any modifications or touch ups done on the photo and it must be color photos.

Also, make sure that there are no shadows present on your face when you click the photo.
Your Bosnian passport photo or visa photo must meet all of the specifications, otherwise your application will be rejected, costing you time, money and stress. Reload Internet guarantees that this will not happen to your application when you have your photographs produced by us.
Our specifications are taken from the Bosnian Embassy's guidelines on passport and visa photographs, which you can find here.
Passport Photo printed in London