We can take your Canadian citizenship photo for Canada, either instore, or you can email us your photo against a white wall and we will send you your Canada citizenship photo by post.
Get your Canadian Citizenship Photo in 2 ways
Option 1: Visit us at our store in Paddington
When you pop into our store in Paddington, we will take a photo of you while you wait.
Option 2: Canadian Citizenship photo by Post
Take a photo of yourself against a white wall at home like the image below & upload it to us, and we will post it to you with next day delivery.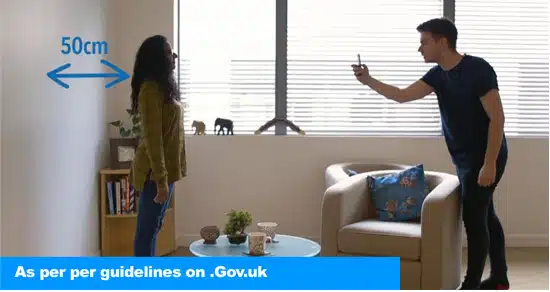 Upload your photo to us here
Alternative Upload link if you have problems above
ALTERNATIVE, UPLOAD YOUR PHOTO
We can take your Canadian Citizenship Photo in-store OR we can post it to you with fast delivery. Just upload a photo of yourself and let us do the rest!
In our Passport photo studio in Paddington we can your take your Visa photo for Canada, Canada Passport Photo or  your Canadian citizenship photo with our fully trained staff will photograph you with the right lighting and the correct background that the Canadian Government requires.
Online Canada Citizenship Passport Photo by Post
We can post you a set of Canadian citizenship Passport photos – next day delivery. How it works:
Email us a photo of yourself from your phone or camera to help@nullreloadinternet.com
We will look at your photo, free of charge and we will reply to confirm.
Watch the video on how efficient we are with Canadian citizenship photos and all Canadian passport photo matters.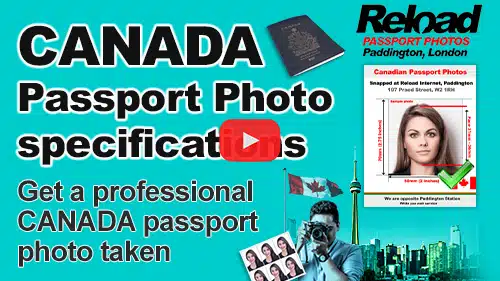 You need to make sure that you can get a high quality set of photographs in order for your application to be accepted and sometimes instant photo kiosks will not be able to meet these standards. We have had countless customers that have been declined visit us to get the right specifications of a Canadian citizenship photo.
Choosing Reload Internet to get your Canadian citizenship photos can help you avoid delays with your application. You need to make sure that your application has clear crisp Canadian passport photographs that can easily identify you when you are travelling Internationally.
Your photo needs to be less than 6 months old and it must be clear in focus with no red eye or reflections that can affect the overall quality of the image of you. You need to have a clear complexion on the photographs with no excessive use of makeup or anything that could cover the face.
Canadian citizenship photo specifications
You must provide two identical photos for the application (if it is a renunciation application only one photo is required)
The name of the studio, address of the studio and the date the photos were taken must be written on the back of the photos, along with the name of the person
The photographs should be identical and be recent, within the last six months, and can be colour or black & white
The background should be plain white or light-coloured
Digital copies should not be altered in any way
Neutral expression is required with the face square to the camera
Prescription glasses are allowed as long as they are on-tinted and the frame does not cover any part of your eye
Full facial features should be visible if wearing a head covering due to religious reasons
The photographs should be 35mmx45mm, the face should be in the middle of the photo with the top of shoulders visible
The distance from chin to crown must measure 31-36mm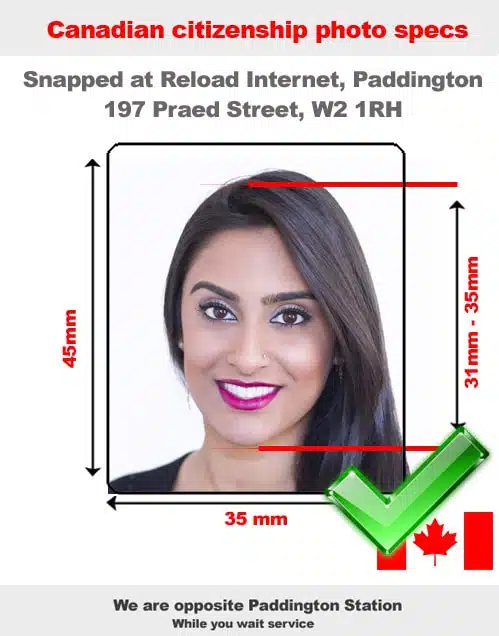 The quality of the actual photograph should be good with a high print finish, which can be provided for you in store.
Canadian Immigration Refugees Citizenship Passport Photo
The passport photo for Canadian Immigration Refugees to obtain citizenship is identical to the standard Canadian Passport Photo. That is: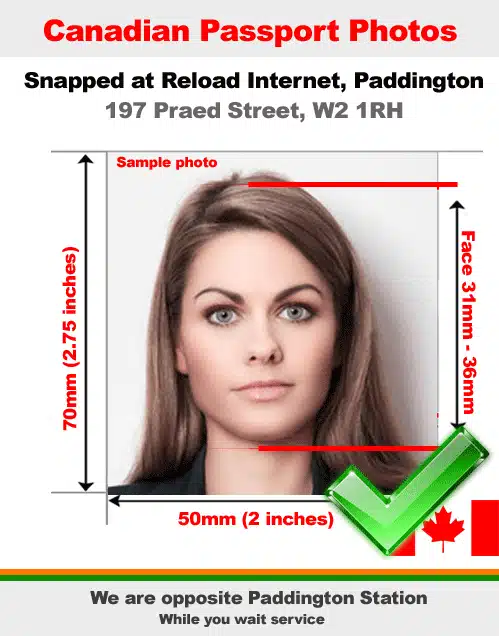 Two Identical Color or Black and White Photographs
Photo size should be 50mm x 70mm
The size of the head from chin to crown must be between 31mm and 36mm.
It must be printed on High Quality Photographic Paper
We get our specifications directly from the Canadian Embassy, you can read more on their website here.
Biometric Canadian citizenship Passport Photo
At Reload internet we always ensure that our Printed and Digital Passport photos for Canadian citizenship will meet the strict criteria set forth by the Canadian Authorities and Canadian citizenship is one of the countries whose passports are now fully Biometric.
OPTION 1 – Visit us in Paddington
Just walk into our store and let our experienced staff take your photo. It will not take more than 5 minutes.
We will take your photo with professional lighting.
We will print, prepare & cut your Canadian citizenship passport photo.
No appointment needed.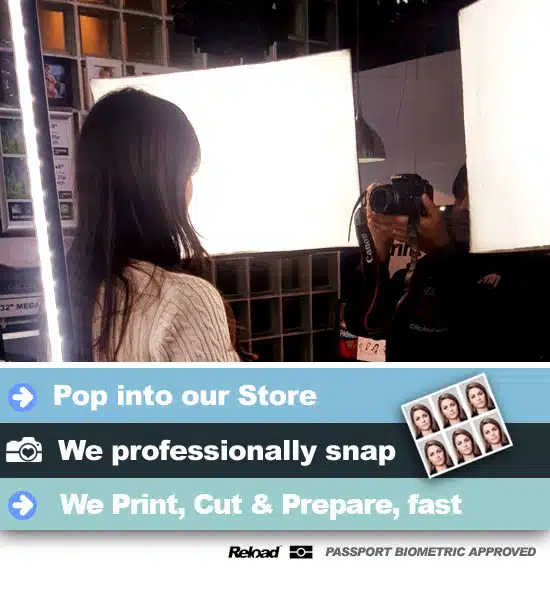 OPTION 2 – Passport photo posted
We can post you a set of Canadian citizenship Passport photos – next day delivery. How it works:
Email us a photo of yourself from your phone or camera.
We will look at your photo, free of charge
We will reply to confirm.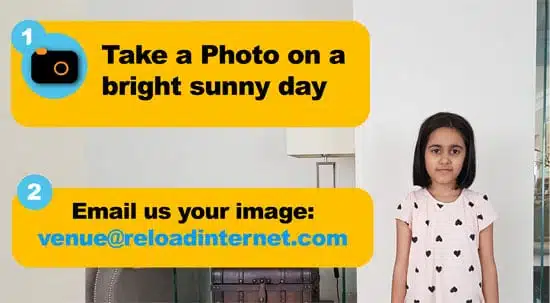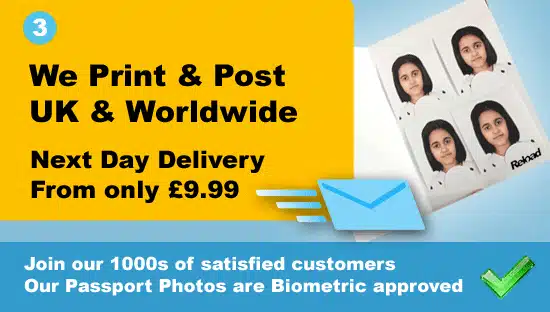 We will print, cut and post your your Canadian citizenship passport photos
Next day delivery
We post your photos anywhere in the UK or worldwide.
OPTION 3 – Digital Photo resize
Send us your photo from your phone or camera whilst you are standing against a wall in your home
We will look at it free of charge.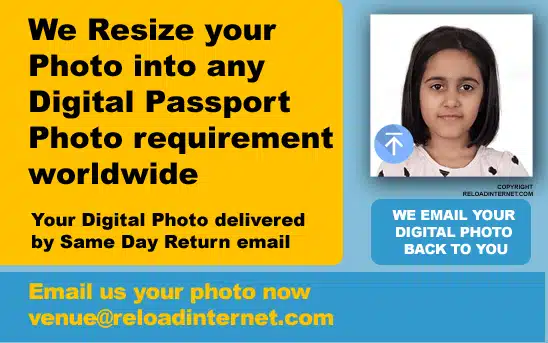 3. We will email your resized images back to you same day.
4. Your digital Canadian citizenship passport photo will be ready to upload to the online Canadian citizenship passport service.
You do not need to worry about the regulations, we have dealt with thousands of satisfied customers and are very experienced.
So why wait? Email us your photo today and we will resize it digitally for you
We look forward to welcoming you at Reload Internet, in Paddington, London. If you wish to call us our telephone number is 02072624111