If you have are in need of a passport or visa application photograph for Cyprus and live in London, our highly experienced and professional team will be glad to assist you with your photographs. As per the exact requirement laid down by the High Commission of Cyprus, our team will produce the perfect Cyprus passport photo or visa photo that meets all of these specifications. You do not have to wait long as we will be able to produce the photos within a few minutes of your arrival, no appointment is needed.
You do not have to worry about timing when you visit us, as our studio is open from 8am until late into the evening on all days of the week to ensure that you can receive your Cyprus passport photo or visa photo quickly and conveniently. The price of a Cyprus passport photo or visa photo set is just £9.99, which will include six photos in total. If your visa or passport application for Cyprus gets rejected due to any problem with the photo, we will retake your photographs completely free of charge.
To know more about the requirements of a photo for Cyprus visa or passport and the way in which we process it, watch this video below.
You will also have to ensure that the photos you submit with the application are of high quality and resolution to guarantee that the High Commission of Cyprus do not reject your application. Do not use photos produced in photo booth kiosks or using a computer, as there is a high possibility of the photo getting declined and thus your application. We have seen customers who had previously submitted their applications with photographs taken in photo booths be rejected and come to Reload Internet in Paddington for help.
When you choose us for producing your passport or visa application photo, you do not have to worry any further as we can guarantee that your photographs will meet all of the specifications set by the High Commission of Cyprus.
Cyprus Passport Photo and Visa Photo specifications:
A total of four color photos of size 45 mm x 35 mm should be submitted with the application.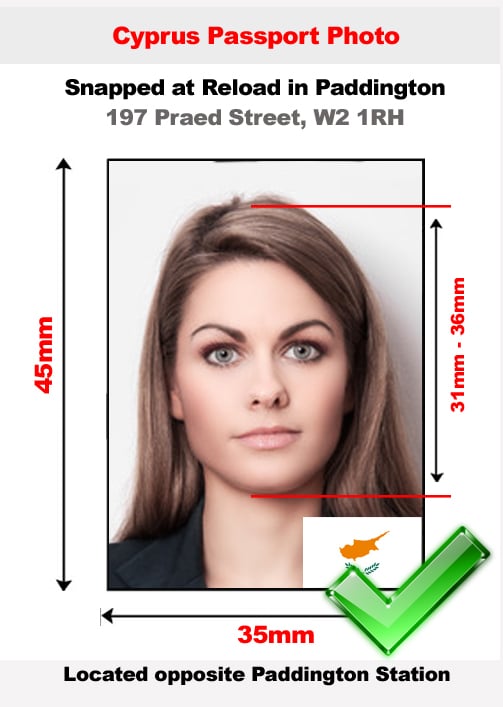 The photos should not be older than six months.
Avoid using photos from photo booths as they might be pale or come with shadows, as well as not meeting the biometric requirements, which will result in rejection by the High Commission of Cyprus.
70-80% of the photo should comprise of your face and hence, the size of your head should be 31-36mm from chin to crown.
Maintain a neutral expression and ensure that your facial features are clearly visible in the photo.
We recommend that you remove your glasses in the Cyprus passport photo or visa photo as the frames and lenses may cause issues with the photograph
Ensure that the resolution of photo, print quality and paper quality are good and there are absolutely no alterations made to the photograph.
Cyprus authorities do not accept photos that are altered digitally.
In case the above mentioned criteria are not fulfilled with your submitted Cyprus passport photo or visa photo, your application might be rejected and so we highly recommend that you get the photo taken at Reload Internet to guarantee that there will be no delay with your application due to a photograph error!
All of our specifications for Cyprus passport and visa photos comes directly from the official guidelines made available by the High Commission of Cyprus which can be found here.
Passport Photo printed in London