Are you in need of passport photos for your Ecuadorian visa or application? Then come to our passport photo studio located in Paddington, London. Our team of experienced staff will print your passport photos to meet the specifications required by the Ecuadorian embassy. There's no need to book an appointment before arriving and in 10 minutes or less, you'll be on your way with your Ecuador passport photo or visa photo.
We are open from early morning to late night every day of the week, even on Sundays, and we can provide you with a set of 4 Ecuador passport photo or visa photo for an affordable price.
The video below show our efficiency in producing Ecuador passport photo and visa photos.
The most often reason for Ecuadorian passport and visa applications being declined at the embassy is due to bad photo. Why not get it done right the first time? Don't be like many applicants who wait to get rejected first at the embassy before doing what's right, which wastes a lot of time due to the processing time at the Ecuadorian embassy. For your application to be accepted you need high resolution photos that will meet the Ecuadorian embassy's requirements, which instant photo kiosks are not able to provide.
When you choose Reload Internet for your Ecuador passport photo or visa photo, we guarantee to get it right the first time.
Kindly note that photos older than 6 months are not acceptable and ensure you don't look too different from your passport photo, this includes using an excessive amount of make-up. This is to enable easy identification when entering Ecuador.
Ecuador Passport Photo and Visa Photo Specifications
Submit two identical coloured photographs, 50mm x 50mm in size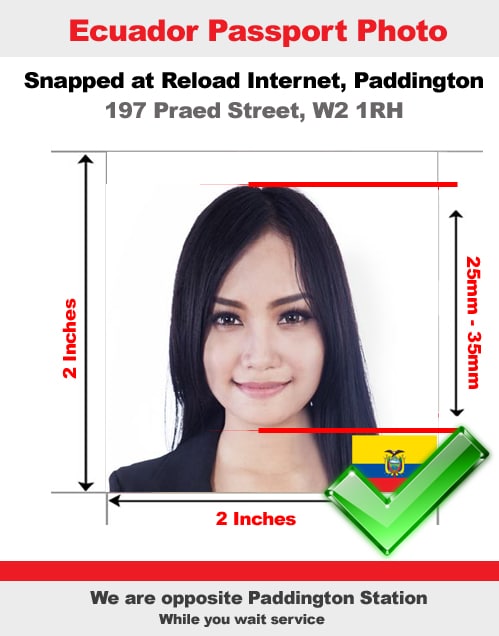 The photos must be taken within 6 months

Photo booths and computer photos will not be accepted by the Ecuadorian government

Take the photos with a white or off-white background and avoid shadows

Distances between Chin to Crown must be

25mm-35mm and the face should cover 50-70% of the photograph

It is ideal you wear a neutral expression, close your mouth, open your eyes open and look directly at the camera, with your head at the centre and both ears showing

very well

Headgear of any kind is not allowed for both men and women except for religious purposes

You are not permitted to wear uniforms for passport photos

If the applicant normally wears glasses or hearing devices, it is advisable they wear it in the photo for easy identification.

The photos should have appropriate brightness and contrast, as well as be printed on high quality paper at high resolution

Photoshopped or digitally altered photos will be rejected at the embassy
If per chance your photo fails to meet the above listed specifications, there's a high probability it will be out rightly rejected at the embassy.
Why not trust Reload Internet to make sure your story doesn't end this way? We are able to provide you with high quality photographs meeting all of the requirements of the Ecuadorian embassy.
Our specifications are always being updated by both the staff here at Reload Internet in coalition with the official guidelines released by the Ecuadorian embassy found here.
Passport Photo printed in London