If you need your El Salvador passport photo or visa photo then Reload Internet is the place to come. Our dedicated passport photo studio here in Paddington, London, is staffed by our experts who know all the rules and regulations needed to have your photos accepted the first time around.
We will even print your El Salvador passport photo or visa photo straight after we take them, as we aim to have all of our customers photographs ready within 5 minutes of their arrival so that they can continue with submitting their application.
Our passport photo prices are affordable and we stay open throughout the week from early morning until late evening, on Sundays we even close at 8pm! When you have your El Salvador passport photo or visa photo taken at Reload Internet it comes with a guarantee to pass at the Embassy, so you don't have to worry!
Watch our video below if you would like to learn more about your El Salvador passport photo or visa photo, and to see how quick we are at producing them:
If you want your application for an El Salvador visa or passport to be successful, then the photographs that you submit must meet their strict regulations. Pictures that you take yourself, or from a photo booth, may very well be rejected because they don't meet one or more of the requirements stated by the Embassy of El Salvador. This can cause serious delays, and may even affect your travel plans. What's more, photos need to be clear in order to easily identify you at the El Salvador border. When you come to us for your El Salvador passport photo or visa photo, we guarantee that everything will run smoothly, and your photo will be accepted the first time around.
El Salvador Passport Photo and Visa Photo specifications
You will need to include four photos with your application. Each one must measure 50mm x 50mm.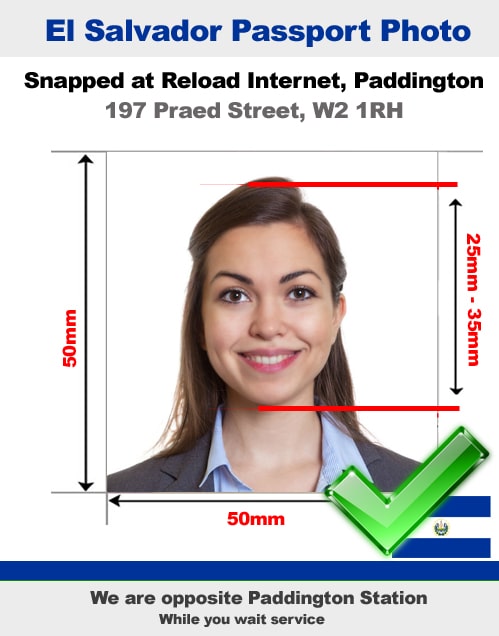 It is vital that your photos reflect your current appearance. For this reason, they should be taken within the last six months at the very most
Any photos that you take yourself, or which are taken at a photo booth, will be rejected by the El Salvador embassy
Photos must be taken against a plain white background, and there shall be no shadows visible anywhere in the picture
50 – 70% of the photo must be taken up by your face. This means that when it is printed off, your head should measure 25mm – 35mm from top to bottom
While your photo is being taken, you must maintain a neutral expression, keeping your mouth completely shut and your eyes open. Furthermore, you must also look straight into the camera, and keep your head nice and level
Religious headwear is permitted, so long as it does not obscure your face in any way, and your full face from side to side and top to bottom is still visible
If you wear glasses, we recommend that you remove them for the photograph. Reflections from the lenses and covering of the applicants features due to the frames are two of the most common issues that will result in your photograph being declined by the Embassy of El Salvador
Photos must have a suitable level of brightness and contrast- they cannot be digitally altered
The photos themselves should be printed off on high-quality white paper with a good finish. We will do this for you as soon as we have taken them at Reload Internet in Paddington, London.
Should your photos fail to meet just one of these regulations, then there's a good chance that your application will be rejected. Don't let this happen to you- come to Reload Internet, and we will take care of everything for you.
We receive our specifications directly from the Embassy of El Salvador's guidelines on passport and visa photographs, which can be found here.
Passport Photo printed in London