The High Commission of Fiji has strict requirements when it comes to passport and visa photos and Reload Internet is here to make sure yours match up. Have your Fiji passport photo or visa photo taken at our dedicated passport photo studio, based in Paddington, London, which enables us to provide passport photographs that are guaranteed to be accepted with your application at the High Commission of Fiji. Our specialist staff will carefully check them before they are printed, for you to send off with your application, to ensure this.
Once we have taken your Fiji passport photo or visa photo, we will print them out for you instantly – we aim to have all of our customer passport and visa photos ready within 5 minutes of their arrival at our store.
We are open every day of the week here at Reload Internet, from early in the morning until late in the evening, which makes us the perfect choice for those who need to pop in at a time that suits them. For a full set of six photos, we are delighted to offer an excellent deal of just £9.99. Your Fiji passport photo or visa photo that you receive from us will also come with a guarantee to be accepted at the High Commission of Fiji.
Watch our video below to see how efficient we are at producing Fiji passport and visa photos, or to learn more information regarding their requirements:
If you want the High Commission of Fiji to accept your application for a visa or passport, then you need to be sure that your photographs are up to standard. We see so many clients, who have tried taking the photos themselves or at a photo booth, be rejected due to a photograph error, and have had to restart their application from the beginning. When you come to us, we guarantee that your Fiji passport photo or visa photo will be accepted first time.
If you're applying for a Fiji passport or visa, then problems with your photos could slow down the application process, and potentially ruin your trip entirely. To prevent this from happening, you need to make sure that your photos clearly identify you, and that they meet the strict requirements set by the High Commission of Fiji.
Fiji Passport Photo and Visa Photo specifications:
Your application must include three photos which meet all the requirements below, and which each measure 45 mm x 35 mm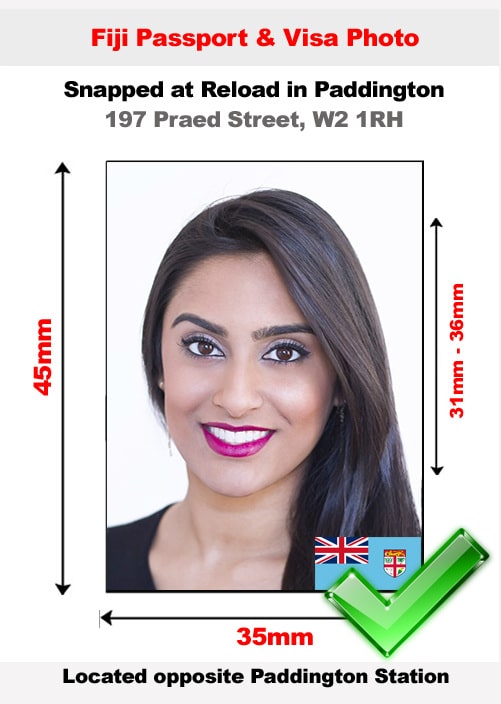 Photos need to be recent to reflect your current appearance – no photos which are older than six months will be accepted
Photographs must be taken professionally- any photos which have been taken using a phone or webcam, or which come from a photo booth, will likely be rejected
The background of the photo needs to be white, and there must not be any shadows on either the applicant's face or the background.
Around 70 – 80 % of the photo should be taken up by your face. This means that when it is printed off, your face should take up approximately 31 – 36 mm from top to bottom
You will need to maintain a neutral expression while the photograph is taken. Your eyes need to remain open, and you must not smile. Your head must also remain level while the photograph is being taken. Both of your ears need to be visible.
Any headwear which is worn for religious or medical reasons, such as a headscarf, is permitted. However, your full face still needs to be visible from the top of your forehead down to your chin. This headwear should also not obstruct the sides of your face
If you happen to wear glasses, we recommend that you remove them to ensure that your photo will pass. The lenses (due to reflections) and frames (covering of the applicants eyes) are known to have been the reason for a number of passport and visa applications failing.
Photos must be of proper brightness and contrast, so that you are easily identifiable from them.
Should your photographs fail to match up to these strict requirements, then the High Commission of Fiji will likely reject it – meaning you have to go through the process all over again. When you come to us for your Fiji passport photo or visa photo, we make sure that everything goes right the first time around.
We receive our specifications directly from the official High Commission of Fiji's guidelines on passport and visa photographs, which can be found here.
Passport Photo printed in London