If you are looking for the right place to get your Greenland passport photo or visa photo, then Reload Internet is your best option. We are a professional passport photo studio based in Paddington, London, that has been recommended by a number of Embassies, such as the High Commission of Sri Lanka and the High Commission of India, for passport and visa photographs.
Our trained staff will happily take your Greenland passport photo or visa photo, meeting all necessary requirements requested by the Embassy of Greenland, so that your application is accepted the first time around. We can take and print your photographs instantly in our store, and aim to have your photos ready within 5 minutes of your arrival, and you don't even need an appointment.
We stay open throughout the week, and our opening times are from early in the morning until late at night, on Sundays we even close late at 8pm, making us the most convenient and reliable passport photo studio in London. We will provide you with a set of 6 Greenland passport or visa photos for just £9.99, and they come with a guarantee to be accepted at the Embassy of Greenland.
Watch the video below for more information on a Greenland passport photo and visa photo, or to see how efficient we are at producing them:
To ensure that your Greenland passport or visa application is a success, you will need to meet a strict set of regulations in regards to your photograph. Photo booths often equipped enough to provide you with photographs of the required quality, and using one for your Greenland passport photo or visa photo may end up getting your application declined. This can cause a significant delay, and may interfere with your travel plans. To stop this from happening, let Reload Internet take you Greenland passport photo or visa photo for you – we will make sure it is up to the standards set by the Embassy of Greenland.
Greenland Passport Photo and Visa Photo specifications:
You will need to submit two photos measuring 45mm x 35mm. The photographs can be in colour or black & white.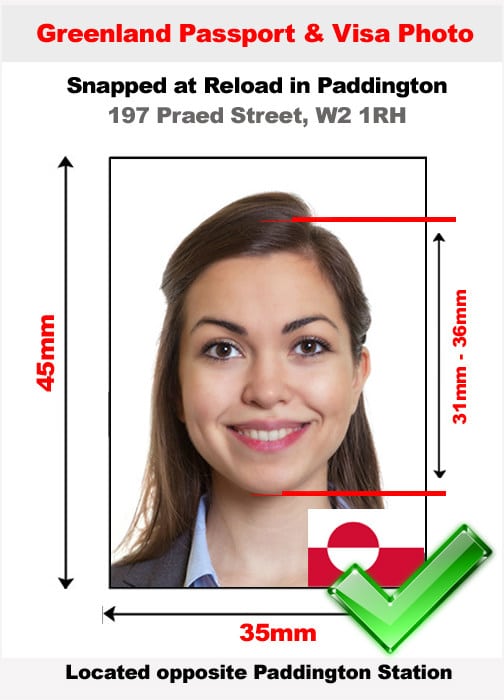 Photos need to be as recent as possible- taken within the last six months
Any photo booth pictures will likely fail to meet all of the requirements on this list, and will therefore be rejected by the Embassy of Greenland
Photos must be taken against a white background, with no shadows visible anywhere in the picture (on the applicant or the backdrop)
Between 70% and 80% of the photo should be taken up by your face – in practice, this means it should measure 31mm-36mm
While the photo is being taken, you must maintain a neutral expression, keeping your mouth closed. Your eyes must be open and you should also look straight at the camera, and keep your head level and eye line level with the lens
You may wear headwear for religious or medical reasons, so long as it does not obscure any of your facial features, your features should be clearly distinguishable from the bottom of your chin to hairline, and both edges of your face must be shown
If you wear glasses we recommend that you remove them to ensure that your photograph will pass with your application
Photos must not be digitally altered in any way- this includes altering the brightness or contrast. Any altered photos will be rejected outright.
Should your photo fail to meet any of the regulations listed here, then it will likely be rejected by the Embassy of Greenland. To stop this from happening to you, let us take care of your Greenland passport and visa photos for you- we'll get the job done right every time.
Our specifications are taken directly from the Embassy of Greenland's official guidelines on passport and visa photographs, which can be found here.
Passport Photo printed in London