If you are travelling to Kenya and need a visa, or are renewing your Kenyan passport, you will need a Kenyan passport photo or visa photo, and Reload Internet is the best place to go to! We are a professional passport photo studio that has been operating in Paddington for over a decade, and we specialize in Kenyan passport and visa photographs. You don't need an appointment to have your Kenyan passport photo or visa photo taken by us, just visit our store and a member of our team can have your photos ready within 10 minutes!
Kenyan passport and visa photos are usually taken by qualified photographers, due to the strict specifications requested by the Kenya High Commission. Instant passport photo-booths are not able to produce pictures of sufficient quality, and if you submit one of these photos with your application it will likely be declined due to a photo error.
At our studio located in Paddington, London, right next to both Paddington tube and train stations, we have professionally trained staff and state the latest camera and printing equipment that we will use in order to produce a Kenyan passport photo or visa photo that meets all of the requirements and is of high quality.
The video below showcases how quickly and successfully we can produce your Kenyan passport and visa photographs:
Our store is open 7 days a week, from early morning until late evening, so you can come and have your Kenyan passport photo or visa photo taken at a time that suits you! Even on Sundays we close late at 8pm!
Kenyan Passport Photo and Visa Photo specifications: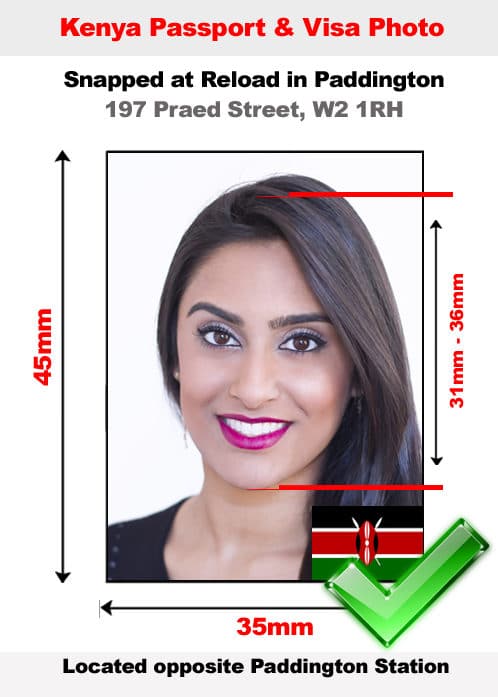 Head size should be 70 – 80%, when printed your face should measure 31mm – 36mm from the bottom of your chin to the top of your forehead
You must look straight into the camera, with your eyes wide open and level with the camera lens
You are not allowed to wear head-wear, unless it is for cultural, religious or medical reasons. Even so you must ensure that your face is fully visible from the bottom of your chin to the top of your forehead, and both sides
Background must be white
You should have a neutral expression, with your mouth closed and eyes open
We recommend you remove your glasses for the photograph, as the frames and lenses are known to cause issues with obscuring of facial features and reflections respectively
If you are applying for a renewal of your Kenyan Passport, then it is important to keep all of these points in mind:
Original Kenyan birth certificate
A copy of Kenyan passport Bio Data page
Two UK standard passport sized- photographs measuring 45 mm X 35 mm
A copy of your Kenyan Id is required. If your application is not accompanied by a copy of Kenyan ID, then your application will be referred to the Director of Immigration Services for approval and issuance.
A copy of a perfectly filled application form (form 19).
Application for the renewal of passport by a citizen of Kenya, a copy of his /her passport should also be provided by this same Kenyan citizen.
The following are the requirements for replacing a lost or damaged passport
A sworn Affidavit that explains the condition under which the passport got missing should be done before a commissioner
A very well filled application form.
A copy of the applicant's birth certificate
If the passport is damaged, then the damaged passport should be presented
One copy of Kenyan identity card is required. If the application does not come with an identity card, it will be send to the director of Immigration Services for processing.
One copy of the applicant's birth certificate
A banker's cheque or postal order of €80 for a damaged passport or €100 for a lost passport payable to the Kenyan High Commission
An attestation by a citizen of Kenya that is in possession of a passport or ID card should be given on behalf of the applicant
Photos for passport and visa should be decent
Photos for passport and visa should be taken with no glasses on
A neutral facial expression should be maintained
There should be no shadows seen in the background.
It is important to have all facial characteristics evident. Ensure the two ears are visible. No part of the face should be covered by weave.
If you will have to make a passport for a baby, then your baby must have quality rest before taking passport photos. This will help ease the stress of having to snap a moody baby. Also, if the baby is not old enough to sit, a photo of the baby can be taken in his/her car seat
Our specifications are taken from the Kenya High Commission's guidelines on passport and visa photographs, which you can see here.
Passport Photo printed in London