Are you in London and applying for a Korean Visa or Passport? Visit us at Reload Internet in Paddington, London and we will be glad to take your Korean Passport Photo or provide you with your visa photo for Korea.
We can take and print your Korean passport or visa photo instantly and you do not need an appointment to visit us – just pop-by and we can complete the process in less than 5 minutes.
We can take and print 6 copies of a Korean passport photo from £9.99. The photographs you receive from us will be of the highest quality and are guaranteed to pass with your application.
Here at Reload Internet we use the latest camera and printing equipment to ensure that your photographs are up to the standards requested by both Korean passport and visa applications. Our systems use biometric technology that is requested by almost every country in the world, and so we can guarantee that your photographs will meet the specifications set by the Embassy of the Republic of Korea.
Watch the video below on how efficient we are with Korean passport photo and visa photos

Korean Passport Photo Specifications:
The photos must be recent, taken within the last 6 months.
You will require two photographs that should be 45mm x 35mm in size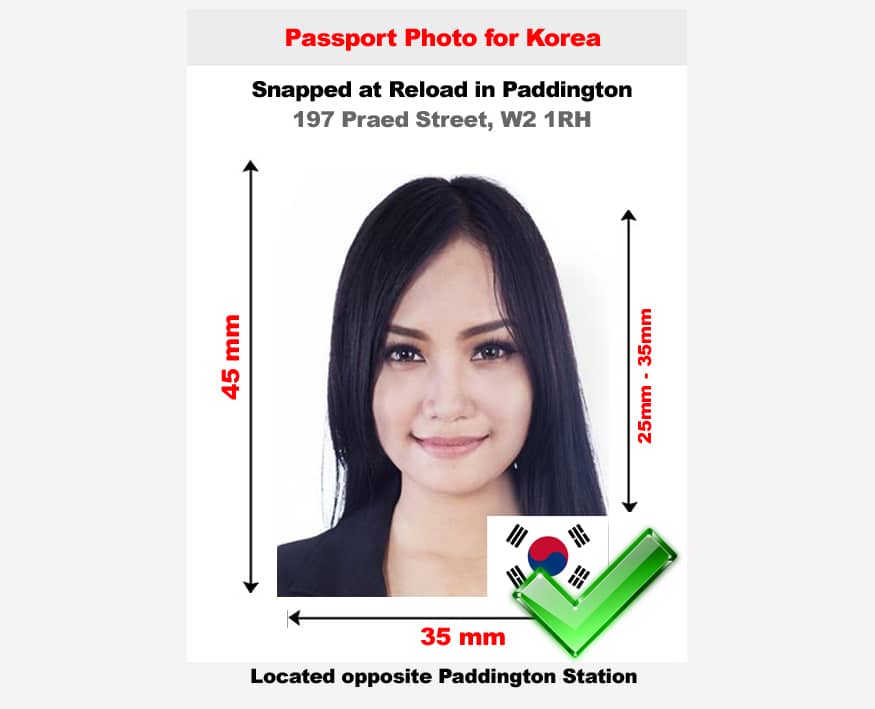 The size from chin to top of the head in the photo should be 25-35 mm and you should be looking straight into the camera, head square on.
The background must be white, with no shadows visible on both the background and applicant
Headwear is not allowed, except for religious and medical circumstances
We recommend that you remove your glasses to ensure that your pictures meet the specifications, as frames covering the applicants eyes as well as potential reflections in the lenses can cause your application to fail
We recommend a neutral expression and both of your eyes must be visibly open, any teeth showing may cause reflections and thus your application to fail
Korean Visa Photo Specifications:
The photos must be taken within the last 6 months and all be identical photographs
The dimension should be 50 x 50 mm and only one photo with a white background is required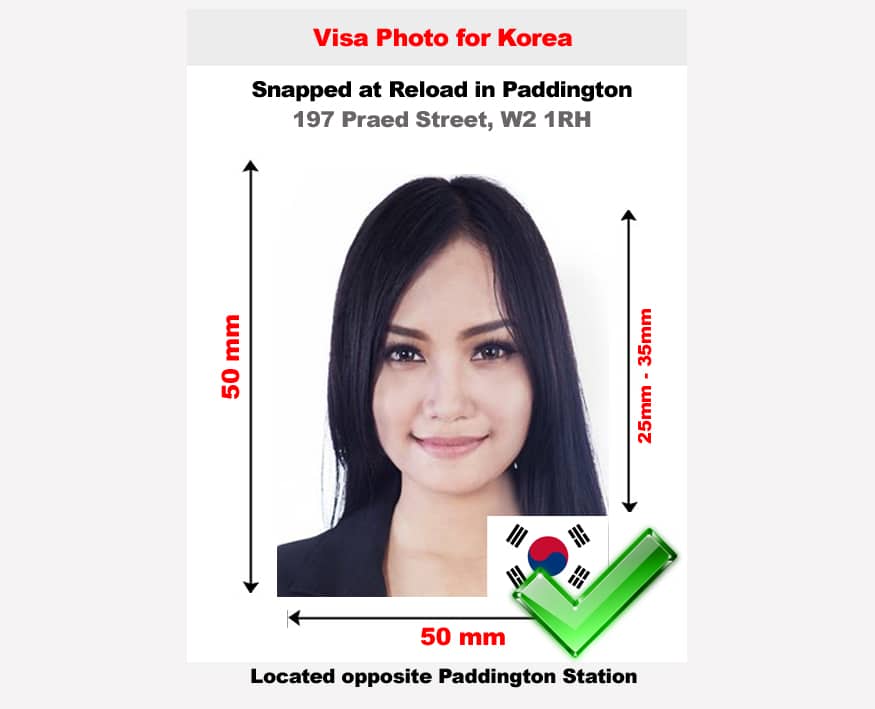 The applicants head size should be between 25mm-35mm
Facial features must be fully visible, any apparel that may alter your facial features must be removed (this includes excessive use of make-up)
No digital retouches should be made to the photographs that could alter the applicants appearance
Everyday clothes should be worn, uniforms are forbidden unless the applicant is visiting under a governmental visa from their nation
A clear front view of your full face must be seen, with your head square to the camera.
We recommend removing your glasses as both reflections from the lenses and possibility of the glasses frames covering your eyes may cause your application to be rejected.
Here at Reload Internet we are constantly updating our specifications in coalition with the guidelines released by the official Korean embassy. These guidelines can be found here.
Passport Photo printed in London