At Reload Internet in Paddington, we offer a Laminating service. This mean that you can pop into our store and laminate your documents in A4, A3, A5 while you wait. Some of our customers laminate price lists, or laminate their birth certificates, or laminate their marriage certificates. Our Laminating Service in Paddington London can handle every document.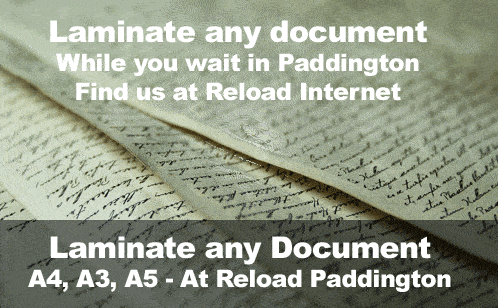 We laminate all of your documents in 160 micron laminate sheets and can even laminate your documents in 250 micron sheets – all you need to do is ask or contact us.
We laminate ALL sizes of documents, not just A4
We have state of the art laminaters in store in Paddington and can take on your lamination work. After lamination we can cut documents to size if requires which means we can laminate any size documents
You can email us now if you have any questions:

If you are ready, just pop into our store without an appointment and let our wonderful staff at Reload Internet laminate your presentation immediately. No matter how large or small the job is, you can ensure that our high volume and low volume laminating service will be able to deal with your request.
Other services available at Reload:
Please click on the image to learn more.
     
Printing in London
Some of our clients will also be looking to print and bind documents – this is something that Reload Internet caters for. Why not visit this page to find out more?
Laminating service
We are enclosing the directions below to find our Laminating service in London, Paddington. We look forward to welcoming you instore.