Are you applying for a Laos passport or visa, and need a Laos passport photo or visa photo? Then come to Reload Internet in Paddington, London, where we can take, print and prepare your Laos passport photo or visa photo so that it is ready for your application in less than 10 minutes! Our store is situated on the same street as both Paddington tube and train stations, and we stay open throughout the week making us accessible for your to come and have your Laos passport photo or visa photo taken at any time.
We have an experienced team of staff who have been trained to provide you with a set of high quality photographs that meet all of the necessary criteria stated in the Embassy of Laos' guidelines on passport and visa photographs. A staff member will capture your photo using the correct lighting and background stated in the guidelines, we will then check your photograph to ensure that it meets all of the specifications and will pass with your application when you submit it. Only after guaranteeing that the photograph will pass will we print it, and then cut it to the exact size as stated in the guidelines, in this case 60mm x 40mm. Because of our thorough procedure, we can guarantee that the photographs that we provide you with will pass at the Embassy of Laos when you submit your application.
Watch the video below for more information in regards to the specific requirements for Laos passport and visa photographs:
You must ensure that the Laos passport photo or visa photo you submit with your application is of sufficient quality and meets all of the requirements listed below. If it is not, then it is highly likely that your Laos passport/visa application will be rejected by the Embassy when you submit it due to a photograph error. This will cost you money, stress and time – which could end up affecting your travel plans. When you come to Reload Internet, your Laos passport photo or visa photo is guaranteed to be accepted the first time you submit it with your application!
Laos Passport Photo specifications:
You must include two identical photos, each measuring 60x40mm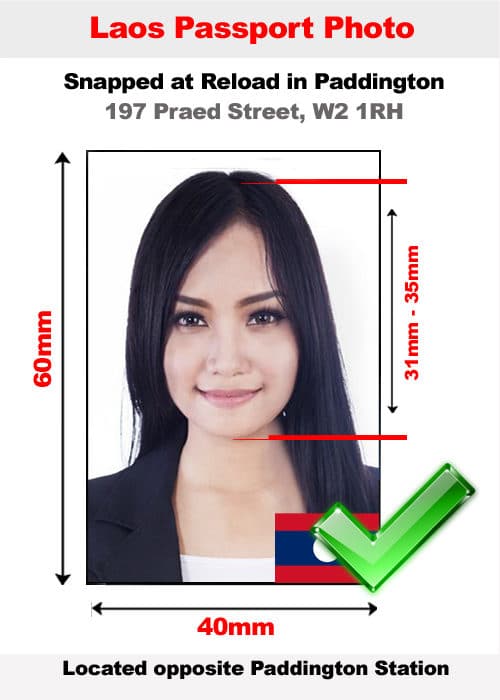 Photos must show your full head and the top of your shoulders. 60-80% of the photo should be taken up by your face- this means that when printed out, your face should measure around 1"- 1 3/8" from top to bottom
You must face the camera while the photo is taken
You must maintain a neutral expression while the photo is taken, with your mouth completely closed. You must also keep your eyes fully open, and look straight into the camera
Your head needs to be completely level while the photo is taken
Photos must be taken against a plain white background. No one else may be visible in the photo, and there cannot be any shadows either on your face or on the background
It is recommended that you take off your glasses while the photo is taken, to avoid any unnecessary complications. If you do keep your glasses on, the frames cannot obstruct your eyes at all, and there can't be any glare or reflections on the lenses. You may only wear non-tinted prescription glasses in the photo
The photo itself needs to be printed on white, high-quality photo paper- this is included as part of our service. The photo cannot be digitally altered in any way- photos that have been edited will likely be rejected immediately
Laos Visa Photo size and requirements
Laos visa photo size and specification are 2 inches x 2 inches on a white background.
2 identical 50mm * 50mm
Your Laos visa photo must have 60% – 80% of the face or 1″ to 1 3/8″ from the bottom of the chin to the top of the crown of the head
At Reload Internet in Paddington we ensure your photos are compliant.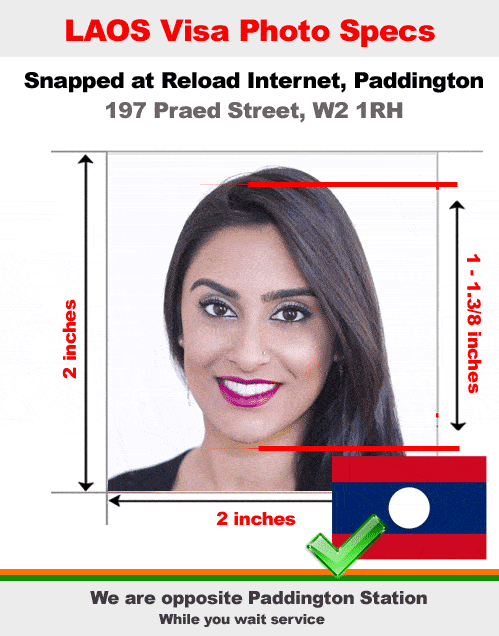 Here is a sample image of what we will provide and the specifications of Laos Visa Photo
You will be required to submit valid Laos visa photos on arrival to Laos – so make sure they are perfect – use Reload. We can even post these to you, Email us if you would like this at:

We read on trip advisor that someone said you can pay the guard $1 bribe instead of supplying visa photos. We don't recommend this! You can read it here
Should your Laos passport photo or visa photo fail to meet any of the criteria listed above, then there is a high chance that your application will be rejected when you go to submit it. Come to Reload Internet in Paddington, London, to ensure that this doesn't happen to your application!
Our specifications are taken from the Embassy of Laos' official passport and visa photograph guidelines which you can find here.
Passport Photo printed in London