Reload Internet is a passport photo studio based in Paddington, London, that specializes in Macedonian passport and visa photographs. We can capture, print and prepare your Macedonian passport photo or visa photo instantly in our store, with no appointment needed. Just pop by and a professionally trained member of staff will be happy to assist you. Our store is open throughout the week, from early morning until late evening, so you can visit us at a time that suits you to have your Macedonian passport photo or visa photo taken and printed. We are situated on the same street as both Paddington Train station and Tube station, so our store is extremely accessible at any time and date!
All of our staff have been trained to provide you with a set of high quality photographs that meet all of the specifications stated by the Embassy of Macedonia. Using the latest camera and printing technology, we can ensure that the Macedonian passport photo or visa photo meets all of the requirements before printing, to ensure that it will pass first time with you application when you submit it to the Embassy.
To learn more about the requirements for Macedonian passport and visa photos, and to see how quickly we can produce them, watch the video below:
If your Macedonian passport photo or visa photo fails to meet any of the requirements stated below, then there is a high possibility that your application will be declined due to a photo error. This will cost you time, money, and may even affect your travel plans. At Reload Internet we guarantee that this will not happen to your application!
Macedonian Passport Photo specifications:
When getting a Macedonia passport, you must submit 2 identical photographs.
The photos that are submitted should be 2 inches x 2 inches and should include the top of your shoulders and a close up of your face.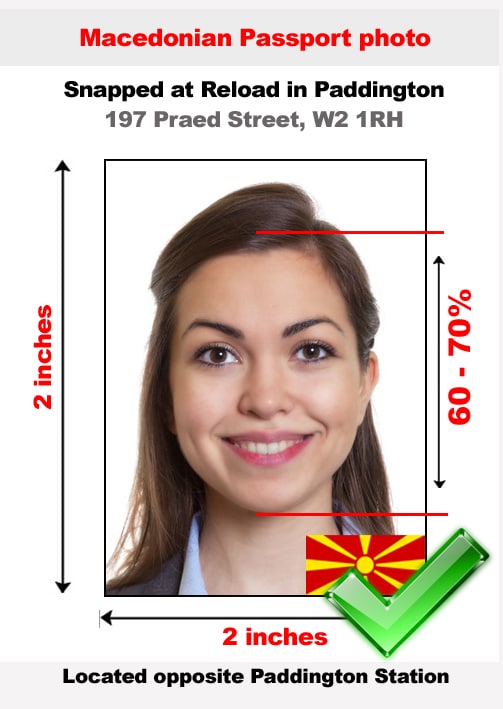 Your face should consume anywhere between 60 percent and 70 percent of the photo.
Any photo that is submitted needs to clearly display your facial features.
In order to do this, the photo must be taken straight-on so you can get the front of the face as well as both sides.
Your hair must also be displayed in the photo but it should not reduce the size of the facial image and it cannot block the view of your facial features.
Your face needs to be in the center of the photo and it should not be older than 6 months.
You need to have an up-to-date photo.
The photo needs to be taken of a neutral expression that does not show your teeth.
Your mouth must be closed and there should not be a frown or a smile on your face.
Both of your eyes must be open as closed or squinted eyes will not be accepted for your passport.
The images cannot be taken portrait style, meaning that the face cannot be tilted or angled in the photo.
Your face needs to be directly squared to the camera.
The print resolution of the photo must be at least 600 dpi and it needs to be printed on a high-quality photo paper.
The submitted images cannot be creased or have any other issues with them and the pictures need to be in color with a neutral background.
You cannot edit these images in anyway.
You cannot wear headgear unless there is a medical or religious reason to do so and if you do meet these requirements, the headwear cannot cast a shadow on your face.
Macedonian Visa Photo specifications:
Any images that are submitted need to be sized 45mm x 35mm and they must have a white or a pale colored background.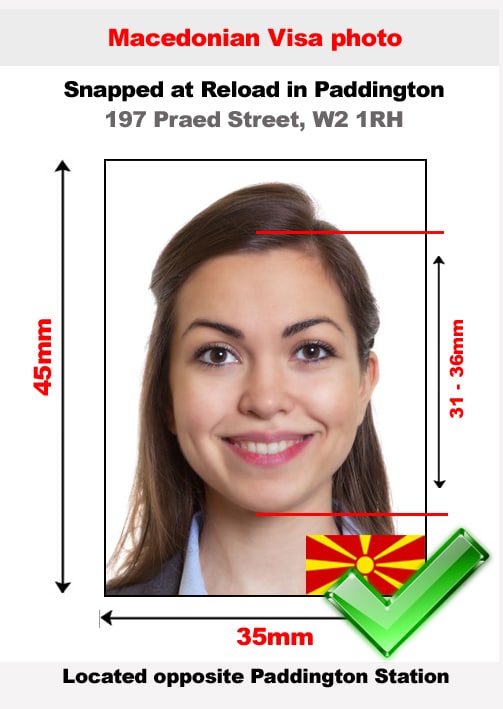 The images must show the entire face and it needs to be a front view so that the facial features are easy to recognize.
The photographs that are submitted needs to be identical.
You need to make sure that the photos you submit has been taken at some point within the past 6 months because these need to be up-to-date photos.
You need to wear your regular clothing and you are not able to wear your eyeglasses as they can obstruct the view of your eyes and cause glare that could affect any facial recognition.
Any retouched photos will not be accepted as they can take away unique features that help distinguish who you are.
The last thing that you should know is that headwear is not typically accepted in these photos. There are exceptions to this rule for people who have medical or religion requirements for wearing something on their head. In those cases, the headwear must not create a shadow on your face.
If your Macedonian passport photo or visa photo does not meet all of these specifications, then it will likely be rejected. Come to Reload Internet to guarantee that your Macedonian passport photo or visa photo is accepted by the Embassy of Macedonia first time round!
We receive our specifications directly from the Embassy of Macedonia's guidelines on passport and visa photographs, which can be found here.
Passport Photo printed in London