If you need a Malta passport photo because you are renewing your Malta passport – then come to Reload Internet in Paddington.
We are a professional passport photo studio based in Paddington, London, that can capture, print and prepare your Maltese passport photo or visa photo instantly, and have your photographs ready within 5 minutes of your arrival at our store.
Get your Malta Passport Photo in 2 ways
Option 1: Visit us at our store in Paddington
When you pop into our store in Paddington, we will take a photo of you while you wait.
Option 2: Malta Passport photo by Post
Take a photo of yourself against a white wall at home like the image below & upload it to us, and we will post it to you with next day delivery.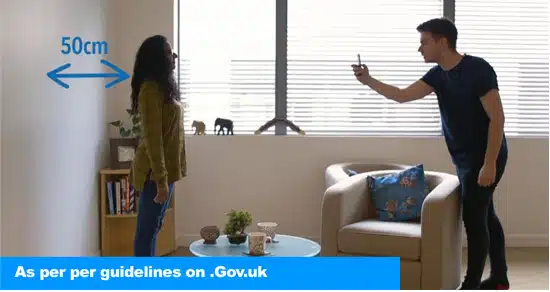 Upload your photo to us here
Alternative Upload link if you have problems above
ALTERNATIVE, UPLOAD YOUR PHOTO
We can take your Malta Passport Photo in-store OR we can post it to you with fast delivery. Just upload a photo of yourself and let us do the rest!
Our staff take hundreds of passport photos every week, so you can be sure that the passport or visa photographs we produce for you meet all of the necessary requirements. We are situated on the same street as Paddington Tube and Train stations, and stay open every day of the week, from early morning until late evening, so you can come and visit us at a time that suits you to take your Malta passport photo or visa photo.
Watch our video below for more information regarding the requirements of a Malta passport photo or visa photo, and to see how quickly we can produce yours: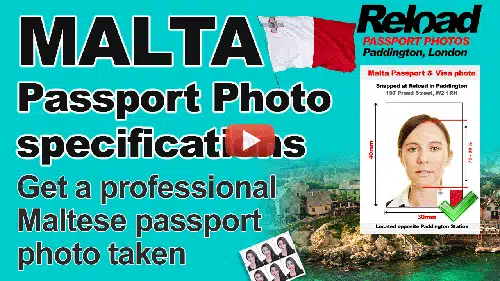 It is very important for you to follow the specifications made available by the High Commission of Malta exactly, as you need to provide acceptable images that meet the exact requirements. You are required to submit a Malta passport photo or visa photo that meets every single one of the criteria, otherwise your Malta passport or visa application may be rejected. At Reload Internet, we guarantee that the photographs you receive from us will pass first time with your application!
Malta Passport Photo specifications:
The photos cannot be older than six months.
You need to submit 2 identical photographs.
Your photographs need to be 40mm x 30mm (height and width) and needs to be a close-up of the top of your shoulders and your face. The face should take up between 70 percent and 80 percent of the photo.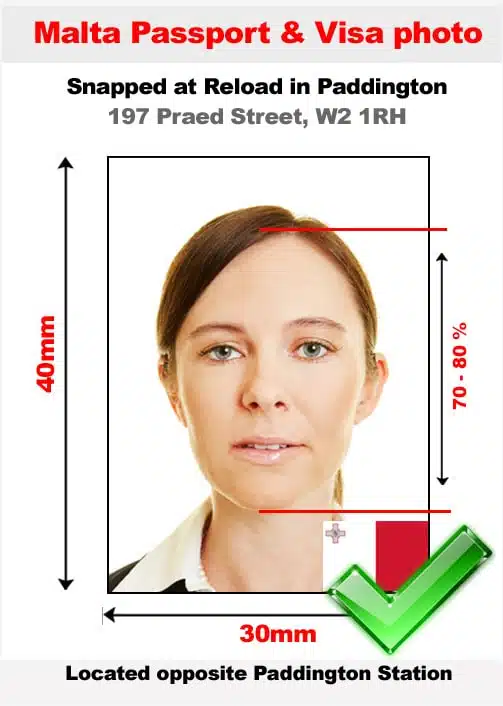 When measuring the head of the applicant, it needs to be around 25mm from the chin to the crown of the head.
All photographs are required to be printed on high-quality photo paper and be of high resolution.
All of the photographs need to be in color, on non-glossy paper, and with a white background.
The images need to be high quality and in focus as well as must be free of ink marks or creases.
Your picture needs to show you looking squarely at the camera while having a neutral expression on your face.
There should be an appropriate level of brightness and contrast in order to display your natural skin tone.
Your eyes must be entirely visible, without obstruction from hair or glasses. There should also be no hair obscuring the eyes and you must have a closed mouth.
The image must not be in portrait-style, where your head is tilted or shot at an angle.
Your head should be upright with the eyes centered at the camera.
Both sides of your face should be visible.
The background should be a white color and plain.
There cannot be any shadows cast on your face in the photo.
You cannot have red eye in the image.
Your clothes should represent your normal attire, not dressed in a special uniform. You cannot wear dark glasses or a hat. You should be alone in the image, without any toys, chair backings, people in the background. Your face must be in focus and you must have a neutral expression on your face.
Any photograph that has a patterned or busy background or is too dark will be rejected.
Photos that are textured, of inferior quality, instant-kiosk photographs, as well as ones that are likely to fade and sensitive to heat will be rejected.
Unless you wear one daily for religious or medical purposes, you cannot wear any headwear in your photo. You will need to get a signed statement that is submitted along with the application that proves you wear them daily. These items are not allowed to obscure your face.
No copies or digital scanned photos are allowed. You are also not able to modify the picture through digital means. Original photographs are the only acceptable forms of your images.
You may wear glasses as long as they meet some specific requirements. They must not have glare, be dark like sunglasses, and the frames cannot cover your eyes. If you have tinted lenses, you will need medical documentation. We recommend removing your glasses to ensure that the photographs will pass.
All head coverings must be approved by the right authorities. They will require special circumstances that are cultural, medical, or religious.
As long as your pictures meet these expectations, you should have no issue getting your application accepted. At Reload Internet, we guarantee that your photograph meets every single one of these requirements.
We receive our specifications directly from the Malta High Commission in the United Kingdom guidelines on passport and visa photographs. You can see the Maltese Passport information on the Wikipedia page.
Malta now uses Biometric Passport Photos
At Reload internet we always ensure that our Printed and Digital Passport photos for Malta will meet the strict criteria set forth by the Malta Authorities and Malta is one of the countries whose passports are now fully Biometric.
OPTION 1 – Visit us in Paddington
Just walk into our store and let our experienced staff take your photo. It will not take more than 5 minutes.
We will take your photo with professional lighting.
We will print, prepare & cut your Malta passport photo.
No appointment needed.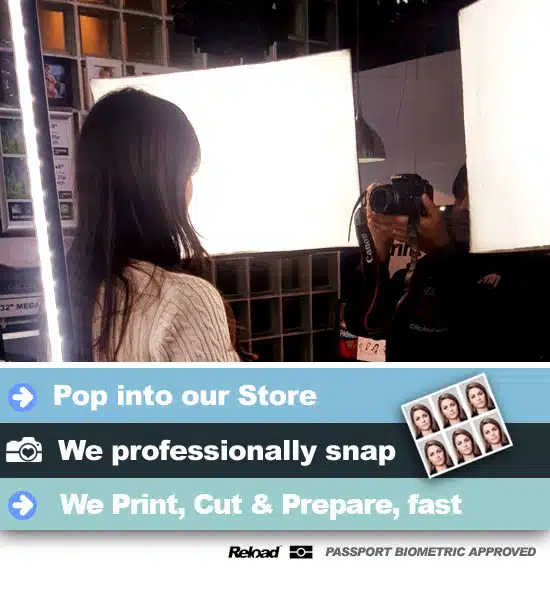 OPTION 2 – Passport photo posted
We can post you a set of 6 Malta Passport photos – next day delivery. How it works:
Email us a photo of yourself from your phone or camera.
We will look at your photo, free of charge
We will reply to confirm.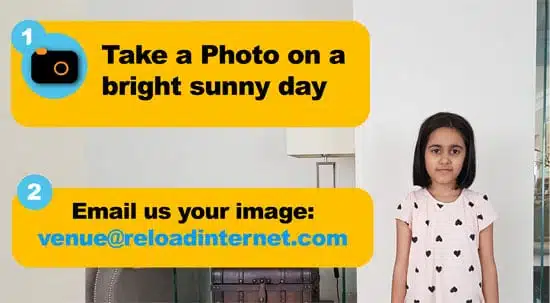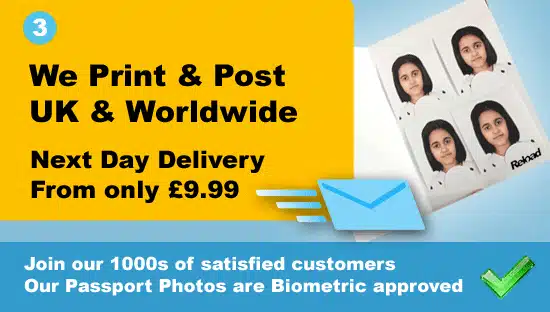 We will print, cut and post your your Malta passport photos
Next day delivery
We post your photos anywhere in the UK or worldwide.
OPTION 3 – Digital Photo resize
Send us your photo from your phone or camera whilst you are standing against a wall in your home
We will look at it free of charge.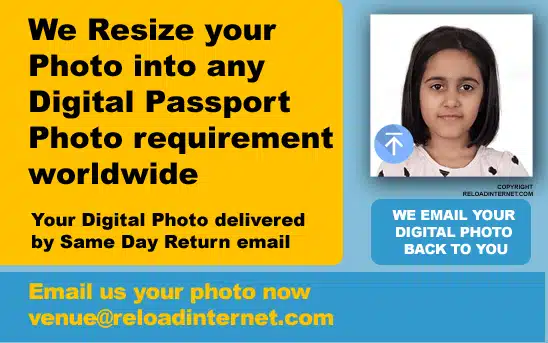 3. We will email your resized images back to you same day.
4. Your digital Malta passport photo will be ready to upload to the online Malta passport service.
You do not need to worry about the regulations, we have dealt with thousands of satisfied customers and are very experienced.
So why wait? Email us your photo today and we will resize it digitally for you