Reload Internet is a professional passport photo studio in Paddington, London, that has been operating for well over a decade, and is the best studio in London for you to have your Mexican passport photo or visa photo captured, printed and prepared at. We have a team of experienced staff that have been trained to provide you with a set of high-quality photographs that meet all of the specific criteria required by the Mexican Embassy. Our store is located on the same street as Paddington tube station and train station, and stays open from Monday-Sunday, early morning til late evening, so you can come and visit us at a time that suits you! You wont need an appointment, just stop by our store and we can have your photographs ready within 10 minutes!
Mexico is a south-American country that is well known for tourism. It is the number one destination for tourists from south and Central America. In 2006, Mexico was recorded to have received over 21 million foreign tourists, thus making it the world's 8th most visited country by tourists.
Watch our video to see how quickly we can produce your Mexican passport and visa photos, or to learn more about the specific requirements:

Our trained staff will capture your Mexican passport photo or visa photo with the correct background and ligthing, and will ensure that your are happy with the photograph. We will then cross check the photo with the official guidelines on passport and visa photographs released by the Embassy of Mexico to ensure that it will pass with your application. After guaranteeing it will pass, we will print your photographs using high-end digital printers and cut them to the exact sizing required for Mexican passport and visa photographs. This process is why we can guarantee that your Mexican passport photo and visa photo will pass first time!
You must make sure that your Mexican passport photo or visa photo meets all of the requirements listed below, as if it does not it's highly likely your application will be rejected due to a photo error. At Reload Internet we guarantee this will not happen to your application, as we can help you avoid any unecessary delays that might occur due to your photo.
Mexican Passport Photo and Visa Photo specifications:
The photographs must be 45mm x 35mm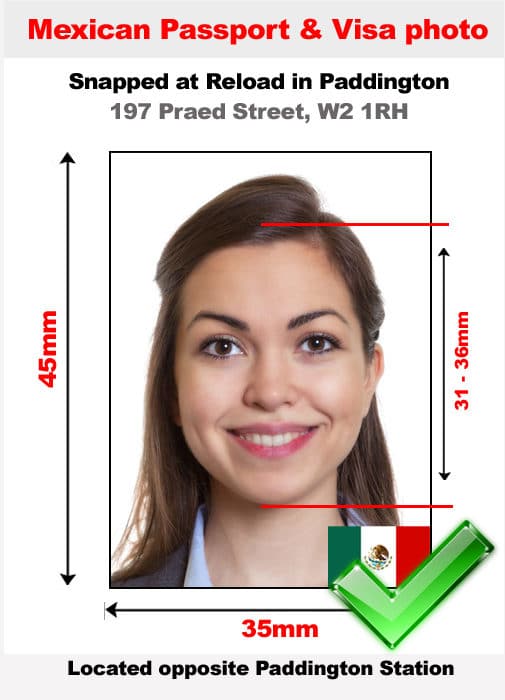 The passport photos should be taken on a white background. If a white back ground is not readily available, any other lightly coloured background will do.
Ensure you are looking directly at the camera lens. Any slight distortion could lead to rejection of the passport photo.
Although three copies of passport photos are required, four copies should be submitted. This is because there are chances that that an extra photo will be asked for while application for passport is being processed.
About 80% of the photo should be occupied with your face.
The same requirements needed for Mexican passport photos are needed for Mexican visa photos
When taking a Mexican Visa photo, ensure your two ears are clearly visible
You should not have any jewelry on.
Glasses should not be worn as their frames could cover your facial features
The visa photo should not be older than one month before it gets submitted. If the Visa photo has exceeded a month, it cannot be used anymore.
It is important to be aware that citizens of some countries can enter Mexico without a visa. Making an assumption is not good enough, it is advised that you pay the Mexican embassy in your country a visit to confirm if you need a visa.
There are no very strict rules binding the specification of Mexican visa and passport photos. Nonetheless, this should not be taken for granted.
Mexican Passport Photo and Visa Photo specifications for infants:
There are no real changes in the requirements for adult passport photos and passport photos for infants.
When taking passport photos for babies, the following should be strictly adhered to
The baby should be well rested. This will help them maintain a good mood while the photos are being taken.
Ensure that the baby's eyes are wide open
It is recommended that many photos of the baby should be taken. This will help you get a perfect photo without so much stress.
If the baby is too young to sit, lay the baby on a platform such as a dining table. Prior to placing the baby on a dining table, put a white cloth over the table.
The baby should be dressed in dark colours. This will help create a contrast between the white back ground and the baby.
If your Mexican passport photo or visa photo fails to meet every single one of the requirements above, then it is more than likely your application will be rejected. Come to Reload Internet for your Mexican passport photo or visa photo and you can avoid this!
Our specifications are taken from the Embassy of Mexico's guidelines on passport and visa photographs, available here.
Passport Photo printed in London