Reload Internet is a professional passport photo studio in Paddington, London, that specializes in Oman passport photo printing and Oman visa photos. We have also included the Oman Passport photo size and Oman Visa photo size in this page.
If you are in need of an Oman passport photo or visa photo, then Reload Internet is the best studio to come to. We are located on the Praed Street, the same street as Paddington Tube station and Train station, and are open 7 days a week, from early morning until late evening. This makes us the most accessible and convenient passport photo studio in London, as you can come at a time that suits you to get your Oman passport photo or visa photo. You don't even need an appointment, just visit our store and we can have your photographs ready within 10 minutes of your arrival!
We have a team of highly-trained staff that are ready to assist you, they have been trained to use the latest printing and camera tech to produce a set of high quality photographs that meet all of the specifications stated by the Embassy of Oman. They will check your Oman passport photo or visa photo before printing it to ensure that it meets all of the necessary requirements, and that is why we can guarantee that the photographs you receive from us will pass first time at the Embassy.
Our video below shows how quickly we can produce your Oman passport and visa photographs, as well as offering more information regarding the specific requirements:
If your Oman passport photo or visa photo fails to meet any of the specifications listed below, then it is highly likely that your Oman passport/visa application will be rejected at the Embassy. When you come to Reload Internet, we can ensure you that this will not happen to your application, saving you time, money and stress.
Oman Passport Photo size:
You will need to have 3 identical photos when you submit your application.
The photos for your passport must be 40mm x 60mm and in color.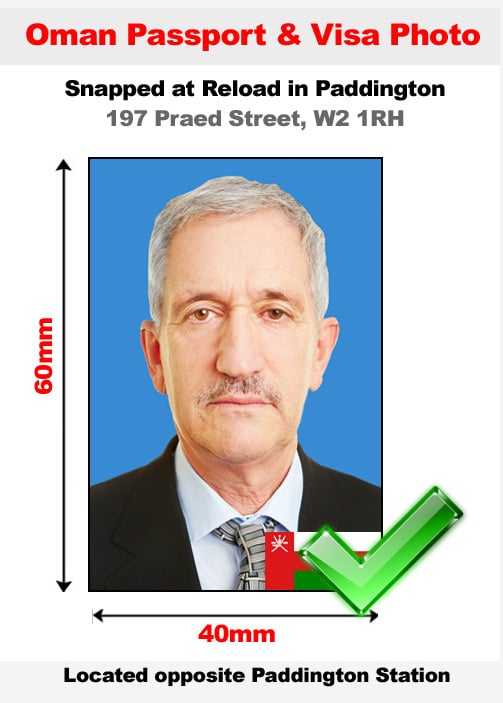 You need to have a front view shot of the face in order to have the image accepted as well as having a blue background.
If you are a male, you do need to wear the national dress of the country including the Turban and Dishdasha.
The exception to this rule is if you are a male who is under the age of 15.
Wearing headwear will always be acceptable for religious reasons as long as the headwear does not cover the face, though you are not able to wear any eyeglasses for the picture.
You need to be facing the camera directly, with your eyes open.
The exception to this rule is that infants can have their eyes closed for their photos.
The images must be in high resolution and needs to have been taken within the past 6 months.
Oman Visa Photo size:
The dimensions of your visa photos must be 51mm x 51mm.
You will need to submit 2 identical images where your face takes up anywhere between 60 percent and 70 percent of the photograph (or measures 1" x 1 3/8" from your chin to your head).
It needs to be a close-up of the top of your shoulders to the crown of your head.
Your entire face must be clearly visible in the picture, displaying both sides of your face equally as the photo needs to be taken straight-on.
The background of the image needs to be in white otherwise it will not be accepted.
There should also not be any pattern or busy backgrounds for the photos as well as there should be no shadows in the background.
There should be no evidence of a person or an object in the background as well, even if someone needs to support a child for their photo.
If a child cannot support themselves, there can be no evidence of that in the picture.
You must remember that your pictures must meet these requirements otherwise you will not receive your Oman passport or visa. These images must be in perfect condition and the officials will keep them as part of your official records. It cannot be stressed how important it is to get a picture that perfectly captures the entire face. At Reload Internet, we have the experience and technology to produce photographs that meet all of the requirements.
We receive our specifications from the Embassy of Oman's guidelines on passport and visa photographs, and can be found here.
Passport Photo printed in London