Reload offers an online Canada passport photo service by post.
Simply email us your photo and we will get your Passport Photo mailed and delivered to your home and we even have next day delivery options available.
All you need to do is take a suitable picture, email it to us, and we'll handle the rest. We are very experienced with it comes to Online Canada Passport photos and you will not find a company that follows the guidelines more closely than us.
Can an online Canada passport photo really pass at the embassy?
We guarantee your photo will pass as we will ensure that we create a perfect white shadowless background for you.
The size of the photo we send you will be 50mm x 70mm and we also employ a 97 point check on all photos we print instore. Best of all, we always cut your photos to size, so your trust is always our success.
We also will never take payment upfront when you upload a photo. We take the time to look over what you send us, and if we can work with it we will take it on and send you a payment link.
If you follow our instructions below, there is no reason why we will not take the photo on and biometrically print and post your Canadian Passport photo and we do have next working day delivery options.
How our Online Canadian Passport Photo service works
Step 1:
Take a photo from your mobile phone against any plain coloured wall in your home
Please stand approximately 50 cm (20 inches) away from the back wall and ask a Friend or member of your household to take a photo like this.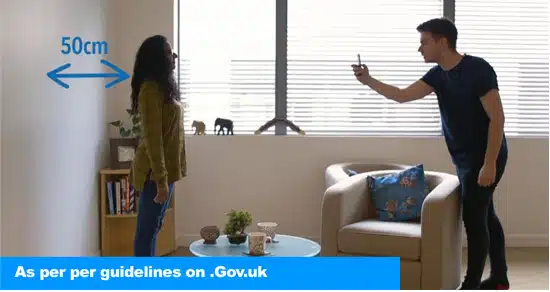 Step 2:
Upload your photo to us here
Alternative Upload link if you have problems above
ALTERNATIVE, UPLOAD YOUR PHOTO
Our friendly team will respond fast and check your photo free of charge.
OR
Email your photo to help@

null

reloadinternet.com 
Our friendly team will respond fast and check your photo free of charge.
We only take payment once we are 100% sure your photo will pass
Whether it is an adult, child or baby Canada passport photo, we will only accept payment once we are 100% certain that the photo you sent us will be approved as we guarantee your passport photos will pass.
Step 3: Receive your Canada passport photo by post
We will post your passport photo to you fast, and we now offer next working day delivery if you need it

We will stamp the back of the Canada passport photo with our passport photo studio name, date, and address as per the specifications required by the Canadian Embassy
Step 3: Receive your Canada Passport photo by Post
We will post your passport photo to anywhere in the UK or the World. Next working day is also available
Canadian Digital Passport photos are emailed to you same day
Watch the video on how to take the perfect Photo for a Canada passport photo at home
Watch the Reload video guide on how to take the perfect photo at home. Even if it is for your Baby Canada passport photo, child or adult – we have it covered in our 7 minute comprehensive video.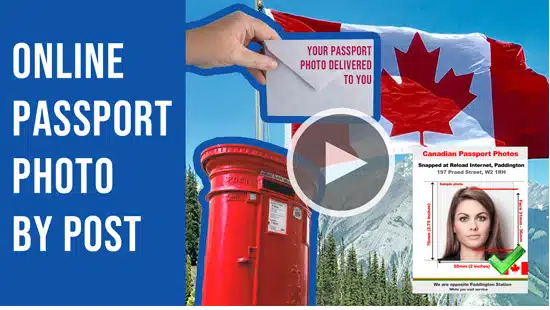 Canada passport photo requirements that your photos will meet
The requirements for Canadian passport photos are mentioned in the official rules and regulations. We have received our specifications directly from the Canadian government which you can read about here and we guarantee that the photos we send you meet these very strict guidelines.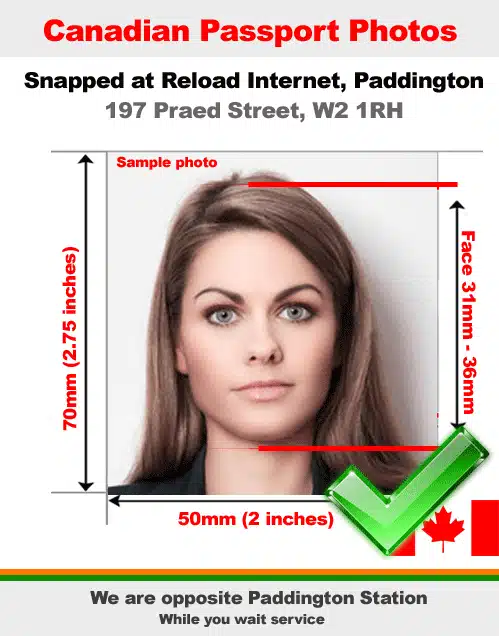 We will provide you with 4 Color canada photographs
Photo size should be 50mm x 70mm
The size of the head from chin to crown must be between 31mm and 36mm.
It will be printed on High Quality Photographic Paper
Additionally we will ensure that the measurement from the chin to the crown of the head in the photo is 31mm to 36mm.
Canada passport photos – stamp on back
At Reload in Paddington, we always ensure that your Canada Passport photos will be be stamped on the back according to canada.ca embassy requirements – and you do not need to ask us!
Why Choose Reload?
We know our clients live busy lives and may not be able to spare the time to come to our store in Paddington to have their passport photos taken. Our online passport photo by post service solves this problem, while also ensuring that you look your very best in your passport photo.
We have over 15 years of experience creating passport photos for any country in the world and specialise in Canadian Passport and Visa Photos. Please browse our directory and see how we are equipped to deal with any passport photo specification in the world.
Email us today at help@

null

reloadinternet.com