At Reload Internet, we offer an online printing by post service with next day delivery available.
Send us any document by email in PDF or Word format, and we will print it & post it to you fast. Whether it is a single page you need to be printed in black and white or colour, or if you need high volume printing by post, our online printing service by post is super fast, and we even offer next day delivery if you need it.
We will Print ANY document you email to us and POST it to you via Royal Mail. Nothing could be simpler
Step 1: Email us any document you need to be printed to help@
null

reloadinternet.com

You can send us the document in any file format, whether it be MS Word, PDF, EXCEL, or Photoshop (PSD) file, if you need a graphic file.
Step 2: We will check your file and send you a payment link confirming your order.
Our Staff will always check the file before taking any payment from you. This way, you will get the exact delivery date and assurance that we will send it to you before paying. Our prices are simple. We will print any amount of pages for you, whether it be a single page or hundreds of pages.
Online Print by Post Printing price list:
Paper Size
Black and White
Price (per side)
Colour
Price (per side)
Premium Paper
(Add-on per page)
A4
£0.35
£0.95
£0.50 - £0.99
A3
£1.25
£1.75
£0.99 - £1.99
A5
£0.35
£0.95
£0.50
We will charge a one-off service charge of £5, which includes postage to your address anywhere in the UK and service charge to staff (regardless of the number of pages you print). Alternatively, visit us in-store our printing service for a click-and-collect service in Paddington, and we will only charge you £1.99 + printouts.
Extra Services available:
If you require your documents to be wire bound or laminated, please request it in your email.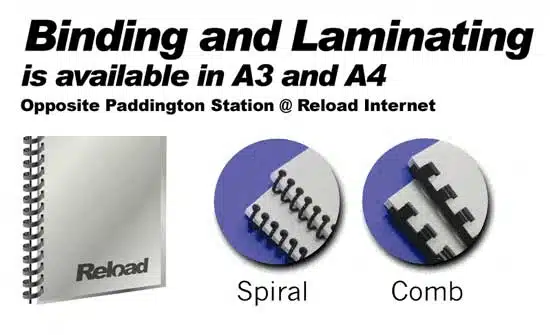 Binding your document: £5.99
Laminating A4 Sheet: £2.99
Laminating A3 Sheet: £3.99
Next Day Delivery is available for £9.99 (order with us before 3 pm, and we will get you your print outs next day delivery)
Step 3: AFTER PAYMENT:
The Team at Reload will Print and Post your Documents to you fast with next-day delivery available.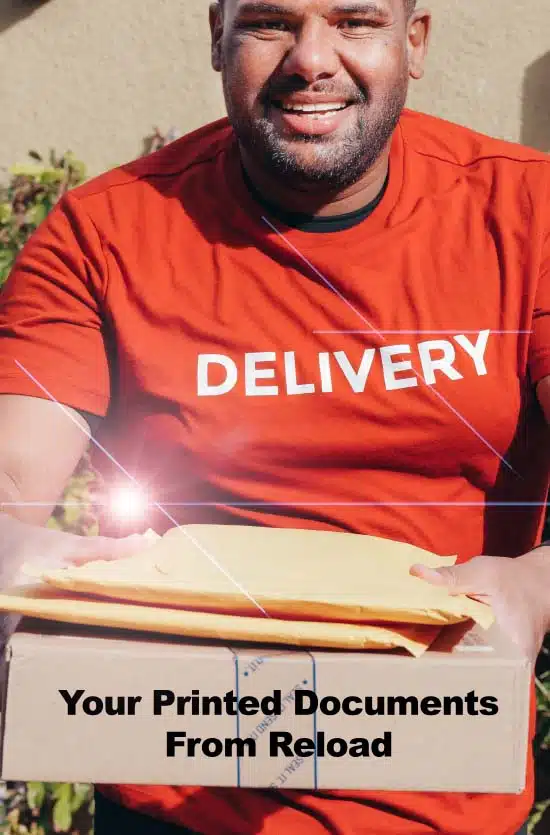 TO PLACE YOUR ORDER, PLEASE EMAIL US YOUR DOCUMENTS TO HELP@

null

RELOADINTERNET.COM OR CALL US ON

02072624111
Frequently asked Questions
WHERE CAN I GET PRINTING WITH SAME-DAY DELIVERY?
Reload is the best-known printer in London for providing services with same delivery and next day delivery. We offer a same-day bike delivery service. We offer printing near me, printing services near me, a printing shop near me or document printing near me Reload is a one stop solution
Where to print documents in London?
Another question people look for is where can I print documents in London?
Well, at Reload, we can print in London and can print documents and do a same-day delivery with next-day delivery if required anywhere in London. We do not have a minimum order for printing, and you can print a single page or as many as you need