If you are looking to get your Pakistani passport photos or Pakistani Visa Photos snapped and printed in London, then you need the professional services of Reload Internet, our Passport photo studio based in Paddington.
Get your Pakistani Passport Photo in 2 ways
Option 1: Visit us at our store in Paddington
When you pop into our store in Paddington, we will take a photo of you while you wait.
Option 2: Pakistani Passport photo by Post
Take a photo of yourself against a white wall at home like the image below & upload it to us, and we will post it to you with next day delivery.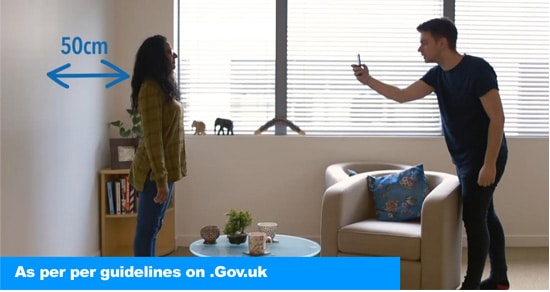 Upload your photo to us here
Alternative Upload link if you have problems above
ALTERNATIVE, UPLOAD YOUR PHOTO
We can take your Pakistani Passport Photo in-store OR we can post it to you with fast delivery. Just upload a photo of yourself and let us do the rest!
If you didn't know it yet, there are precise standards, issued by the Pakistani Government, which should be met for the photos you use for your Pakistani Passport photos or Pakistani visa photos for your passport. using an Instant Passport photo kiosk risks your application not being accepted.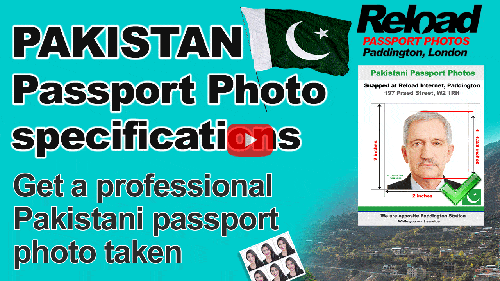 Based in London, Paddington, our photo studio will provide the best quality photos you need for your official documents. We know exactly what specifications are required and many copies of your Pakistani Passport photos you will require, saving you time and effort and we charge £14.99 for 4 Pakistani Passport photos and Pakistani Visa Photos.
Pakistani Passport Photo specifications and Pakistani Visa photo requirements
In case you do not know what the requirements are concerning the photos for your Pakistani passport we have provided you with detailed information on this below.
Submit two colored Passport photos with your Passport application for Pakistan.
The photos you use with your Pakistani Passport application must not be older than six months.
The size of a photo should have 2 x 2 inches (50mm x 50mm)
The distance measured from crown to chin, in the passport photo should be from 1 inch to 1 3/8 inches.
Only clear and color photos are admitted in which your face is highly visible from the front. Thus, you should always look straight to the camera, without any artistic poses, when taking a Pakistani passport photo for passport submission.
There should be nothing in the background of the photo, just plain white, and the background should also be white, or very close to white.
The mounting temperature of the passport photo at High Commission for Pakistan, London will be 225F and at Reload Internet you can be assured that our Pakistani Passport photos will be heat resistant enough not to get damaged at this temperature. We have heard cases of Passport photos not being able to withstand this temperature and ruining the passport!
Do not dress up for the photos, as they should be taken in your usual street attire, and not in formal attire.
Do not wear a hat or any other item that covers your head, only out of religious purposes.
Do not wear dark glasses, and it is always best practice to remove your glasses.
All these rules should be followed in all cases, except from the case in which a doctor releases a certificate that will prove otherwise.
Biometric Pakistani Passport Photo
At Reload internet we always ensure that our Printed and Digital Passport photos for Pakistan will meet the strict criteria set forth by the Pakistani Authorities and Pakistan is one of the countries whose passports are now fully Biometric.
OPTION 1 – Visit us in Paddington
Just walk into our store and let our experienced staff take your photo. It will not take more than 5 minutes.
We will take your photo with professional lighting.
We will print, prepare & cut your Pakistani passport photo.
No appointment needed.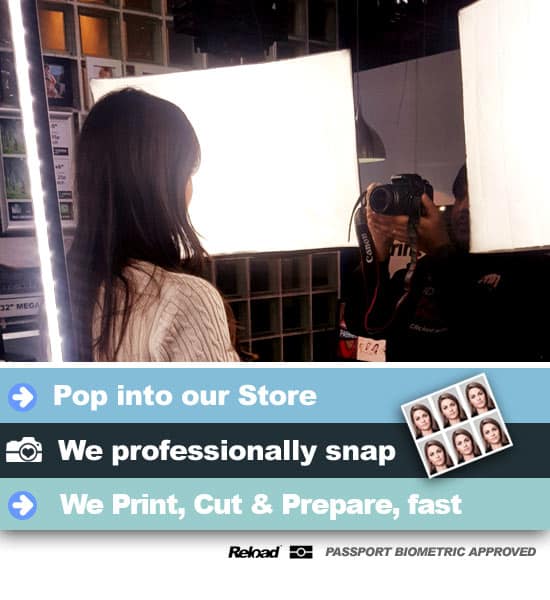 OPTION 2 – Passport photo posted
We can post you a set of 4 Pakistani Passport photos – next day delivery. How it works:
Email us a photo of yourself from your phone or camera.
We will look at your photo, free of charge
We will reply to confirm.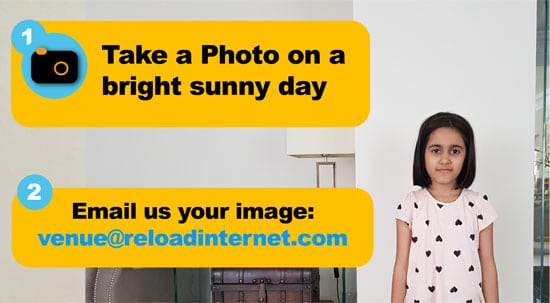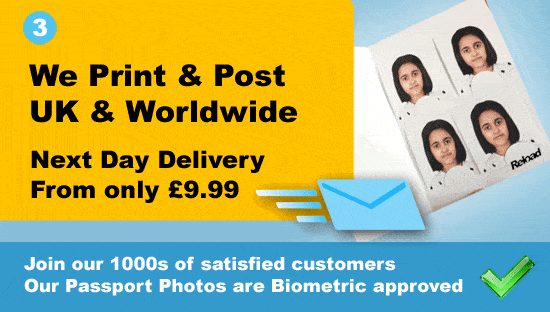 We will print, cut and post your your passport photos
Next day delivery
We post your photos anywhere in the UK or worldwide.
OPTION 3 – Digital Photo resize
Send us your photo from your phone or camera whilst you are standing against a wall in your home
We will look at it free of charge.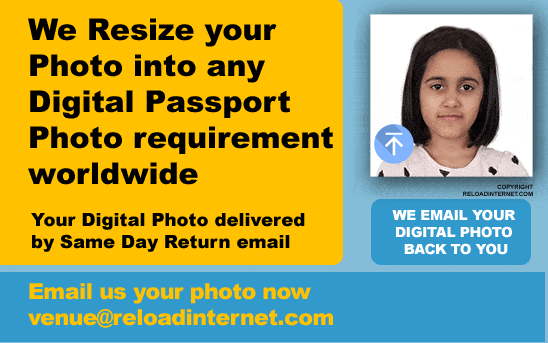 3. We will email your resized images back to you same day.
4. Your digital Pakistani passport photo will be ready to upload to the online Pakistani passport service.
You do not need to worry about the regulations, we have dealt with thousands of satisfied customers and are very experienced.
So why wait? Email us your photo today and we will resize it digitally for you
We look forward to welcoming you at Reload Internet, in Paddington, London.