If your are applying for a Panama passport or visa and are in need of a Panama passport photo or visa photo, then Reload Internet is the best studio to visit! We are situated in Paddington, London, and stay open throughout the week from early morning until late evening so that you can come and visit us at a time that suits you! We take hundreds of passport and visa photographs every week, and our staff have been fully trained to provide with you a set of high quality photos that meet all of the necessary requirements stated by the Embassy of Panama.
Get your Panama Passport Photo in 2 ways
Option 1: Visit us at our store in Paddington
When you pop into our store in Paddington, we will take a photo of you while you wait.
Option 2: Panama Passport photo by Post
Take a photo of yourself against a white wall at home like the image below & upload it to us, and we will post it to you with next day delivery.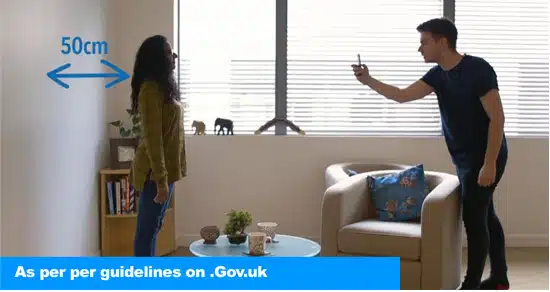 Upload your photo to us here
Alternative Upload link if you have problems above
ALTERNATIVE, UPLOAD YOUR PHOTO
We can take your Panama Passport Photo in-store OR we can post it to you with fast delivery. Just upload a photo of yourself and let us do the rest!
You don't need an appointment to have your Panama passport photo or visa photo taken with us, just pop by our store and a member of our team will be happy to assist you. We aim to have our customers photos ready within 10 minutes of their arrival, as we know that submitting a Panama passport/visa application is extremely time consuming.
We will provide you with a set of 4 photographs at a reasonable price, and they come with a guarantee to be accepted the first time that you submit them to the Embassy of Panama with your application. We will cross-check your photograph to ensure that it will pass before we even print it! So there's no need to worry about wether your photograph will cause an issue when you come to Reload Internet.
Watch our video below to learn more about the requirements for passport and visa photographs for Panama, or to see how efficiently and successfully we can produce yours:
You must make sure that your Panama passport photo or visa photo meets all of the criteria below, as if it doesn't then it's extremely likely that your application will be rejected at the Embassy when you go to submit it. This will cost you money, time and stress, and is easily avoidable if you come to Reload Internet, as we can guarantee to eliminate any possible delay that might occur due to a photograph error.
Panama Passport Photo and Visa Photo specifications:
Three (3) identical photographs must be submitted,  They should be 2″ x 2″ in Width and Height.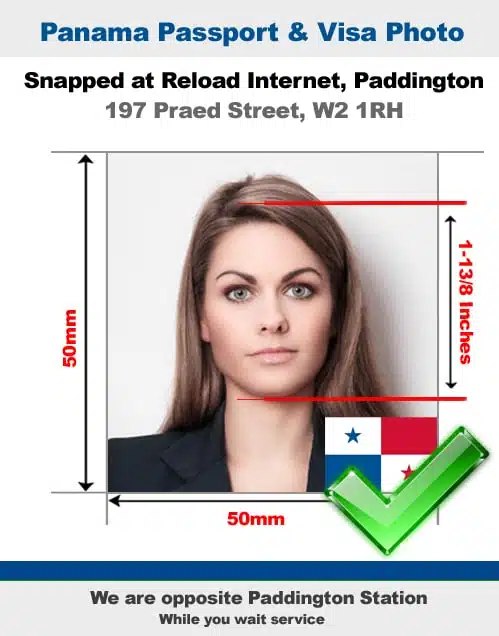 Your Panama passport photo or visa photo is meant to feature a neutral expression of your face, coupled with the top of your shoulder, thereby taking about 60% – 70% of the face or 1″ x 1 3/8″from the chin to the crown of the head.
Your face must not be bent or obviously smiley, from the bottom of your chin to the top of your head, including the two sides of your face.
If you have a long hair, make sure your hair or hair style is not covering a huge part of your face.
Your face must be positioned in the middle of the picture and no more than six months old, to ensure an up to date likeness.
The background should be white. The background should not carry any form of design. The photo is to feature the face of the person to be photographed alone (it must be without any second face or object). The photo background must not carry any shadow.
Ensure your facial expression is neutral in the photo; smiling, laughing, frowning or opening of mouth will not be acceptable. The two of your eye must not be closed, avoid contrived expressions like closing your eyes halfway or raising your eyebrows.
Ensure your head is not positioned in form of an oblique or bent in the photo, use portrait pattern. Your head must be square to the camera; the face of the photographed person must not be angled or tilted. Your face and eyes must be focused directly to the camera so that the right measure of your ear and cheek can be featured.
Ensure you stare straight at the camera while your Panama passport photo or visa photo is taken. Your eyes must be clearly seen and shouldn't be obstructed by anything including hairs or eyeglass frame. The photo must be captured at a position where the camera lens and the person's eye level are opposite each other, not more or less.
The resolution quality of the printed photo should be high, at least 600 dpi (preferably with a digital camera). The colour of the photo must be left natural, including the skin tones. The photo must be smooth, without any dirt, squeezing or bent impression. Photos edited to modify image or clean spots and scratches will not be accepted. Photos must be in color.
Your photo will be approved easily if you are not wearing glasses. But if a spec must be on your face, then ensure it's a plain glass and its frame must not block any part of your eyes. Your eyes must be easily visible.
The camera flash must affect every side of the photo equally, if there are shadows, or red eyes or light reflections on the photo, it will be rejected.
However, photos snapped with head wears will not be approved. It will only be permitted for religious conditions. In this regards, the head wear must not cover your face, your face must be featured fully in the photo from the bottom of your chin to the top of your head. Shadows must not be seen anywhere around your face.
Every aspect of your face must be plainly visible, with the perfect brightness level.
Out of the duplicate copies, one among the photos will be approved as being preferred by the applicant.
There are also a number of requirements that must be followed depending on your sex:
For Women:
Low cleavage must not feature
Sleeveless shirts are not permitted
Do not wear wigs
Your ears and face must be visible
No tilted glasses
For Men:
Earrings are unacceptable
Your hairs and braids must not be long
No tilted glasses
We receive our specifications directly from the Embassy of Panama's guidelines on passport and visa photographs, which you can see here. You must ensure that your Panama passport photo or visa photo meets all of the specifications above, as if it doesn't your application will be rejected.
Biometric Panama Passport Photo
At Reload internet we always ensure that our Printed and Digital Passport photos for Panama will meet the strict criteria set forth by the Panama Authorities and Panama is one of the countries whose passports are now fully Biometric.
OPTION 1 – Visit us in Paddington
Just walk into our store and let our experienced staff take your photo. It will not take more than 5 minutes.
We will take your photo with professional lighting.
We will print, prepare & cut your Panama passport photo.
No appointment needed.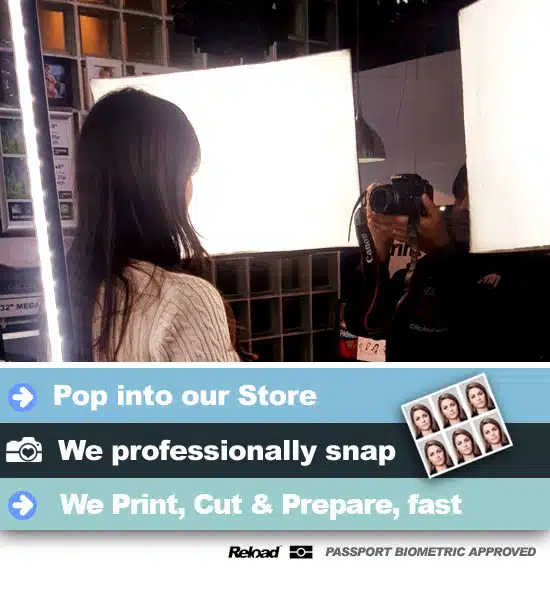 OPTION 2 – Passport photo posted
We can post you a set of 4 Panama Passport photos – next day delivery. How it works:
Email us a photo of yourself from your phone or camera.
We will look at your photo, free of charge
We will reply to confirm.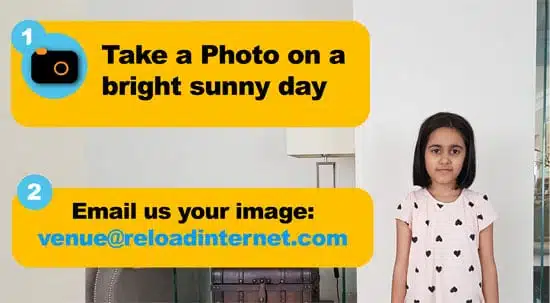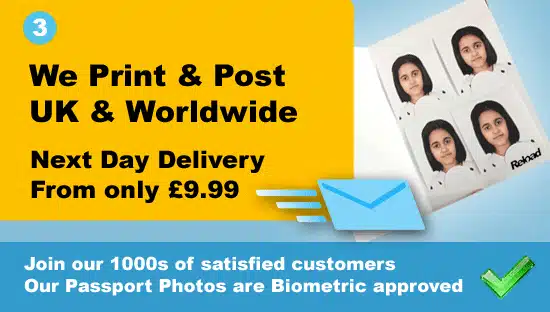 We will print, cut and post your your Panama passport photos
Next day delivery
We post your photos anywhere in the UK or worldwide.
OPTION 3 – Digital Photo resize
Send us your photo from your phone or camera whilst you are standing against a wall in your home
We will look at it free of charge.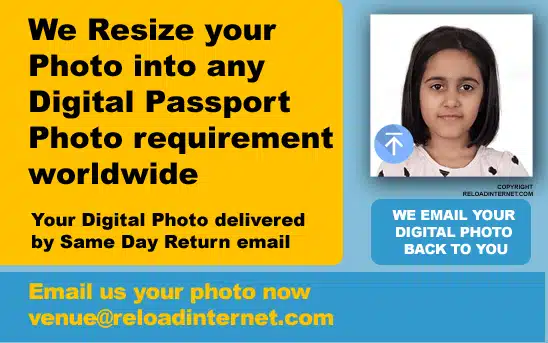 3. We will email your resized images back to you same day.
4. Your digital Panama passport photo will be ready to upload to the online Panama passport service.
You do not need to worry about the regulations, we have dealt with thousands of satisfied customers and are very experienced.
So why wait? Email us your photo today and we will resize it digitally for you