Taking a Pet Passport Photo in store at Reload in London, not from the Paddington Station Photo Booth for your Dog's Passport Photo, is now the best way forward. Not only will it be impossible for your Dog to sit still – the passport photo will sadly not meet the requirements that pet passport photos require.
After the end of the Brexit Transition Period, British pets will require an EU Pet Passport to travel to Northern Ireland. Come to Reload to have your pet's passport photos taken. You can read more about this change

here

.
Dog Passport Photo Video
Pet passport photo requirements
Enclosed below is a sample Biometric dog passport photo if you were to come to Reload Internet and Paddington. The Pet Passport is usually a small blue book that looks very similar to a human passport and would include he member states of the European Union on the Pet Passport.
1.5inch tall and 2.5inch wide (40mm x 60mm)
Grey or white background.
Shows the features of the pet
Professional Pet Passport Photos
This is what your pet's passport photo could look like with our service at Reload, the second image is the original we used. As you can see, we can really achieve some professional looking results.
Pet passport photo AFTER: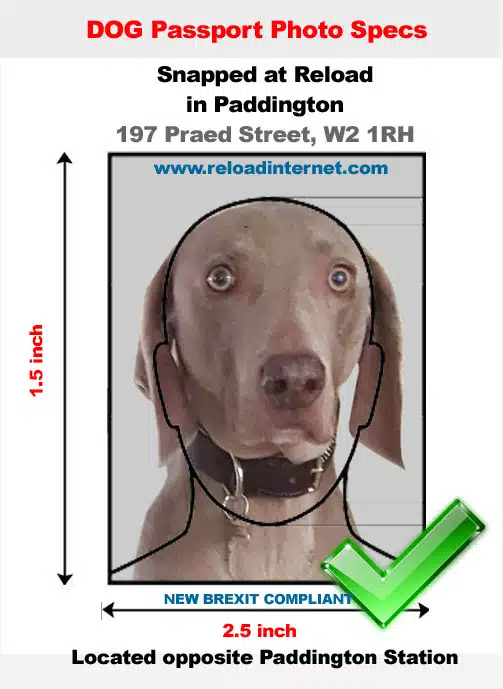 Pet passport photo BEFORE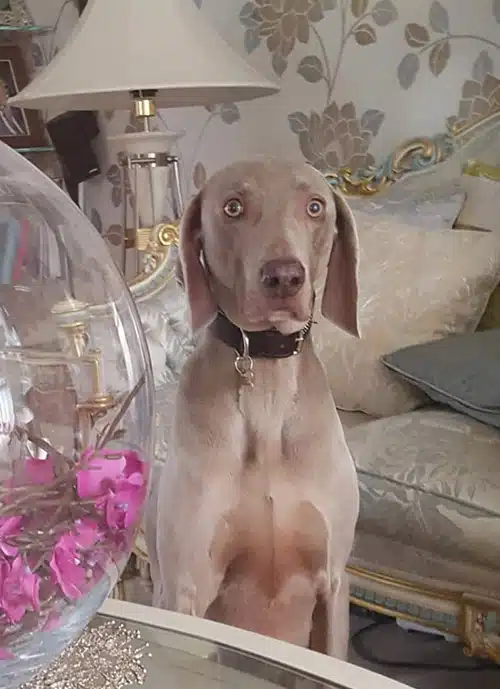 How do you get a Pet Passport? Pet Travel Scheme (PETS)
Your pet dog's vaccinations need to be complete with documents proving this and the requirements for each country are different and the best way is to obtain a Pet Passport for Your Dog.
According to the Animal & Plant Health Agency Guide and the Scottish Government, EU travel scheme and how to complete pet passports (source: link)
The Pet Travel Scheme (PETS) allows pet dogs, cats and ferrets to enter the UK without quarantine, as long as they meet the conditions of the scheme. UK pet owners can also take their dogs, cats and ferrets abroad and bring them back into the UK without the need for quarantine, provided their pets meet the conditions of the scheme.
Requirements for a Dog or a pet to travel to an EU country are:
Microchip
Rabies vaccination (pet must be at least 12 weeks of age)
Pet passport.
It is important to note that a passport can be issued for an animal that has been microchipped and vaccinated against rabies BUT if an animal is going to re-enter the UK from an unlisted country – your pet will also need to pass a serology test for rabies.
What Details are included in the Pet Passport?
Section 1: Details of Ownership:
This section includes the owner's details such as:
Name
Address
Telephone Number
Signature
Section 2: Description of Animal:
This section includes details about the animal such as:
Name
Species
Breed
Sex
Date of birth
Colour
Notable features
Additionally, this is where the pet passport photo is affixed, however, this is optional.
Section 3: Marking of Animal:
This section includes details about the unique identification microchip or tattoo of the pet. This includes:
The transponder's alphanumeric code
Date of application of the transponder
Location of the transponder
Tattoo alphanumeric code
Date of application of the tattoo
Location of tattoo
All of this information must be verified before any new entries are made in the document.
It is to be noted that tattoos are no longer an acceptable means of identification and are only valid if administered before 3 July 2011.
Section 4: Issuing of the Passport:
This section states:
Name of the authorised veterinarian
Address of the veterinarian
Telephone Number of the veterinarian
Email address of the veterinarian
Date of issue of the document.
Section 5 – 12: Vaccination against Rabies and other treatments:
This section documents the dates and particulars of your pet's  vaccinations. You will be allowed to travel 21 days after your pet's first rabies vaccination. Regulation requires pets to be at least 12 weeks old when vaccinated.
How Much Does a Pet Passport Cost?
For UK Pet Passport Photos, we charge £14.99 for 6 pictures, which include taking special care to ensure the comfort of your pet in our store. Alternatively we can print photos of your choice which you can send us in an email.
Pet and Cat Passport Photos, your way!
Why not pop in today and get your pet's passport photo snapped and printed in our professional passport photo studio in London? Bring your CAT to reload. We will snap away OR email us a photo and we will digitally remove the backgrounds.
Our late opening times in London ensure that you can pop-in and get your passport photos snapped and printed in store even if you have an appointment early the following morning. We are open till 9pm, 7 days a week. We are located at 197 Praed Street, Paddington, W2 1RH directly opposite Paddington Station.
OPTION 1 – Visit us in Paddington
Just walk into our store and let our experienced staff take your pet's photo. It will not take more than 5 minutes.
We will take your pet's photo with professional lighting.
We will print, prepare & cut your pet passport photo.
No appointment needed.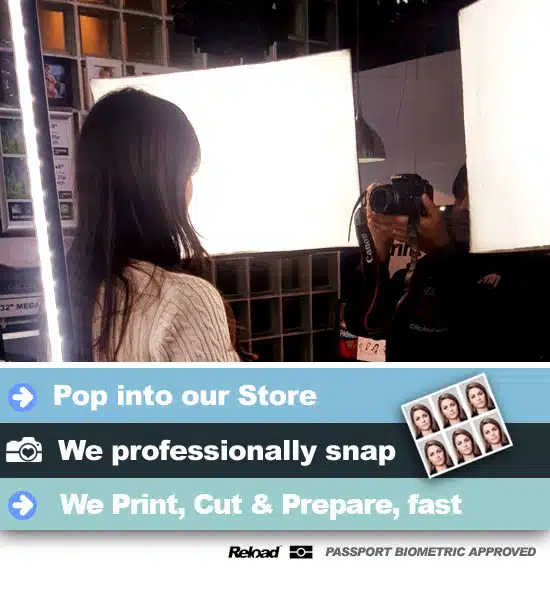 OPTION 2 – Passport photo posted
We can post you a set of 6 UK Pet passport photos – next day delivery. How it works:
Email us a photo of your pet from your phone or camera.
We will look at your photo, free of charge
We will reply to confirm.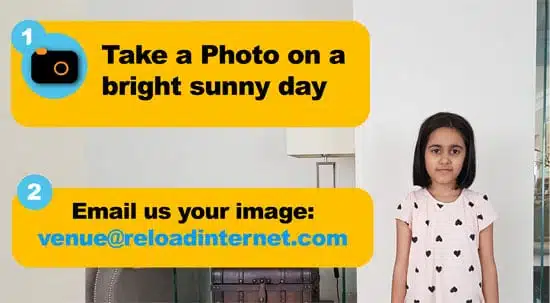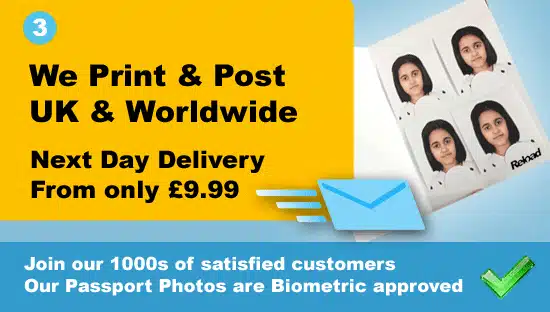 We will print, cut and post your your pet passport photos
Next day delivery
We post your photos anywhere in the UK or worldwide.
You do not need to worry about the regulations, we have dealt with thousands of satisfied customers and are very experienced.
So why wait? Email us your photo today and we will resize it digitally for you
Passport Photo studio serving Paddington and Marylebone and London
Reload Internet Passport Photo studio is based in Paddington – but we get clients that visit from us all over London, Marylebone and Paddington.
At Reload internet we always ensure that our Printed and Digital Passport photos for UK will meet the strict criteria set forth by the UK Authorities.

We can take any Passport photo for any country in the world. Please follow the link if you would like our Global Passport Photo Directory of all Passport Photo specifications worldwide.
Why do clients visit us? Because our Passport photos will always pass rigid VISA and Passport requirements. Our store understand the smaller details required to run a service like the way we do – from always offering you a mirror before we take your passport photo, to ensuring that the background is off-white, light grey, or white (depending on the Embassy you are applying to) we really know our stuff when it comes to taking your Passport Photos – which is why we can offer a guarantee that all of our passport photos we produce in store will always meet the Embassy requirements or we will retake them free of charge.
Find Reload Internet in Paddington here: