If you are applying for a San Marino passport/visa and are in need of a San Marino passport photo or visa photo then Reload Internet in Paddington, London, is the best place to come. We are a professional passport photo studio that has been in operation for over 10 years and takes hundreds of passport and visa photographs every single week. Our store is located on Praed Street, less than a 30 second walk away from Paddington tube and train stations, and stays open throughout the week allowing you to visit us at a time that suits you. Even on Sundays we close late at 8pm! We have a fully trained team of staff that are ready to assist you, and can capture, print and prepare your San Marino passport photo or visa photo in less than 10 minutes! You don't even need an appointment, just pop by our store and we will be happy to help.
When you have your San Marino passport photo or visa photo captured at Reload Internet, it comes with a guarantee to be accepted the first time you submit it to the Embassy of San Marino. We will capture your San Marino passport photo or visa photo using the correct background and lighting with the latest in camera technology. Afterwards, we will ensure that your photograph meets all of the necessary requirements stated in the official guidelines for San Marino passport and visa photographs, and will then print it using an embassy approved digital passport photo printing machine. This means that your photograph will meet all of the specifications, and be of extremely high quality. After your San Marino passport photo or visa photo has been printed, we will cut them to the correct sizing so that they are ready to be submitted with your application. We will provide you with a set of 6 photographs when you have your San Marino passport or visa photo taken in our store, and all this for just £9.99!
The video below showcases how quickly we can produce your passport and visa photos for San Marino, and offers more information regarding the specifications:
You must ensure that the San Marino passport photo or visa photo that you submit with your application meets all of the requirements, if it doesn't, then it is highly likely that your application will be rejected by the Embassy, costing you time, money and stress. Come to Reload Internet to guarantee that this doesn't happen to you.
San Marino Passport Photo and Visa Photo specifications:
You must include two identical photos in your application
Each photo must measure 45mm x 35mm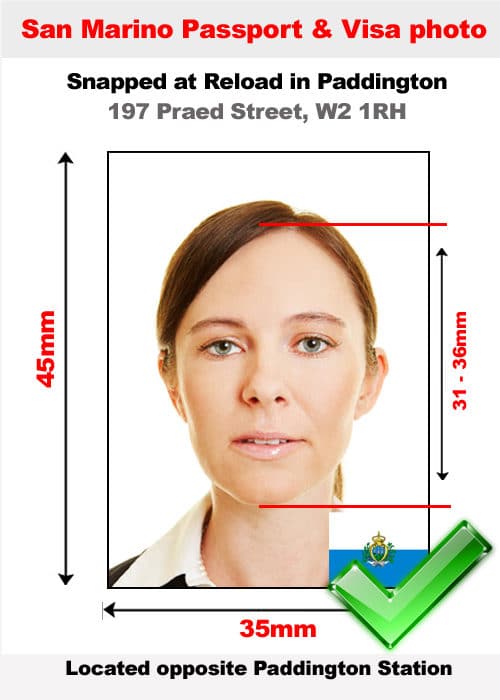 Photos must be in colour
You must face the camera while the photo is taken, and keep your head completely level. Both sides of your face should be equally prominent in the picture
Photos need to be as recent as possible, so that they reflect your current appearance. This means they should have been taken within 6 months of making your application
You cannot wear any sort of uniform while the picture is taken
Photos must be taken against a plain white background. No one else can be visible in the photo, and there can't be any shadows visible, either on your face or on the background
You must maintain a neutral expression while the photo is being taken. Your mouth needs to remain fully closed, and you can't smile in the picture. You will also need to keep your eyes fully open in the photo
Your eyes need to be fully visible- they can't be covered by your hair or glasses frames. The camera should be positioned at eye level so that your eyes are in the very center of the photo
The photo needs to be evenly lit
We recommend that you remove your glasses when you have your photo taken, to prevent any possible issues. Should you choose to keep them on, then there can't be any glare or reflections on the lenses, and the lenses themselves must be clear- no tinted lenses or sunglasses
Headwear is only permitted under medical or religious circumstances. Even so, the headwear cannot obstruct any part of your face, and it can't cast a shadow on your face
Babies need to be photographed lying down, and no hands used to support them can be visible in the picture
The photo itself must be printed on high-quality photo paper, at a high resolution. It must have an appropriate level of brightness and contrast. Photos cannot be digitally edited after they have been taken- any pictures which are found to have been edited will be denied, and you will have to start your application all over again
Specification stated above are from the official guidelines for San Marino passport and visa photographs, which we attained through the Embassy of San Marino, found here.
Passport Photo printed in London