At Reload Internet we are capable of taking Passport or Visa Photos for any country in the world. Our staff are known for their ability to get the perfect photo for a successful passport photo application – even of your restless young children. However, we understand that each child has different needs and so we have put together this guide for taking a passport photo of your child with special needs.
We guarantee all passport photos we are responsible for will pass at the passport office, if they don't we will redo them free of charge.
Passport photos for children with autism
The key to getting a good passport photo of your child is to make sure they're comfortable. Unless the child feels at ease, it will be very difficult to take a suitable photo. Children with autism may not react well to unfamiliar environments. Since the main goal is to have the experience be as stress free for the child and to get a suitable picture we would recommend that you take the photo against a plain wall in your home.
Taking the photo in the familiar space such as your home will help your child avoid anxiety and make the process easier for both you and them.
You can explain to your child what is happening and use a favourite toy to help them stay relaxed. As long as the toy does not obstruct their face it is not an issue.
It is important to know that governments are understanding about the challenges faced by children with special needs and are accommodating in their passport photo requirements. However some basic requirements must be fulfilled.
We are able to create passport photos for any country in the world from an image taken in your home with good lighting. It is important that you avoid bright lights such as camera flashes so as to not startle your child.
How to take a passport photo for a SEN Child:
It's easy to take passport photos at home, just follow this guide:
Preferably on a sunny day, take a picture of your child against any plain wall in your home with your smart phone or digital camera. Your child can sit or stand, whatever is more comfortable for them, as long as they can look straight into the camera. Do not use flash, but try and light the face with natural light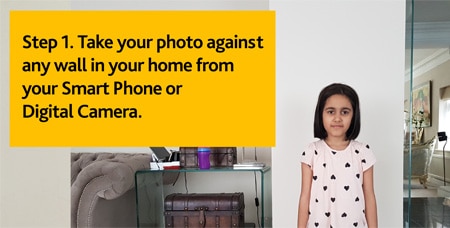 Email us the photo help@

null

reloadinternet.com and we will personally check it to make sure it is suitable for a passport photo.
We will confirm that the photo is suitable, or if it isn't we will help you get it right with minimal anxiety for your child.
Once we complete final checks on the photo we will email you a payment link.
For digital photos we will send back the completed passport photo to exact government specifications in an email. We are able to make passport photos for any country in the world, you can check the specifications for your country here.
For printed photos we are able to have them posted to you, anywhere in the UK or abroad, or you can collect the prints from our store in Paddington.
There is no need to be stressed or anxious, our friendly team will check your photos and give you advice where necessary. Our work is guaranteed.
Send us your photo to our email address:
help@

null

reloadinternet.com
OR
Call us on
0207-262-4111
if you need help