At Reload Internet, we are one of the few places in London that has the Sticker Printing technology onsite to offer Sticker Printing, Label Printing, custom stickers and printed labels – with a same-day service.
We can take minimum orders for just one custom-sized sticker print to hundreds of stickers, printed instore by one of our members of staff.
Our Prices for Sticker Prints:
For a custom single sticker square or rectangle, from any small size up to A4= £4.99 per sticker – printed and cut to size.
Further stickers are £3.99
If you have a large order please let us know and we can bring the price down significantly.
ORDER YOUR STICKERS NOW
Visit us instore in Paddington at Reload, 197 Praed Street, Paddington, W2 1RH
Or call us 020 7262 4111
Or email us for a fast response or help@

null

reloadinternet.com
You can get your custom stickers and label printing with a range of shapes and sizes to choose from. Print your logos, photos or any type of printed label or sticker that you are looking for.
Our custom stickers are extremely high quality and durable. Furthermore, we can create branded stickers which will perfectly match your business's professional look.
Custom Sticker Printing Service
Here are some samples of some sticker printing that we can do instore while you wait. Best of all, there is no job to small or to big for us to handle whatever your purpose we will find a solution in a cost-effective way. Please email us at the email address listed at the bottom of the page.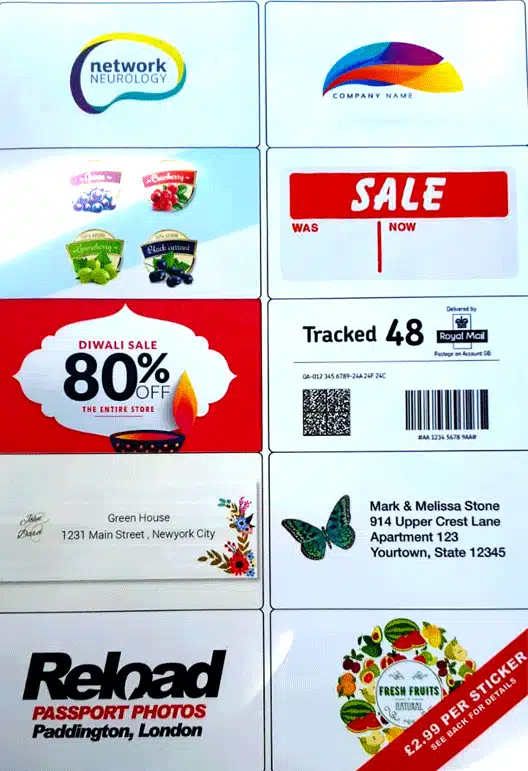 For A-sized printed stickers, at Reload Internet in Paddington we offer A7, A6, A5, A4, A3 (420mm x 297mm). We also offer giant sized A2, A1, A0 Printer sticking to make a GIANT impact!
All of our square stickers are printed on white Self adhesive (sticky back) A4 photo full size glossy paper laser printed on 120gsm (210gsm including the backing paper).
Reload Internet offers prints that are water resistant.
Our Sticker Printing will always have a glossy finish which means it is suitable for high definition colour photo printing.
Our Premium quality paper offers a high quality resolution printing up to 5760dpi.
Label Printing Service
Our instant printing service offers full A4 size labels available while you wait: 210mm x 297mm. Paper weight 120 gsm (210 gsm including backing paper).
Reload Internet Printing ensures that your stickers will be Instant dry, and have a vivid colour printing quality.
Our custom labels will have a strong adhesive on backing paper.
At Reload Internet our custom sticker printing service is ideal for photo printing, hand crafting, and making labels of different sizes. Also great for making fridge magnets, children's stickers and other creative making.
Our custom printed stickers are also ideal for customising your own labels / stickers i.e. address labels, badges, organising purposes (folders) etc and the possibilities are endless.