Are you applying for a Sudan passport or visa? Then you need a high quality Sudan passport photo or visa photo, and Reload Internet is the best place for you to get one! Reload Internet is a professional passport photo studio in Paddington, London, that specializes in Sudan passport and visa photographs. We can capture, print, and prepare your Sudan passport photo or visa photo instantly in our store, with no appointment needed. Just pop by and an experienced member of staff will be happy to help you. Our store is situated on the same street as Paddington train & tube stations, and we stay open throughout the week from early in the morning until late into the evening, so you can come and have your Sudan passport photo or visa photo taken at a time that suits you. You don't even need an appointment with us, and we can have your photographs ready within 10 minutes of your arrival at our store here in Paddington, London.
When you have your Sudan passport photo or visa photo taken at Reload Internet, we will provide you with a set of 6 photographs for just £9.99! These photographs will be snapped by our experienced team of staff, who will then check to ensure that your Sudan passport photo or visa photo meets every single one of the requirements stated by the Embassy of Sudan. Therefore we can guarantee that the photographs you receive from us will pass first time at the Embassy when you submit them with your application. This allows you to avoid any unnecessary delays that could occur with your application due to a photograph error.
Watch our video below and you can learn more information about how quickly we can produce your Sudan passport and visa photos:
If your Sudan passport photo or visa photo does not meet all of the specifications stated below, then your application could be rejected by the Embassy when you submit it. At Reload Internet we guarantee that this will not happen to your application, and that the Sudan passport photo or visa photo you submit will be accepted first time.
Sudan Passport Photo and Visa Photo specifications:
You are going to need to submit 2 identical photos that are measured 45mm x 35mm (width and height) with a plain white background.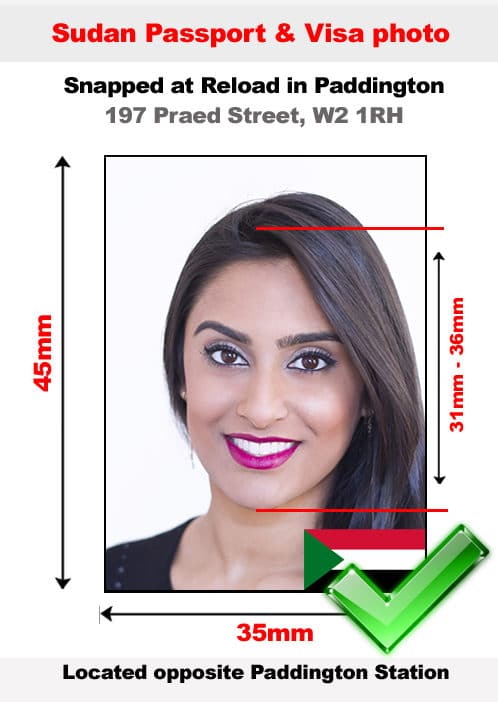 There cannot be any shadows or other people or objects in the background or else the picture will be rejected.
This includes anything that may be used to support an infant in their photos.
It is recommended that the infant gets their picture taken from above while they are lying down.
The image must show an up-close photo of your face and the top of your shoulders.
Your face must take up somewhere between 70 – 80% of the photo (measuring between 32mm and 36mm from the tip of your chin to the top of your head).
You need to have a neutral expression on your face when this photo is taken, one that does not have your mouth open, a smile, or a frown.
You also need to have both of your eyes open as photos where you are squinting or have raised eyebrows will not be accepted.
Your face must be looking directly into the camera, meaning that it cannot be tilted or turned to the side as if you were getting a portrait taken. This is because the image needs to capture an even amount of both sides of your face so that it can get a clear shot of all of your facial features.
When the photo is being taken, the lens should be at eye level of the person.
You will need to look at the camera and your eyes cannot be obstructed by your hair or eyeglasses.
It is recommended that Muslim women wear a Tarha in their photos. Unless you are wearing the headwear for religious reasons (or one of the other acceptable exceptions such as medical and cultural circumstances), headwear is not allowed for these images.
If you do wear these items, you need to make sure that they do not cover any part of your face or cast a shadow on your face.
You should also take off your eyeglasses as they can cause a reflection that can get your image rejected. The frames of your glasses can also block part of your eyes, so you cannot get a clear image.
The passport photograph will need to be printed out on high-quality photo paper with a resolution of around 600 dpi.
They will need to be in a sharp focus so that your features are distinct.
This image cannot be digitally manipulated in any way, even to soften the lines on your face.
When the images are submitted, they cannot have any creases or be damaged in some other way.
Reload Internet guarantees that the Sudan passport photo or visa photo you receive from us will meet every single one of the specifications listed above; therefore you can be secure in knowing that your Sudan passport/visa application will not be rejected due to a photo error.
Our specifications are taken directly from the official Embassy of Sudan's guidelines on passport and visa photos, which you are able to see here.
Passport Photo printed in London