If you are in need of a Swedish passport photo or visa photo, then Reload Internet is the best studio to come to! We are located in Paddington, London, and have been in operation for well over a decade, taking hundreds of passport and visa photos every week for every single country in the world. Our store is located on the same street as Paddington tube and train stations, and stays open throughout the week from early morning until late evening allowing you to come and visit us at a time that suits you! You don't need an appointment, just visit us and a member of our trained team of staff will happily assist you.
We will provide you with a set of 6 Swedish passport or visa photographs, for just £9.99! And they come with a guarantee to pass at the Embassy of Sweden the first time that you submit them! Our staff will cross check them with the official guidelines in regards to Swedish passport and visa photos before printing them, to ensure that they will pass!
The video below shows how efficient we are at producing Swedish passport and visa photos, as well as offering more information about the requirements:

There are different categories of Swedish visa, and if you need a visa Swedish visa, you must contact the Embassy of Sweden first, to identify which set you match with and the kind of visa to apply for. Obtaining a visa for Sweden is quite easy because of the flexibility in regards to their visa rules for tourists and business travelers. Although the criteria contained in the policy might appear simple, likewise with the guidelines of a Swedish passport photo or visa photo that you will attach with your application, however, it's important for you to meet every single requirement in the application form, as if not it is highly likely that your Swedish passport/visa application will be declined.
Swedish Passport Photo and Visa Photo specifications:
The Swedish passport photo and visa photo size is 45 mm x 35 mm, and you must provide 2 copies.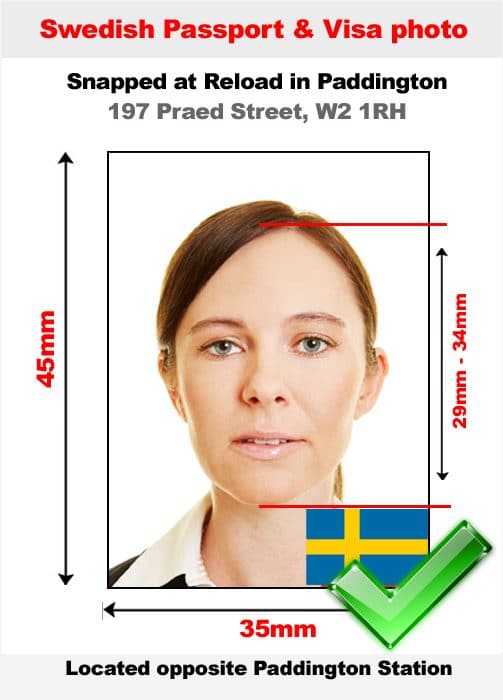 Your face must cover up to 70% of the passport photograph
Duplicate copies of passport photos will be demanded.
Your face must maintain straight eye focus with the camera
Your eyes must be focused on the camera
You are expected to portray a natural expression, don't smile or laugh when having the photograph captured
Background should be white or off-white, and without any shadows on the backdrop
If you happen to wear glasses, we recommend removing them to guarantee that your Swedish passport photo or visa photo will pass. Reflections from the lenses, and frames covering your eyes are two extremely common reasons for a Swedish passport/visa application to be rejected.
Your name must be well written in pencil at the back of the photo
Head wear is not usually allowed, however exceptions are made for religious, medical and cultural circumstances.
The requirements listed above for Swedish passport and visa photographs are taken from the Embassy of Sweden's official guidelines, which you can find here.
Swedish Passport Photo and Visa Photo specifications for infants:
Ensure the child's eye is not closed while taking the picture.
Use a pure white background, or clothing material or paper sheet or a blanket to rest your baby, they are equally allowed.
You can as well rest the baby on a car seat and take the photo, but this is only for babies that are just a few weeks or months old. Lastly, ensure you take enough photos.
Sweden is prominent country, known for many things, like the home of the two great Bergman's of cinema (Ingmar and Ingrid), the Volvo and also of ABBA and the land of Vikings. Sweden's lengthy and fascinating history has created some global presence for the country. The same way Switzerland has been able to uphold their power and neutrality for many years.
Sweden is a place of attraction filled with beautiful rural features and lots of natural endowments like lakes, snow capped mountains etc. The amazing living creatures in Sweden make it a place to visit, especially nature tourists. Sweden is equally prominently known to be a tourist area for business visitors who are fascinated by the high moral standard of living in the country and the high level of innovation and creativity which most companies in Sweden have attained.
Passport Photo printed in London