Introducing Our Premium UK Passport Renewal Service
Are you looking to renew your UK passport without the hassle and stress of dealing with paperwork and long queues?
Look no further! We are excited to introduce our exclusive Premium UK Passport Renewal Service, designed to make the renewal process seamless and convenient for you.
Why Choose Our Premium Service?
Expert Assistance: Our team of experts is well-versed in the latest UK passport renewal requirements and regulations. You can trust us to handle your application accurately and efficiently, ensuring a smooth and successful renewal.
Convenience and Time-saving: Say goodbye to the tedious task of form filling and document submission. Our Premium Service allows you to relax while we take care of the entire process on your behalf. Save time and energy for more important things in life.
Digital Photo ID Included: As part of our package, we offer a digital photo ID code to simplify the photo submission process. We'll guide you on how to use it, making sure your passport photo meets all the necessary criteria.
Transparent Pricing: Our Premium Service is competitively priced at just £79.99, with no hidden charges. We believe in providing excellent value for your money.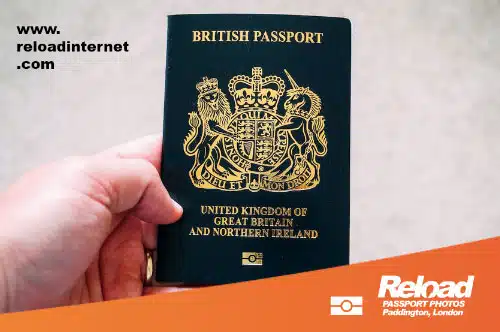 How our UK Passport Renewal Service works (including Digital ID Code) for £79.99

Make a Booking to visit us at 197 Praed Street Paddington, W2 1RH:
Book now to visit us instore at a time that suits you.
We charge £79.99 including your digital ID photos.
If you have any questions, please contact us on
02071128899
or email us for a fast response or help@
null
reloadinternet.com
Personalized Assistance: Our dedicated experts will ensure you have all the necessary documents and information for your renewal application.
Form Filling: We'll handle all the online form filling, ensuring accuracy and completeness.
Photo ID Code: Receive your digital photo ID code, making photo submission a breeze.
Application Submission: After a final review, we will submit your passport renewal application on your behalf.
Relax and Receive Your Passport: Sit back and relax while we monitor the progress of your application. Once it's processed, your renewed passport will be on its way to you.
Why Entrust Your UK Passport Renewal to Us?
At our company, we are committed to providing top-notch service to all our clients. We understand the importance of a valid passport, and we treat every renewal with the highest level of attention and care.
Experience the convenience and peace of mind with our Premium UK Passport Renewal Service. Let us handle the paperwork so you can focus on what matters most.
Contact us today to get started on your passport renewal journey.
This service is owned and operated by Atomic Internet Limited and is not affiliated with HMPO or any Government service. We provide private consultancy services, and a concierge type service to assist customers that are having trouble with the .Gov Portal. Our quoted fee included a Digital ID code and digital photo but does not include Government fees.