Get your Green card Lottery Passport Photo at Reload Internet where we can quickly take and process your green card photo and also green card lottery visa photos in store and according to all of the specific US Embassy requirements.
USA Electronic Diversity Visa Lottery Digital Photo upload problems?
Are you having trouble uploading your photo? Is it not auto cropping your image? Just email us your photo and let us:
We will fix your digital photo guaranteed same day to be accepted on the U.S. official website dvlottery.state.gov
The result will be 600 x 600 pixels in size which is equivalent to 50mm x 50mm and will have a white background.
We will adjust the correct head size which is paper format 1 inch but no more than 1 3/8 inches).
We will adjust the correct eye height (1 1/8 inches to 1 3/8 inches from the bottom of the photo)
And the image we send you will be more than 240KB in size
All same day – why wait? Email us today:
All staff at Reload Internet are experts in DV Lottery and US visa photos, and all of our clients have been so happy emailing us their photos since 2016.
We can also print your US passport photo but we also are able to print passport photos for any Country or Embassy in the World, whether they be digital or hard copy. Our late opening times make it especially convenient.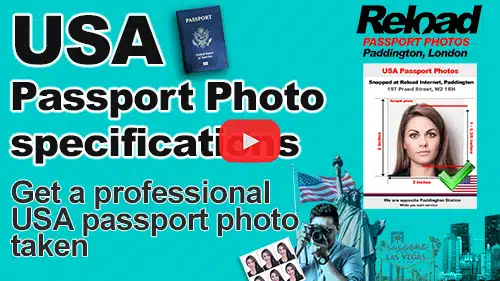 For US Green Card Visa Photos, US Passport Photos and Green Card Lottery Passport photos we have the equipment instore to ensure that your Green Card passport photos pass the requirements first time around and any failures to follow the exact requirements that the US embassy will mean any application is incomplete and will cause delay in processing. Our experienced professionals instore will ensure everything goes smoothly for your application.
Electronic Diversity Visa and Green card Photo Requirements
As per Passport Photo guidelines set out by the US Embassy, all photos that you send with your visa application must have been taken within the previous 6 months, depicting each individual passport or green card applicant. It is important to note that no group photos will be accepted.
Each photo printed from Reload Internet will be printed in color on thin photo-quality paper measuring exactly 2 inches by 2 inches and US Visa Photos will not be printed with borders.
Your photos will be in sharp focus showing a clear font view portrait wearing street attire in front of a plain white or off white background. Our Photos will never have dark or patterned backgrounds are these are unacceptable.
Our Canon cameras will ensure that original photo are taken and are accepted by the US Embassy – so Reload will not provide you with copies or digitally scanned photos.
We will ensure that your facial expression in the photo will be natural, with open eyes looking directly ahead with no unusual expressions or squinting. Normal un-exaggerated smiles are acceptable i.e a grimace, with no teeth showing.
Once your photo is printed instore, you will notice your head will be between 1 inch to 1- 3/8 inches from the top of the hair to the chin and will be centered with no head tilt in any direction. It will cover about 50% of the photograph area and we always try to move your hair out of the way so that ears can be seen. Side or angled views are not acceptable so we will not be asking you to assume these positions instore for your Green Card Lottery Passport Photo.
Other US Green Card Lottery Passport Photo Requirements
Only headgear worn daily for religious reasons is acceptable which requires a signed statement from the applicant. Military or airline personnel should not wear hats. Headgear for tribal or national costume is not permitted unless for religious reasons.
Regardless, no item of attire should obscure any part of the face so traditional facemasks or veils are prohibited.
Eyeglasses worn on a daily basis may be worn in the photo however ensure there are no reflections that obscure the applicant's eyes. Dark or tinted glasses are not permitted unless required for medical reasons, which may require a medical certificate to be accepted.
Any clothing that looks like a uniform or camouflage attire is unacceptable unless it is worn daily for religious reasons.
Digitally reproduced photographs must not show discernable pixels or dot patterns.
Our Cameras instore will always have sufficient resolution of minimum 3.5 megapixels (we use 16 megapixel canon cameras) and these are suitable and printing will be done by professional laboratories to achieve the necessary image quality. Most vending machine prints will not be of sufficient quality and Photocopies of photographs are not acceptable.
Ready to apply for your Green Card Lottery Passport or US Visa
Using a pencil, lightly print the Alien Registration Number (A Number) if applicable on the reverse of the photo. If not applicable, write your full name on the back of the photo as well as the applicant's signature. Do not enclose the photographs in glassine or other types of envelopes. Only 1 photo per person per application is required however it may be worthwhile keep some extra for future purposes.
Biometric Green Card Lottery Passport Photo
At Reload internet we always ensure that our Printed and Digital Passport photos for Green Card Lottery will meet the strict criteria set forth by the US Authorities and US is one of the countries whose passports are now fully Biometric.
OPTION 1 – Visit us in Paddington
Just walk into our store and let our experienced staff take your photo. It will not take more than 5 minutes.
We will take your photo with professional lighting.
We will print, prepare & cut your Green Card Lottery passport photo.
No appointment needed.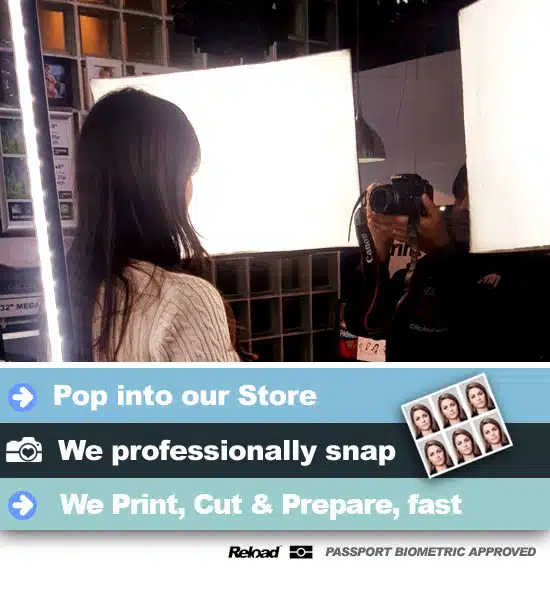 OPTION 2 – Passport photo posted
We can post you a set of 4 Green Card Lottery Passport photos – next day delivery. How it works:
Email us a photo of yourself from your phone or camera.
We will look at your photo, free of charge
We will reply to confirm.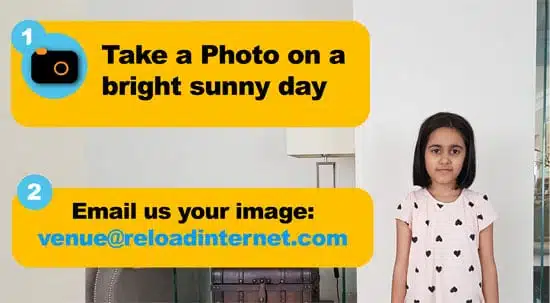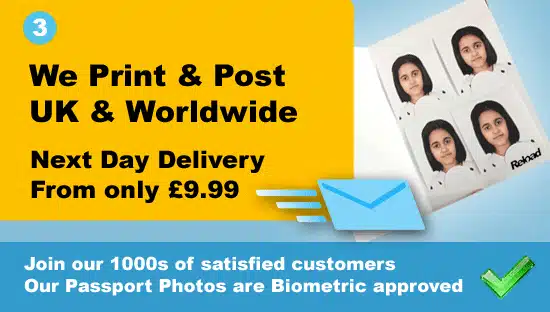 We will print, cut and post your your Green Card Lottery passport photos
Next day delivery
We post your photos anywhere in the UK or worldwide.
OPTION 3 – Digital Photo resize
Send us your photo from your phone or camera whilst you are standing against a wall in your home
We will look at it free of charge.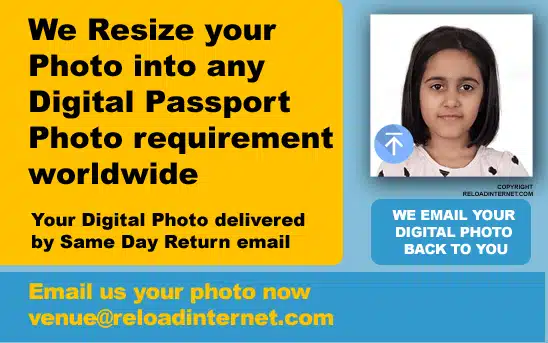 3. We will email your resized images back to you same day.
4. Your digital Green Card Lottery passport photo will be ready to upload to the online Green Card Lottery passport service.
You do not need to worry about the regulations, we have dealt with thousands of satisfied customers and are very experienced.
So why wait? Email us your photo today and we will resize it digitally for you
DIRECTIONS TO GET YOUR US Greencard lottery visa Passport Photos snapped and printed instore
We look forward to welcoming you at Reload Internet, in Paddington.